Garbage Disposal and Vermi-compost: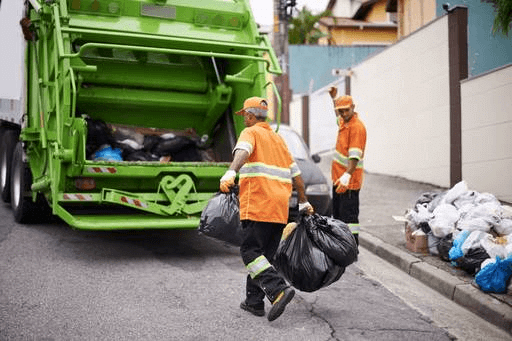 Fig: Garbage Collection
Garbage Disposal:
A large, low-lying area used to dispose garbage is known as a dump. A garbage dump is also used as landfill. Garbage collectors collect waste and then dispose it at garbage disposals. Garbage dumps have flies, cockroaches and mosquitoes, and later turn into breeding grounds for micro-organisms that may cause diseases. That is why these garbage dumps are usually located on the outskirts of a city. When garbage mixes with soil, it takes a longer time to decay. The soil becomes loose and a building cannot be constructed on such a landfill. Moreover, it takes 20 to 30 years for the soil to get ready for construction.
Question for Study Notes: Garbage In, Garbage Out
Try yourself:
What is the purpose of a garbage dump or landfill?
Components of garbage:
Garbage has useful and non-useful components. Useful garbage components are those that can be decayed easily. The process of decaying is known as composting. Useful garbage components are fruit and vegetable waste, plant and animal waste, tea leaves, coffee grounds and paper. These useful components of garbage are converted into manure in the soil.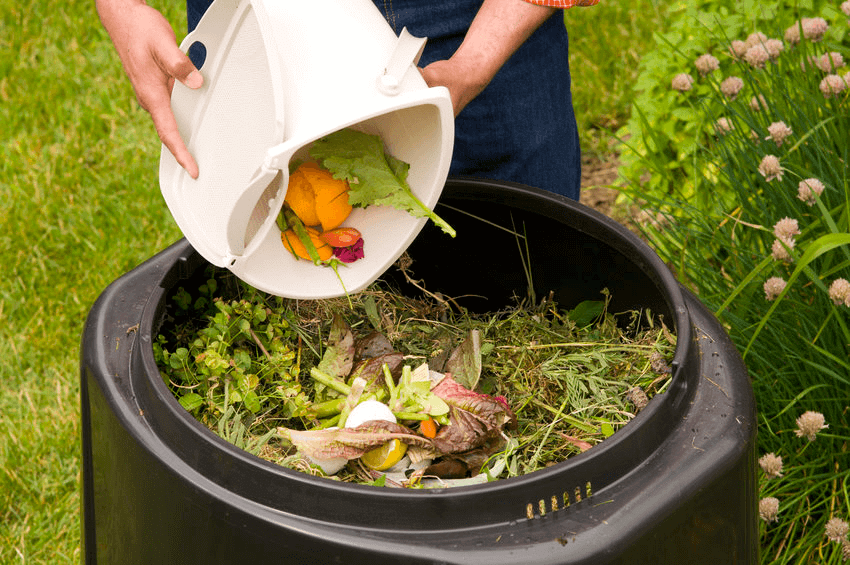 Fig: CompostingNon-useful garbage components include polythene bags, plastics, glass and aluminium foils. These take longer to decay. Decaying of these non-useful components is known as decomposition. When non-useful components decay, they release harmful gases that damage the environment. To avoid the adverse impact, these garbage items are sent for recycling.
For example, when leaves burn, they release harmful gases and causes air pollution. Moreover, they lead to asthma and lung diseases. That is why leaves should be buried so as to convert them into manure.
Vermi-composting:
The process of preparing compost with the help of red worms is called vermi-composting. The red worm is a type of earthworm that lives in the soil rich in organic matter, which is a combination of nitrogen-rich and carbon-rich material with plenty of moisture and microbes.
Method of Vermi-compositing:
A vermi-composting pit is made with a wooden box or big cement rings.
A mesh is spread at the bottom of the pit.
Vegetable waste, fruit waste, waste paper which is not shiny or coated with plastic, is spread over the mesh.
Water is sprinkled to create moisture so that the red worms can live.
A vermi-composting pit takes nearly two to four weeks to completely convert waste into manure.
Waste material that is rich in oils, salt, meat and vinegar stops the growth of red worms. These red worms have a special structure called gizzards with which they grind food material. A red worm eats food equal to its weight every day. Red worms do not survive in too hot or too cold conditions.
Question for Study Notes: Garbage In, Garbage Out
Try yourself:
Which of the following components of garbage can be easily decayed?
Recycling Paper and Plastics: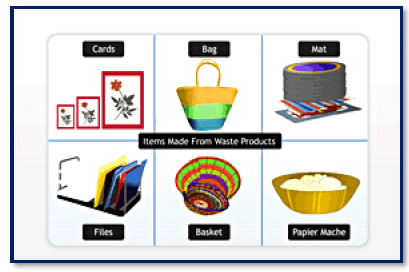 It is important to reuse things than discarding them as waste.
It is important to reuse things than discarding them as waste. Many nice articles can be made out of waste. Industries use recycled or waste paper to regenerate paper. Paper that is suitable for recycling is called "scrap paper". You can recycle old newspapers, magazines, notebooks and used envelopes, but not waxed paper, oil-soaked paper, paper contaminated with food, carbon paper, thermal fax paper, plastic laminated paper, stickers, and sanitary products or tissues.
Steps involved in recycling paper:
Tear paper into small pieces.
Soak these pieces in water for a day.
Make a thick paste and spread it on a net or sieve.
Let water drain off completely.
Use an old cloth or newspaper to remove the extra water from the paste and dry it.
Use this paste to get beautiful patterns.
Disadvantages of using of polythene bags:
We use many plastic items such as tooth brush, combs, containers, bottles, shoes, toys, wires, frames and bags every day. Certain parts of vehicles like cars and buses, and electronic goods like radios, televisions and refrigerators, are all made of plastic. All these are useful to us in many ways, but using plastic is very harmful in terms of health and as well as the environment. Plastics are not suitable for storing cooked food because they emit harmful chemicals when they are exposed to high temperatures. Using plastics causes health problems such as heart disease, diabetes and reproductive dysfunction. Harmful gases are emitted from burning plastics, which cause cancer and they kill living beings.
That is why plastics should be disposed in the right way.
Fig: Polythene bags Plastics that do not contain the chemical, BPA, are usually licensed for storing food items. Plastics thrown casually get into drains and sewages, often blocking the way and causing water-logging. A major cause of the floods in Mumbai, India, in August 2005 was the choking of the drainage system by plastic waste. So polythene bags should not be used for garbage disposal.
Measures taken to prevent from the dangerous effects of plastics:
Adopt healthy practices such as:
Reduce, reuse and recycle plastics.
Carry jute or cloth bags for shopping
Do not store food items in plastic bags.
Do not burn plastic items.
Recycle plastics so that new plastic items can be made.
Waste that does not decompose should be put in blue dustbins, while waste that decomposes easily should be put in green dustbins.
Question for Study Notes: Garbage In, Garbage Out
Try yourself:
Which of the following items is suitable for recycling paper?
Vermi-composting:
Conversion of the waste generated in the kitchen into organic matter with the combined action of earthworms and micro-organisms is called vermi-composting.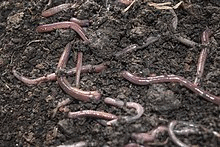 Fig: Vermi-composting
The organic matter so formed is used as manure for plants.