Q. 14. 1, 4–Pentadiene reacts with excess of HCl in the presence of benzoyl peroxide to give compound X which upon reaction with excess of Mg in dry ether forms Y. Compound Y on treatment with ethyl acetate followed by dilute acid yields Z. Identify the structures of compounds X, Y and Z. (1995 - 4 Marks)
Ans. Sol. TIPS/Formulae : (i) 1, 4-Pentadiene reacts with HCl in presence of benzoyl peroxide in Markownikoff's way.
NOTE : : Peroxide effect applies to HBr only.
(ii) Gr ignard reagent reacts with ethyl acetate to form ketones, or ter-alcohol if Grignard reagent is taken in excess.
Thus the given reactions can be written as below.





Q. 15. An organic compound E(C5H8) on hydrogenation gives compound F(C5H12). Compound E on ozonolysis gives formaldehyde and 2-ketopropanal. Deduce the structure of compound E. (1995 - 2 Marks)
Ans. Sol. Summary of the given reactions

Since hydrogenation of (E) to (F) takes up two molecules of hydrogen, it indicates the presence of two double bonds in E which is further supported by its ozonolysis to form two products having three carbonyl groups. Further structure of ozonolysis product leads to following structure to compound (E).

Q. 16. Optically active 2-iodobutane on treatment with NaI in acetone gives a product which does not show optical activity. Explain briefly. (1995 - 2 Marks)
Ans. Sol. TIPS/Formulae : In SN1 reaction racemization as well as inversion is observed.
Reaction of optically active 2-iodobutane with NaI in acetone is an SN1 reaction which involves formation of carbocation as intermediate.

Thus the product, being a racemic mixture will be optically inactive.
Q. 17. A hydrocarbon A, of the formula C8H10, on ozonolysis gives compound B(C4H6O2) only. The compound B can also be obtained from the alkyl bromide, C(C3H5Br) upon treatment with magnesium in dry ether, followed by carbon dioxide and acidification. Identify A, B and C and also give equations for the reactions. (1996 - 3 Marks)
Ans. Sol. Summary of the given facts
Since compound (B) is obtained from compound (C) C3H5 Br through reaction with Mg and CO2, it seems that compound (B) is a carboxylic acid formed via the formation of Grignard reagent. Hence compound (C) should be an alkyl halide having three carbon atoms. The alkyl halide (C) is unsaturated (indicated by number of hydrogen atoms) which is present in the form of ring and thus (C) should be bromocyclopropane.


Q. 18. Give the structures of the major organ ic products from 3-ethyl-2-pentene under each of the following reaction con ditions. (1996 - 3 Marks) (a) HBr in the presence of peroxide (b) Br2/H2O (c) Hg(OAc)2/H2O; NaBH4
Ans. Sol.







Q. 19. The hydrocarbon A, adds one mole of hydrogen in the presence of a platinum catalyst to form n-hexane. When A is oxidized vigorously with KMnO4, a single carboxylic acid, containing three carbon atoms, is isolated. Give the structure of A and explain. (1997 - 2 Marks)
Ans. Sol. TIPS/Formulae : (i) It should be an alkene as it adds one mole of H2. (ii) The C6 alkene should be symmetr ical because on oxidation it gives a single carboxylic acid having three carbon atoms.


Q. 20. Show the steps to carry out the following transformations.
(i) Ethylbenzene → benzene (1998 - 2 Marks)
(ii) Ethylbenzene → 2- phenylpropionic acid. (1998 - 3 Marks)
Ans. Sol.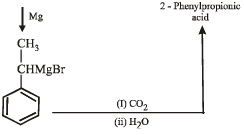 Q. 21. Complete the following reactions with appropriate structures of products/reagents.
(i)


(1998 - 2 + 2 Marks)

(1999 - 3 Marks)
Ans. Sol.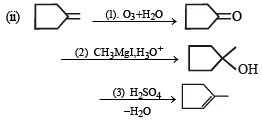 Q. 22. An alkene (A) C16H16 on ozonolysis gives only one product (B) C8H8O. Compund (B) on reaction with NaOH/I2 yields sodium benzoate. Compound (B) reacts with KOH/NH2NH2 yielding a hydrocarbon (C) C8H10. Write the structures of compounds (B) and (C). Based on this information, two isomeric structures can be proposed for alkene (A). Write their structures and identify the isomer which on catalytic hydrogenation (H2/Pd – C) gives a racemic mixture. (2001 - 5 Marks)
Ans. Sol.

(i) Conversion of (B) to (C) involves iodoform reaction, hence (B) must contain – COCH3 group leading to C6H5COCH3 (C8H8O) as its molecular formula. (ii) Since the given alkene gives only one product on ozonolysis, so the given alkene must be a symmetrical alkene containing a double bond in centre. Thus the alkene (A) must have following structure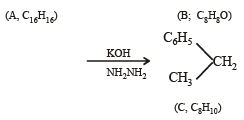 Isomeric structures of A

NOTE : Since catalytic hydrogenation of alkenes takes place in cis -(syn-) manner; hence recemic mixture will be formed by the trans-isomer.
Q. 23. Write down the heter ogeneous catalyst in volved in the polymerisation of ethylene. (2003 - 2 Marks)
Ans. Sol. Ziggler – Natta catalyst (R3Al + TiCl4)
Q. 24.

(2003 - 4 Marks)

(isomer of A)

(it gives negative test with Fehling solution but responds to iodoform test).

(both gives positive Tollen's test but do not give iodoform test).

primary alochol.
Identify from A to G.
Ans. Sol. (i) Formation of HCOONa and a primary alcohol due to Cannizzaro reaction of F and G indicate that either F or G should be HCHO. Thus the alkene A should have CH2 = grouping. The remaining 5 C's of A should have grouping = HCC4H9.
(ii) Formation of only E by the ozonolysis of D (C6H12) indicates that D should have following structure

NOTE : Fehling's test is given by aldehydes and not ketones.
(iii) Since A is isomer of D, former should have following structure.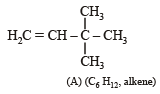 Q. 25. Draw Newmann projection of relatively less stable staggered form of n-butane. The reason of low stability of this form is van der Waal's repulsion, torsional strain, or both. (2004 - 2 Marks)
Ans. Sol.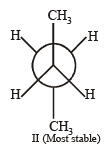 Newmann projection formulae II is the most stable because the bulky groups (CH3) are at maximum possible distance from each other. Structure I is relatively less stable because the two CH3 groups are close to each other leading to vander Waal's repulsion between the two methyl groups.