THE BROWNING VERSION-By Terrence Rattigan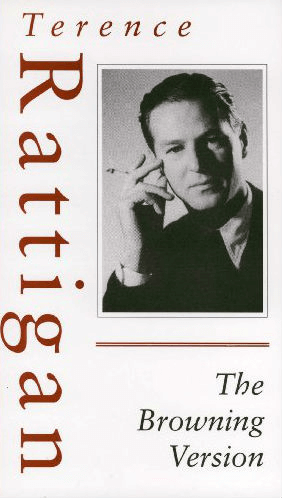 A critical summary:
The Browning Version is the play that cemented Terence Rattigan's reputation as a serious, mature playwright. It is viewed as one of his best works, and one of the best one-acts ever written. (The actual play,The Browning Version, opens in the sitting room of the home of Mr.Andrew Crocker-Harris and Mrs Millie Crocker-Harris. A young student, John Taplow, knocks at the front door, and then lets himself inside. He steals a chocolate from an open box, and then uses his walking stick to practice his golf swing. ) Frank Hunter, a young schoolmaster, watches Taplow's moves unseen. Finally, he interrupts and gives Taplow pointers on his swing. They converse for a few moments. Taplow has come for his tutoring session with mr.Andrew Crocker-Harris, although it is the last day of school. The young man is worried, however, that Andrew will not give him his ''remove.'' He plans to study science, which is Hunter's subject.
Taplow does a wicked impersonation of Andrew, which he almost immediately regrets. However, Frank asks him to do it again, and then suggests that since Crocker-Harris is rather late, Taplow should go play golf. Taplow is appalled at the suggestion. Despite his problems with Andrew, Taplow does like him and fears him enough to stay. Taplow relates an incident and again mimics Andrew for Frank's benefit. This time, Millie Crocker- Harris appears at the door, and she listens for a moment before coming inside. Taplow is afraid that Millie has overheard his imitation. Millie informs Taplow that her husband will be tied up at the Bursar's for a while and that he could go, but he decides to wait. Millie sends him on an errand.