'Dust of Snow' is a beautiful poem of nature by Robert Frost. In this poem, a symbolic incident is present. The poet is standing under a hemlock tree. He is in a sad mood. He thinks that his day has been lost then a crow shakes the hemlock tree and the dust of snow falls on him. This little incident brings about a sudden change in the state of the poet's mind. His mood has changed. He thinks that it has saved the rest of his day and gets busy with his work like the crow.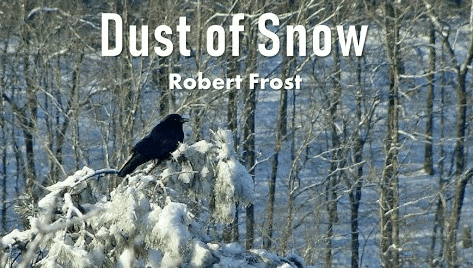 It is a winter's day.

The treetops were covered with masses of snowflakes.

The poet was walking under one such snow-covered tree.

This tree was a hemlock tree, a conifer associated with poisonous qualities.

A crow alighted on the hemlock tree suddenly.

With the sudden movement of the crow, the mass of snowflakes started falling down the tree.

The snowflakes fell down upon the poet who was standing under the tree.

The mass of snowflakes was so light and fine that it looked like the dust of white snow.

The sudden movement and arrival of the crow and the falling of the flakes of snow look like just ordinary happenings.

But the falling of fine snowflakes on the poet leaves a tremendous effect on him.

Before this, the poet was in a gloomy or despairing mood.

However, this simple beautiful act of nature has a very comforting effect on him.

The fall of snow over him changes his mood and mental state.

It gladdens his heart.

Before this incident, that particular day was not going too well for him.

He had decided in his mind that day would go waste.

However, the fall of snowflakes on him makes him realise that the whole day has not been wasted.

At least, this part of the day when he is enjoying the snowflakes has been saved.

At least, some part of the day has been pleasant.

If he had not experienced such a pleasant experience, he would have regretted the wastage of the whole day.