The trees in the poem are of the paintings or pictures that are decorative inside the houses. Birds can't sit in the trees because they don't exist physically as natural forests have them. The roots work to free themselves from the cracks in the verandah floor. The boughs are compared with the newly discharged patients moving to the clinic doors. The poet is sitting inside the house writing long letters. The night is pleasant and fresh. The smell of leaves and lichen is reaching her. The trees are stumbling forward into the night. The moon is seen shining in the top of the tallest oak.

Lines 1 – 6:
"Never shall a young man,
Thrown into despair,
By those great honey-coloured,
Ramparts at your ear,
Love you for yourself alone,
And not your yellow hair."
In these lines, the poet is speaking to the young Anne Gregory. He tells her that her hair is the same color as honey. The way her hair falls over her ear, entirely enveloping it within the strands, makes the poet think of the ramparts one finds surrounding a castle and protecting it against attack from the outside. The poet knows that the sight of her beautiful hair has made many a young man fall in love with her, and also to despair for their overtures are not accepted by her. However, the poet is also sure that all the young men who claim to be in love with her love her for her yellow hair, that is, for her appearance alone. They do not know who she really is, and hence they cannot appreciate her inner beauty, being enamored of her outer appearance only.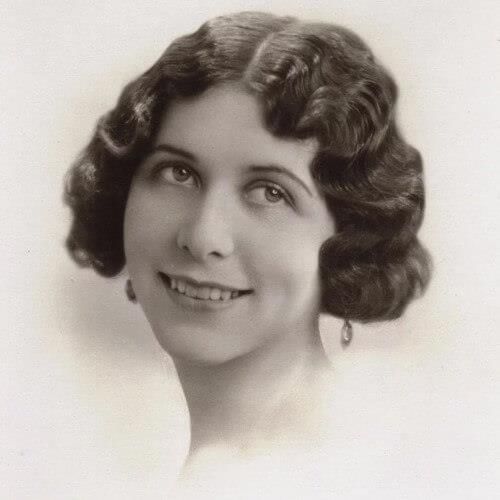 Fig: Anne Gregory
Lines 7 – 12:
"But I can get a hair-dye,
And set such colour there,
Brown, or black, or carrot,
That young men in despair,
May love me for myself alone,
And not my yellow hair."
In these lines, Anne Gregory is giving the poet a response to his statement that men love her only for her outward appearance. She does not say that the poet's point of view is entirely wrong. Instead, she says that if her yellow hair is what men like, she can easily dye it some other color. That is, she can change her physical appearance. She also suggests what color she might dye her hair, and mentions brown, black and carrot as plausible options. These, she feels, are less appealing than blonde. In other words, she is saying that she can choose to look ugly if she wants. Perhaps if she looked ugly then she would get a chance to find out if it is possible for some man to look beyond her physical appearance and love her for the person she is on the inside.

Lines 13 – 18:
"I heard an old religious man,
But yesternight declare,
That he had found a text to prove,
That only God, my dear,
Could love you for yourself alone,
And not your yellow hair."
In these lines, we once again hear the poet speaking. He tells Anne Gregory that the previous night he had come across an old man who was quite religious-minded. This old man had asserted that he had found a manuscript in which it was written that only God will be able to love Anne for more than her physical appearance. In other words, the poet is saying that it is a truth since time immemorial that men cannot easily judge women on anything other than their looks. He is also paying Anne the compliment that she can never look ugly even if she wants to.