Detailed Summary
When the play opens, we see Lomov arriving at Chubukov's house. Chubukov, a farmer, greets Lomov and asks him why he is dressed so formally. Lomov replies that he has come to meet him and not to attend any function. Lomov is visibly excited and anxious, but he tries to calm himself down and finally tells Chubukov the reason for his visit. He wants to ask for his daughter Natalya's hand in marriage. Chubukov is delighted and goes to call Natalya. However, before he does so, Lomov asks if Natalya will accept him. Chubukov assures him that she will be happy to marry him.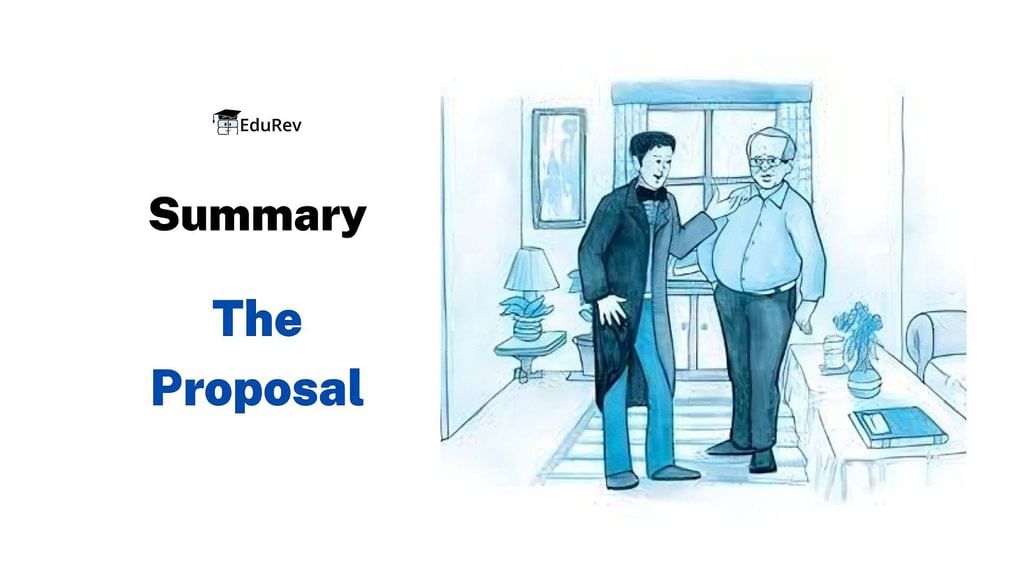 While waiting for Natalya, Lomov's excitement builds up again, and he thinks about his life and why he needs to get married. He is thirty-five years old, and he suffers from various health issues such as palpitations, excitement, and insomnia. He believes that marrying Natalya, who is an educated and skilled housekeeper, is the right decision for him.
When Natalya enters the room, Lomov becomes even more nervous and starts trembling. Despite his anxiety, Natalya welcomes him warmly, and Lomov tries to talk to her about his proposal. However, before he can say anything, they start arguing about the ownership of Oxen Meadows. This argument soon turns into a shouting match, and they don't calm down.
When Chubukov enters the room and sees them quarrelling, he also becomes angry and joins the argument. Instead of calming them down, he insults Lomov and his family members, and Lomov's condition deteriorates. He starts using insulting words for Chubukov and Natalya, and he falls unconscious on a chair.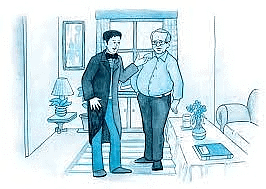 Question for Detailed Summary: The Proposal
Try yourself:
What is the reason for Lomov's visit to Chubukov's house?
Natalya and Chubukov think that he is dead, but he comes to his senses after some time. Chubukov tells Lomov that Natalya is willing to marry him, and Natalya confirms her agreement. Chubukov joins their hands and asks them to kiss each other, but they start arguing again about the qualities of their respective dogs. The play ends with Chubukov trying to calm them down.
In conclusion, the play is about Lomov, who visits Chubukov to ask for his daughter Natalya's hand in marriage. However, things take an unexpected turn, and the argument about the ownership of the Oxen Meadows leads to a series of quarrels and insults between the characters. The play highlights the absurdity of human behaviour and the way that small misunderstandings can escalate into major conflicts. Despite the comedic tone of the play, it also raises important questions about the nature of relationships, communication, and the way that people interact with each other.
Summary in Brief
Lomov's Arrival with a Proposal of Marriage: Chubukov is lounging in his cosy drawing room when his wealthy neighbour, Lomov, walks in wearing fancy evening attire complete with white gloves. Chubukov welcomes him but is curious as to why Lomov is dressed up like a peacock. Chubukov's mind races, wondering if Lomov has come to beg for money. However, Lomov is so flustered with excitement that he beats around the bush and fails to state his request clearly. Chubukov cuts to the chase, urging him to get to the point. Finally, Lomov blurts out that he wishes to marry Chubukov's daughter Natalya Stepanova. Chubukov is overjoyed and happily embraces and kisses Lomov. He assures him that he has always wanted Natalya to marry someone like him and that she too is in love and is eagerly waiting for him. Chubukov describes her as a lovesick kitten, head-over-heels for Lomov.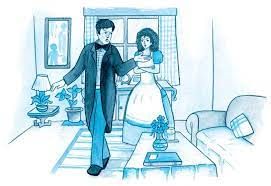 Main Points of the Story


1. Lomov and Chubukov are both neighbours and landlords.
2. Lomov comes to Chubukov with a proposal to marry Chubukov's daughter Natalya.
3. Lomov is 35 and wants to lead a peaceful married life.
4. He thinks that Natalya is an excellent housekeeper, and not bad looking.
5. He is excited and forgets the purpose of his visit.
6. He starts quarrelling with her over Oxen Meadows.
7. Natalya opposes Lomov and claims that Oxen Meadows belong to them.
8. Lomov is ready to show the documents to prove his ownership of Oxex Meadows.
9. He is ready to make Oxen Meadows a present to her.
10. Chubukov enters and adds fuel to the fire.
11. Chubukov sides with his daughter Natalya.
12. Lomov threatens to go to court.
13. They quarrel and indulge in abusing and insulting each other.
14. Natalya comes to know that Lomov has come there with a proposal of marriage.
15. She blames her father for not telling her about it before.
16. She threatens to die if Chubukov doesn't bring Lomov back.
17. Lomov returns and now they pick up a new quarrel over their dogs.
18. Natalya says that her dog squeezer is far superior to Lomov's dog Guess.
19. Lomov is excited and his palpitations start rising.
20. He falls into the armchair and loses consciousness.
21. Cheburkov is confused and threatens to cut his throat or shot himself.
22. Chuburkov doesn't want to miss this opportunity.
23. He makes them embrace and kiss each other.
24. Chubukov blesses them with a happy married life.