Methods of Preparation
Synthesis of Furan, Pyrrole and Thiophene
(i) Furfural can be prepared by dehydration and cyclization of pentoses. Furfural undergoes decarbonylation to give furan (eq. 1).

...(1)
(ii) The Paal-Knorr method for synthesis of furans involves cyclization of 1,4-diketones with acid catalysts such as sulphuric acid, phosphorus (V) oxide, zinc chloride, acidic ion-exchange resin etc. while pyrroles and thiophenes can be obtained by heating 1,4-diketones with ammonia (or primary amines) and phosphorus pentasulphide respectively (eq. 2).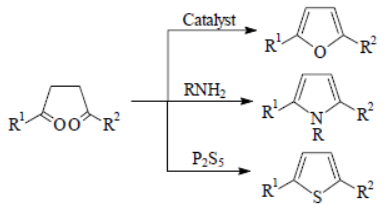 ...(2)
(iii) 3-Substituted furans can be prepared by cyclization of Z-butene-1,4-diols with pyridinium chlorochromate (PCC) (eq. 3).

..(3)
(iv) Pyrrole can be produced from a mixture of furan, ammonia and steam on alumina at 675K (eq. 4).

...(4)
(v) The Knorr synthesis is the most widely used method for the synthesis of pyrroles. Two moles of ethyl acetoacetate are used (eq. 5).

...(5)
(vi) Pyrrole and thiophene can also be prepared by passing a mixture of ethyne and ammonia or hydrogen sulphide through a red hot tube (eq. 6).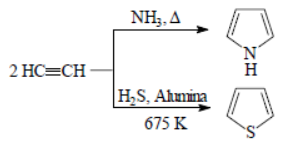 .(6)
1,3-Diynes and hydrogen sulfide can also be converted to substituted thiophenes (eq. 7).

...(7)
(vii) Cyclization of 1,2-diketones with diylide (eq. 8) is also used to prepare different thiophenes.

...(8)
Synthesis of Pyridine
Pyridine and picolines (methylpyridine) are found in coal-tar. Picolines can be oxidised to corresponding pyridine carboxylic acids and converted to other pyridine derivatives.
(i) Hantzsch Synthesis: One of the most useful methods for the synthesis of pyridine derivatives is Hantzsch synthesis. The Hantzsch synthesis involves the reaction of two molecules of β-ketoester or other activated methylene compounds with an aldehyde in the presence of ammonia to give dihydro-pyridine which can be oxidised to give pyridine derivative (eq. 9). There are several modification of the Hantzsch synthesis.

(ii) Ring expansion: Pyrrole undergoes ring expansion after reaction with dichlorocarbene to give 3-chloropyridine (eq. 10).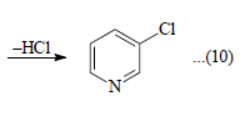 (iii) Synthesis of pyridones: Pyridones may be prepared by the action of ammonia or amines with pyrones (eq. 11). Aromatic amines do not give good yields.

...(11)
Synthesis of Indole
(i) Fischer-Indole Synthesis: The most important synthesis of indole is the Fischer-indole Synthesis which has been investigated very widely. The Fischer-indole synthesis is carried out by heating phenyl hydrazone or substituted phenyl hydrazone of an aldehyde or ketone. The reaction is catalyzed by zinc chloride, polyphosphoric acid, sulphuric acid or boron trifluoride and proceeds with elimination of a molecule of ammonia (eqs. 12-13).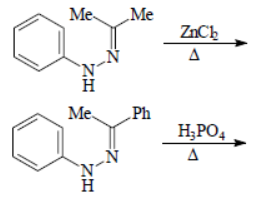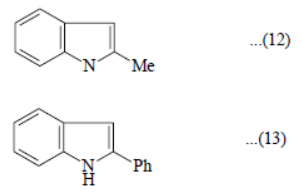 Different mechanisms have been proposed depending on reaction conditions and nature of hydrazone. The most acceptable mechanism is given in Scheme 1.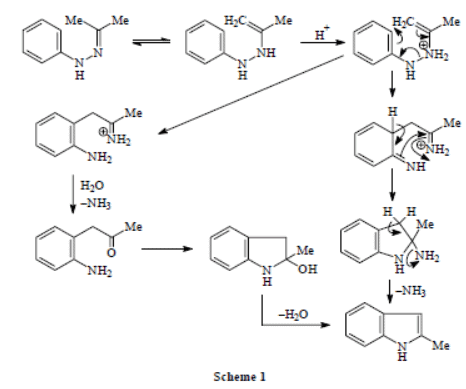 Unsymmetrical phenyl hydrazones give a mixture of two differently substituted indoles, the ratio of which depends on steric factors and reaction conditions (eq. 14).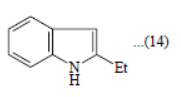 (ii) Madelung Synthesis: Reaction of o-toluidine with acyl chloride gives o-acylamino toluene which can be cyclized with strong bases followed by dehydration to give indole or 2-substituted indoles (eq. 15).


(iii) Bischler Synthesis: The Bischler synthesis involves reaction of aniline or substituted aniline with α-halo ketone or aldehyde to give α-aryl aminoketone or aldehyde which can be cyclized by heating with an acid or zinc chloride to give substituted indoles (eq. 16).

Synthesis of Quinoline
(i) The Skraup Synthesis: The Skraup synthesis consists of heating an aniline derivative having free ortho position with glycerol and sulphuric acid and an oxidising agent like nitrobenzene corresponding to aniline (eq. 17). The acid acts as a dehydrating agent and an

acid catalyst. The reaction proceeds in the following manner (Scheme 2). Dehydration of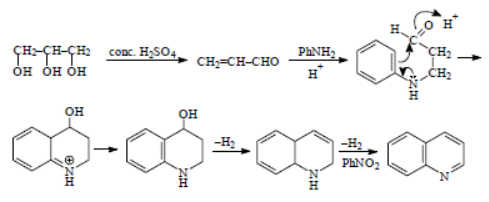 Scheme 2
glycerol gives acrolein which undergoes Michael addition with aniline followed by electrophilic attack of protonated carbonyl group. The cyclized intermediate undergoes subsequent dehydration and oxidation to give quinoline. Oxidation has been reported with other oxidising agents as well. Quinolines with substituent in the benzene ring may be obtained by starting from substituted anilines. o- and p-Substituted anilines give 8- and 6-substituted quinolines respectively (eqs. 18-19), while m-substituted aniline gives a mixture of 5- and 7-substituted quinolines (eq. 20). If the reaction is carried out in presence of substituted α,β-unsaturated aldehyde or ketone, instead of acrolein generated in situ, quinoline with substitutent in heterocylic ring is obtained.

...(18)

...(19)

(ii) Friedlander Synthesis: This synthesis involves heating a mixture of o-aminobenzaldehyde or o-aminoacetophenone with an aldehyde or ketone having an active methylene group in presence of a base (eq. 21).
...(21)
(iii) Knorr Quinoline Synthesis: 2-Substituted quinolines can also be prepared by heating aniline with β-keto esters in presence of an acid (eq. 22).

..(22)
(iv) Combes Synthesis: When aniline is heated with 1,3-diketones in presence of an acid, 2,4-disubstituted quinoline is obtained (eq. 23).

...(23)
Synthesis of Isoquinoline
(i) Bischler-Napieralski Synthesis: The Bischler-Napieralski synthesis involves reaction of β-phenyl ethylamine with acyl halide to give β-phenyl ethylamide which undergoes cyclodehydration in presence of POCl3, P2O5, H3PO4 or ZnCl2 to give 3,4-dihydroisoquinoline. Dehydrogenation of 3,4-dihydroquinoline over Pd, S or Se yields 1-substituted isoquinoline (Scheme 3). There are various modifications of the method. The two modifications are Pictat-Gams synthesis (eq. 24) in which a hydroxy group is introduced in the starting β-phenyl ethylamine and Pictet-Spengler synthesis (eq. 25) in which the β-phenyl ethylamine is reacted with an aldehyde to give an imine which is cyclized in presence of an acid to give tetrahydroisoquinoline.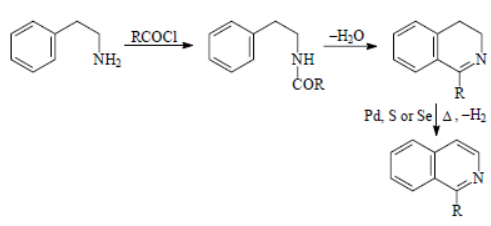 Scheme 3

...(24)

...(25)
(ii) Pomeranz-Fritsch Reaction: This is carried out by condensation of an aromatic aldehyde with an amino acetal which is then cyclized in presence of sulphuric acid to give isoquinoline (eq. 26).

...(26)
Alternatively, benzylamine can be condensed with acetal followed by cyclization to give isoquinoline (eq. 27).

...(27)