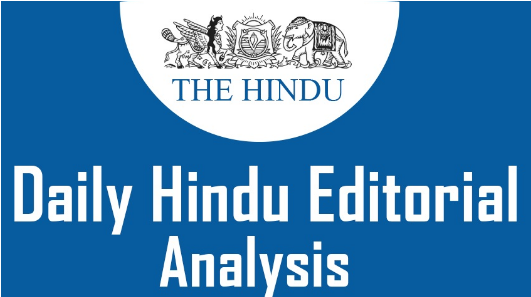 1. THREAT OR TREAT-
GS 2- Bilateral, regional and global groupings and agreements involving India and/or affecting India's interests
Context
The Regional Comprehensive Economic Partnership (RCEP) was signed into existence on Sunday by 15 countries led by China, Japan, South Korea, Australia, New Zealand and the 10-state ASEAN grouping, creating one of the world's largest trading blocs.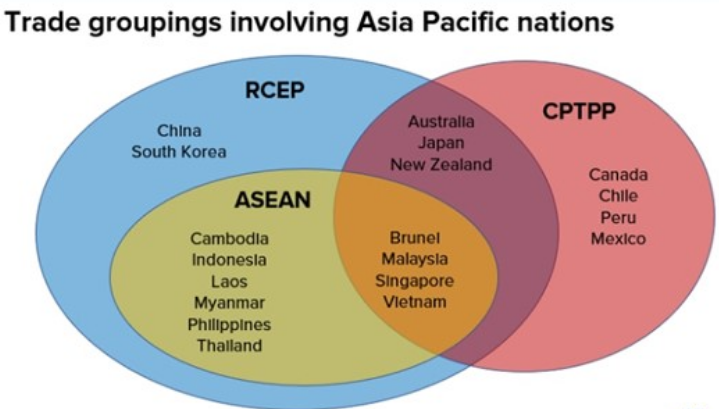 India And Rcep
(i) Noticeable by its absence was India, which after seven years of protracted(longing) negotiations decided last November to exit the grouping.
(ii) India had justified its decision as protecting its economy from burgeoning(increasing) trade deficits with a majority of the 15 RCEP members.
(iii) India had cited the grouping's refusal to accede(agree) to its requests on safeguards as a deal breaker.
(iv) Those reasons were on the face of it justifiable at the time and were welcomed by industry, trade and farmers' groups.
(v) However, 12 months down the road, India's opting out appears far more debatable in terms of its economic rationale.
(vi) The global trade and the economy is foundering(sinking) on the shoals of the COVID-19 pandemic, especially as new infections in Europe and the U.S. prompt fresh restrictions there.
(vii) The pre-eminence(supremacy) of the east Asian and Pacific countries including China, South Korea, Vietnam, Australia and New Zealand serving as a bulwark in containing the pandemic and re-energising economic activity can hardly be understated.
(viii) Add to this the heightened tariff uncertainty generated by the deadlocked Brexit negotiations between Britain and the E.U., and it becomes evident(obvious) that India may have missed a vital opportunity.
Reconsidering Stance
(i) Given that the RCEP members now account for about 30% of the global GDP and a third of the world's population, the signatory states were emphatic(joyful) that the timing of the accord presents a unique opportunity to support their economic recovery, inclusive development and job creation even as it helps strengthen regional supply chains.
(ii) Interestingly, among the ASEAN signatories are several relatively far smaller economies including Vietnam and the Philippines, which not only continue to have their share of disputes with Beijing but also suffer significant trade imbalances with Asia's largest economy.
(iii) That these and other larger nations in the grouping have chosen to bury their geopolitical differences with China in order to prioritise what they collectively see as a mutually beneficial trading compact that would benefit their economies over the longer term is the clearest testament to economic realism trumping nationalist politics.
(iv) Also, the summary of the final agreement shows that the pact does cover and attempt to address issues that India had flagged including rules of origin, trade in services, movement of persons and, crucially, remedies and safeguards.
(v) Acknowledging India's economic heft and value as a market, the RCEP members have not only left the door open should New Delhi reconsider its stance but have also waived a key 18-month cooling period for interested applicants.
Conclusion
(i) It would be in India's interest to dispassionately review its position and embrace openness rather than protectionism.
(ii) The final agreement of RCEP covers various issues that India had flagged.

2. NEEDED, A POLICY FRAMEWORK IN STEP WITH TECHNOLOGY-
GS 2- Important aspects of governance, transparency and accountability
Context
(i) As technology has evolved in the latter part of the 20th century and the early part of the 21st century, the traditional boundaries between goods and services have blurred.
(ii) Computing capabilities have surged faster than capabilities in traditional industries.
(iii) These information-based technologies have been widely adopted across a broad range of industries and products that traditionally have not been perceived as electronic or software based.
(iv) Information is the new currency powering economies. The expansion of computing power has driven the pace of information gathering and analysis.
(v) The new currency drives processes and decision-making across a wide array of products and services, making them more efficient and value accretive(growth) for consumers.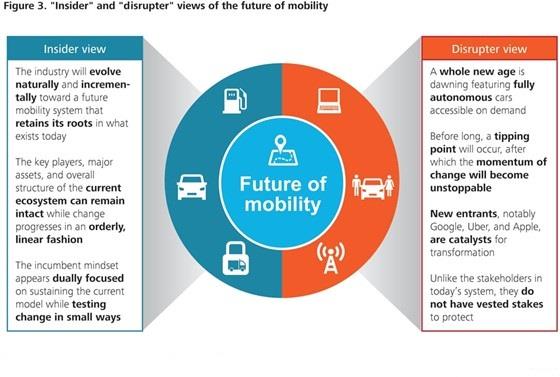 Data Is A New Currency
(i) Let us look at a traditional good, the automobile.
(ii) A modern automobile has 40% of its component value from electronic-based products and a modern electric vehicle has close to 100 million lines of code, which is more than that used by a Boeing 787 or the Chrome browser.
(iii) This is a paradigm shift as the amount of "value add" from intangible technology services as opposed to physical objects, even in traditional goods, is being transformed by information.
(iv) Even if you look at a conventional "metal-based" industrial product, information and electronics are becoming all-pervasive, ensuring that we set boundaries to control quality or the uptime of the equipment.
(v) There is increasing digitisation and electronification of industrial activities, products and services, influencing the evolving skill sets in industry.
(vi) This revolution is taking place across products, as information availability drives efficiency and creates value for customers by providing greater control over the product and its surrounding environment.
(vii) And, this is what impels(forces) customers to value products that have utilised these evolving technologies.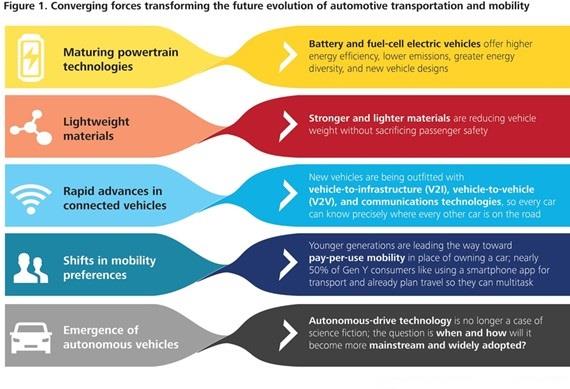 Working In Silos
(i) As governments have focused on improving the lives of people, they have looked at economic development and industry as catalysts to progress.
(ii) To address the needs of various stakeholders, governments have tended to build specialised departments and designed policies that govern those areas.
(iii) However, over time, as each of these departments grew, they have tended to operate in silos(isolation).
(iv) This has for most of the 20th century been reasonably successful in driving economic development in countries.
(v) The recent developments in technology have, however, blurred standard boundaries that dictate policy framework in most governments.
(vi) If you take India, industrial promotion policies look at encouraging capital formation from a manufacturing perspective.
(vii) As technology is driving an increasing share of the value add coming from digitisation and data analytics in products and services across industry segments, there needs to be a way of encouraging capital formation by way of intangibles in traditionally tangible industries.
(viii) If you look at the automobile industry, policies are governed by the Heavy Industries and the Surface Transport Ministries, respectively.
(ix) However, increasing electronification and digitisation of the automobile are not covered by industrial policies that govern the Electronics and Information Technology Ministry.
(x) Another example involves drones that could serve different sectors, including agriculture, and would require a lot of inter-departmental clearances outside of the Department of Agriculture.
(xi) There is increasingly a need for inter-departmental cooperation and synergy not only in policy framework but also in deployment.
Taking An Aggregate View
(i) This departmentalisation of policies is facing a challenge from technology that very often blurs the boundaries served by different policies.
(ii) There is a need to have a holistic view of policies for economic development as technology is becoming a significant enabler in most industries.
(iii) A change in policy framework regarding economic development that enables various ministries to work together is essential.
(iv) A sufficiently empowered policy clearing cell could ensure a holistic view on policy across departments of government, at the State and the Centre.
(v) In terms of attracting investments, policies have always been driven by subsidies and incentives but increasingly, in a competitive scenario, these are becoming hygiene factors.
(vi) More significantly, a nourishing ecosystem for industry, including the hard infrastructure and softer areas such as education, skilling, technical institutions, laboratories, testing centres, etc., has to be cultivated.
(vii) The creation of clusters of companies in adjacent but complementary areas could constitute such an ecosystem that encourages multi and cross-disciplinary learning and spur innovation and economic development.
(viii) Moreover, this type of ecosphere could also attract investment and capital formation.
(ix) There is also the larger issue of a shift of value between manufacturing and services as technology changes.
(x) The policy, by and large, promotes and gives incentives for manufacturing, whereas the share of intangibles, even in traditional manufacturing companies, whether it be software, research and development or even servicing of products, are not adequately covered in industrial policies.
(xi) It is important to include these to encourage innovation and technological development.
Conclusion
(i) In this evolving policy framework, it is important that there is close cooperation and alignment between the Centre and State to ensure effective implementation on the ground.
(ii) Some of these thoughts could help us navigate through an ecosystem that is changing with technology.

3. UNABATING ATTACKS ON JOURNALISTS-
GS 2- Important aspects of governance, transparency and accountability
Context
(i) Isravel Moses, a 26-year-old television journalist who reported on illegal encroachment of land and sale of ganja, was hacked to death in Nallur village in Kanchipuram district of Tamil Nadu on November 8.
(ii) Four persons who attacked him were later arrested.
(iii) The same day, another journalist, 35-year-old Syed Adil Wahab, was found brutally murdered in a jungle on the outskirts of Bhopal.
(iv) Earlier on June 14, 2018, Shujaat Bukhari, a prominent journalist from Kashmir and the Chief Editor of Kashmir Times, was shot dead by three militants in the heart of Srinagar, when he was returning home from office.
(v) His manifest views on bringing peace to the Valley did not go well with militants.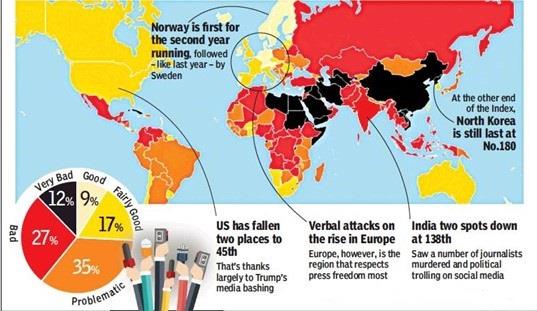 Journalism- Dangerous Profession
(i) Such attacks on journalists who dare to expose corruption and misdeeds of anti-social elements, or who do not toe the line of the establishment, have proved to be a threat to journalists the world over.
(ii) Unfortunately, India has been going down on the World Press Freedom Index during the last few years.
(iii) In the annual reports of Reporters Without Borders, India has steadily gone down in the global index from a rank of 138 in 2018 to 140 in 2019, and further down to 142 this year.
(iv) According to the United Nations, "Journalism is one of the most dangerous professions in the world".
(v) Between 2006 and 2019, over 1,200 journalist have been killed the world over.
(vi) On an average, it is estimated that one journalist is killed every four days. Sadly, in just one out of every ten such cases, the killers get convicted, while the rest go scot-free.
(vii) In 2009, as many as 32 journalists were killed in Philippines; ten were killed in Afghanistan in 2016,and ten journalists were among those killed in a suicide bomb attack in Kabul in April 2018.
(viii) A report released by an NGO last year states that 40 of the 198 journalists attacked in India between 2014 and 2019 died due to the attack.
(ix) The killing of journalists is more rampant(common) in smaller towns, while the figures in metro towns are quite low.
(x) It is cases like the killing of journalists such as the late Gauri Lankesh in Bengaluru in 2017, that draw much country-wide attention and impel(force) the police to investigate the murder.
Low Convictions
(i) Considering the rising trend in the number of journalists killed each year, the Chairman of the Press Council of India (PCI), Justice Chandramauli Kumar Prasad, counselled the government "to enact a special law for protection of journalists and speedy trial of cases of attacks and assaults".
(ii) The PCI's records indicate that 96% of the cases of attacks on journalists end up without conviction.
(iii) That there is a need for stringent laws to protect journalists hardly calls for emphasis.
(iv) Towards this end, Maharashtra has emerged as the first State in the country to enact a law.
(v) Under the Maharashtra Media Persons and Media Institutions (Prevention of Violence and Damage or Loss to Property) Act, 2017, any attack on journalists would be non-bailable and cognisable, and would be investigated by an officer not below the rank of Deputy Superintendent of Police.
(vi) Conviction under this Act could lead to imprisonment of up to three years and/or fine of up to ₹50,000.
(vii) The attacker will also have to compensate for medical treatment in case of injuries to the journalist and also pay for damage to any equipment.
(viii) Taking a cue from the Maharashtra law, Chhattisgarh is in the final stages of enacting a law known as Chhattisgarh Protection of Mediapersons Act.
(ix) It has a wider definition of journalists, covering drivers, and even relatives of journalists.
(x) On conviction, the attacker would be liable to be punished under relevant sections of the IPC.
(xi) But any public servant found guilty of dereliction of duties is liable to be punished with imprisonment of up to one year and/or fine of up to ₹10,000.
Conclusion
While these two States have taken the initiative to enact laws to protect journalists, other States have to follow. The sooner it is done, the better.