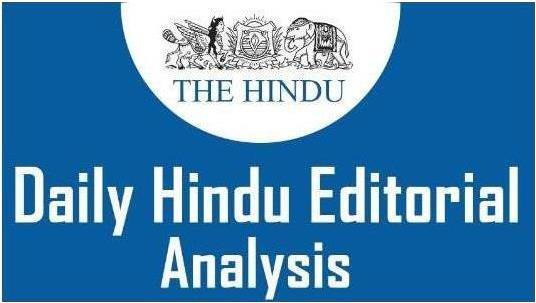 1. Shackles and Ties – Transition Period of U.K.'s Exit From EU
GS 2- Bilateral ties and agreements involving India and/or affecting India's interests
Context
The transition period of the U.K.'s exit from the EU (or Brexit) will soon end this month.
The Boris Johnson government is beginning to firm up its partnerships outside its region, and British Foreign Secretary Dominic Raab's Delhi visit came with a declaration of immediate and longer-term goals for the India-U.K. relationship.
What is Brexit?
BREXIT is the name or the short form given to Britain's exit from the European Union (EU).
Britain's exit from the EU will have a global impact and hence making rounds in the media.
On June 23, 2016, a referendum was held in which it was asked to voters "If the United Kingdom should remain a member of the EU or not?" 52 percent of the voters had voted to leave however 48 percent wanted to stay in the EU.
The reason given by those who wanted to leave the EU was that it is necessary to move out of the EU in order to protect the identity, culture, independence of the country along with its place in the world.
Those who were in favor of staying in the EU said that by remaining in it the economic gains are more as compared to the other factors given by the people who are not in favor of staying in it.

Brexit Impact On Indian Economy
Former Reserve Bank of India Governor Raghuram Rajan had said that "We are in the midst of an age of competitive devaluation and beggar-thy-neighbor policy. When elephants fight, the grass suffers."
BREXIT is creating fear amongst investors and businesses around the globe. The implication of the BREXIT will directly impact not only the Indian stock market but the global market in totality, including the emerging markets in the world. This is because of the high volatility in the pound.
BREXIT will hamper India's businesses based in the UK as till now they had border-free access to the rest of Europe. This was the main reason why Indian companies go to the UK.
The exit of Britain from the EU will have a significant effect as it is the largest export market for India and India invests more in the United Kingdom than the rest of Europe combined. It may have an impact on the decisions of Indian companies to invest in the future.
Both UK and EU account for 23.7 percent of Rupee's effective exchange rate. With BREXIT, foreign portfolio investments will outflow and will lead to the weakening of the rupee.
UK's third-largest Foreign Direct Investment (FDI) investor is India. There are more than 800 Indian companies in Britain.
India believes that if Britain leaves the EU it will adversely affect the movement of investors into the UK and will directly impact the investment.
Britain is considered as a gateway to the EU for India, with it opting out, the advantage by India is lost. Therefore, there is a need to get border-free access.
BREXIT UK accounts for 17 percent of India's Information Technology (IT) exports. If Britain chooses to opt-out the overhead costs are also going to increase.
As per one of the reports by NASSCOM: "Indian IT industry is going to experience a negative influence in the short term due to BREXIT." The return of these companies is going to be affected because of the depreciation of the pound.
In totality, the sectors which will be affected because of BREXIT will be auto, auto components, metals, oil, pharmaceuticals, IT, etc.
However, RBI is trying to recalibrate the monetary policy in order to reduce market volatility.
"Ten-Year" Road Map
Prime Minister Narendra Modi to be invited to the U.K. to the G-7 and the Climate Change (COP26) summits in 2021.
Mr. Johnson will be the first head of government to visit India after the spread of COVID-19; this will also be his first bilateral visit anywhere after Brexit, signalling the importance India and the U.K. give to this chapter in ties.
Mr. Raab discussed with External Affairs Minister S. Jaishankar and Mr. Modi regarding the upgrading of the 2004 India-U.K. Strategic Partnership to a "Comprehensive" Strategic Partnership.
The new partnership will envision closer military ties, cooperation in Indo-Pacific strategies, counter-terrorism and fighting climate change.
Britain is on a mission to secure free trade partners and so far has wrapped up nearly 20 trade deals, including most recently with the U.S., Japan, and Vietnam that will take effect from January 1, 2021.
Mr. Johnson hoped to announce the start of talks on an India FTA during his visit.
The highlight of India's relations in the next year will be closer cooperation on the coronavirus vaccine, with the Serum Institute set to produce and distribute the Oxford/AstraZeneca vaccine in India, and other parts of developing countries under the COVAX project.
India-UK Opportunities Post-Brexit
Trade boost: Getting rid of EU (European Union) regulations, Britain will be more flexible and increase trade between the two nations as a result.
GDP growth: As one of the fastest growing economies with a GDP growth projection of 42.9% (period growth at constant prices) between 2016 and 2021, there are ample investment opportunities in India.
Telecommunications: Globally, India ranked number 3 in 2016 in terms of investment in telecommunications at US$13.1 bn (constant prices), making India one of the best suitors to invest in the UK's telecommunication sector.
Tariff free: In the absence of the EU-India free trade agreement, the UK expects to benefit from tariff free trade with India.
Export: Britain will be able to increase its exports to India by more than £2 billion per year after Brexit by cutting EU red tape.
Export boost for the UK: There is significant potential for the growth in the export of pearls and precious stones from the UK to India, cars and car parts and alcohol.
Import: Imports from India to the UK will rise by around £1 billion, meaning the UK's balance of trade will be improved.
Push Towards A 5g India?
Data consumption: India's is the second biggest smartphone market in the world, leading to a meteoritic rise of data consumption — from 20 million terabytes in 2017 to 55 million terabytes in 2019. India consumes more than 11 GB/user/month — the highest in the world.
Lower fiber penetration: There is no practical way fiber connectivity can be enhanced quickly. This poses a serious challenge to back-haul capacities of the macro towers.
Industry 4.0: The Fourth Industrial Revolution (aka Industry 4.0) is powered by emerging technologies like artificial intelligence, machine learning, Internet of Things, Edge Computing, which need 5G to be effective. Such services are required to raise additional avenues for revenue generation to lower the financial strain on the carrier services.
Smart cities: 5G powers the technology driving smart cities. As India moves ahead with its Smart City vision, it must leverage 5G to ensure that the underlying technology remains relevant for a longer time.
Recent Developments
Over the past year, the MEA had responded sharply to protests at the Indian High Commission in London over the Article 370 move in Jammu and Kashmir, and the Citizenship (Amendment) Act.
This month it was Britain's concerns about the farmers' protests that sparked responses in New Delhi about interference in India's internal matters.
Mr. Raab's explanation that, sometimes, intense interest from the British Indian diaspora makes Indian politics a factor in British politics is a reminder of how closely linked the two countries remain.
Conclusion
A new chapter in the post-COVID-19 scenario, post-Brexit relationship would necessarily entail the U.K. to be more sensitive to India's concerns, and for India to be less sensitive when Britain expresses its concerns.
Also, India and the U.K. must not allow recent concerns to dominate their relationship.
2.U.S.'s Overreaching Aanctions On Turkey and Others
GS 2- Policies and politics of developed and developing countries affecting India's interests
Context
The U.S.'s decision to impose sanctions on Turkey over its purchase of the S-400 missile defence system from Russia further complicates the already troubled relationship between the two NATO members.
U.S. Secretary of State Mike Pompeo said earlier this week that the Trump administration was obliged to impose sanctions on Turkey under the Countering America's Adversaries Through Sanctions Act.
Earlier, the U.S. had suspended Turkey from its F-35 fighter jet programme which Washington feared would be undermined by the Russian system. President Recep Tayyip Erdo?an has called the sanctions "an attack on Turkey's sovereignty".
The U.S. decision will have implications for India as well, which has also ordered the S-400. The Trump administration has been non-committal on giving India a sanctions waiver.
Nato
The North Atlantic Treaty Organization, also called the North Atlantic Alliance, is an intergovernmental military pact between 30 North American and European and countries.
The organization furthers the North Atlantic Treaty that was signed on 4 April 1949.
NATO comprises a system of collective defence where the independent member states agree to mutual defence in response to any attack by an external party.
NATO's Headquarters are located in Every, Brussels, Belgium.
CAATSA
The Countering America's Adversaries through Sanctions Act or CAATSA, is a federal law of the United States that imposed sanctions on Iran, North Korea, and Russia. The bill was passed on 27 July 2017.
Title II of the Act deals with sanctions on Russian interests such as its oil and gas industry, defence and security sector, and financial institutions. This has been done in connection of Russia's military intervention in Ukraine and alleged interference in the US Presidential elections in 2016.
What Is The S-400 Air Defence Missile System? Why Does India Need It?
The S-400 Triumf, (NATO calls it SA-21 Growler), is a mobile, surface-to-air missile system (SAM) designed by Russia. It can also be integrated into the existing and future air defence units of the Air Force, Army, and the Navy.
It is the most dangerous operationally deployed modern long-range SAM (MLR SAM) in the world, considered much ahead of the US-developed Terminal High Altitude Area Defense system (THAAD).
From India's point of view, China is also buying the system. In 2015, Beijing signed an agreement to purchase six battalions of S-400 air defence missile system from Russia.
China's acquisition of the S-400 system has been viewed as a "game changer" in the region.
However, its effectiveness against India is limited. Experts suggest even if the missile systems will be stationed right on the India-China border and moved towards the Himalaya Mountains, Delhi would be off limits.
India's acquisition is crucial to counter attacks in a two-front war against Pakistan and China, including even high-end F-35 US fighter aircraft.
Implications On India
With India set to get the consignment of the S-400 air defence system early next year, New Delhi is watching Washington's moves closely.
While it has got a waiver from the outgoing Trump administration, Delhi hopes that the incoming Biden administration would not work towards reversing the decision.
If implemented stringently, CAATSA would impact Indian defence procurement from Russia.
Apart from S-400s, India has procurements like 1135.6 frigates and Ka-226T helicopters as well as joint ventures like Indo Russian Aviation Ltd, Multi-Role Transport Aircraft Ltd and Brahmos Aerospace.
It would also affect purchase of spares, components, raw materials and other assistance.
The bulk of India's military equipment is of Soviet/Russian origin including the nuclear submarine INS Chakra, the Kilo-class conventional submarine, the supersonic Brahmos cruise missile, the MiG and Sukhoi fighters, Mi helicopters, and the Vikramaditya aircraft carrier.
Cracks In Nato
The U.S.'s decision to suspend Turkey from the F-35 programme was well within its rights. While Washington decides who to sell its weapons to, punishing other countries for doing the same is transborder bullying and coercion sans strategic thinking.
Each country has the sovereignty on defence buys based on its requirements and security challenges.
The S-400, which has been deployed by Russia in Syria, along its borders with Eastern Europe and in the Arctic Circle, is seen as a highly advanced aerial shield.
Turkey, China and India, which are rising, ambitious powers with daunting security challenges, opted for the S-400 and it is all done under
U.S.'s actions could drive Turkey further into the hands of Russia, despite varying opinions and serious disagreements over crises such as Syria, Libya, and now Nagorno-Karabakh.
Mr. Erdo?an's stance to buy Russian weapons show that there is a paradigm shift in Ankara's strategic thinking.
The U.S.-Turkey tensions, coupled with the war of words between French President Emmanuel Macron and Mr. Erdo?an and the Greece –Turkey's anger over the Eastern Mediterranean region, point to cracks in NATO.

Conclusion
The U.S. should realize that it can no longer dictate terms in a changed global order with its new powers.
The U.S. should focus on deliberations and practice introspection on how to reduce the global tension by reducing the widening and take a broader view of the changes that are under way in the global order.
The 1990s unilateralism has already paved the way for a new multilateralism. There are many rising global powers and who will definitely not be okay with the U.S.'s dictatorship.
3. Converting Waste to Energy: New Waste to Energy Plant in Karnataka
GS 3- Conservation, environmental pollution and degradation
Context
Recently Karnataka government laid the foundation stone for an 11.5 MW waste ­to energy plant near Bidadi. There are many advantages as well as disadvantages of this plant.
About Plant
This plant in Bidadi expected to process 600 tonnes per day of inorganic waste.
The city of Bengaluru generates close to 5,000 tonnes of waste daily.
In this 5,000 tonnes waste, there are about 2,500 tonnes of waste is organic, about 1,000 tonnes is sweeping waste and 1,500 tonnes of waste is inorganic.
The Inorganic material of this plant which consists of bad quality plastics and used cloth pieces can be processed as Refuse Derived Fuel (RDF).
There are other Eight organic waste processing plants are operational within the cities of Karnataka.
These plants receive more than 2,000 tonnes of waste collected by households, commercial establishments and markets.
Here about 30%­ 40% of the material received is segregated organic waste and other is a mixed waste.
In the mixed waste there consists about 40% inorganic waste which can be converted into RDF.
What is Waste To Energy Plant?
This plant is a waste management facility that combusts wastes to produce electricity.
They are also called a trash-to-energy, municipal waste incineration, energy recovery, or resource recovery plant.
Around 92 plants with a capacity of around 250 MW have been set up in the country.
These plants are generating electricity from urban, agricultural and industrial waste.

Refuse Derived Fuel
This fuel is produced from Municipal Solid Waste.
This waste, usually taken from industrial or commercial sites.
Municipal solid waste is shredded, dried, baled and then finally burned to produce electricity.
This Fuel is a renewable energy source that ensures waste simply isn't thrown into a landfill.
This fuel has a calorific value of more than 2,500 kJ/kg.
This fuel can be used to generate steam energy.
Steam energy can be converted into electric energy as compared to burning coal and other materials used in traditional waste ­to energy plants.
About 50 tonnes of RDF can generate 1 MW of power,
When A Plant Is Well Planned
They generally accept the RDF material which means inorganic material.
They segregate the wet and inorganic material near the plant.
Plant convert organic waste to compost, and inorganic waste to energy.
Inorganic Waste is A Challenge For the State
To handle inorganic waste that is not fit for recycling is a big challenge.
Today these high­ calorific materials are landfilled or left unhandled in waste plants and cause fire accidents.
The bidadi plant can be a source of 600 tonnes per day of this RDF and generate 11.5 MW of power which is equivalent to 2.4 lakh units of power per day.
This will reduce the city's dependency on unscientific landfills, reduce fire accidents also.
This plant will provide a permanent solution to recover value from inorganic waste.
Challenges On Holistic Level
In the last 10 years, many Indian cities have been trying to set up such plants but till now there is not any defined model exists.
Many international technology suppliers struggle with the change in the quality and nature of waste generated in Indian cities.
Due to this reason, some plants stooped operation.
The plants require fine inorganic material.
This fine inorganic material will be with less than 5% moisture and less than 5% silt and soil contents.
But in Bengaluru, the moisture content in the mixed waste generated in the city is more than 15%­20%.
In the city segregation at source doesn't happen. so the waste material needs to be sieved. This work is done with the help of 80mm-100mm sieving machines for organic material and more than 80mm-100mm for inorganic waste.
As well as the sticky silt and soil particles can also reduce the calorific value.
Another challenge before the plants is power tariff. This is the tariff at which the power is purchased by such plants across the country.
This tariff is around ?7­8 KwH for waste to energy plants, while ?3­4 per KwH for those power which generated through coal and other means.
Suggestions
So, when the plant eases the challenge of handling inorganic waste, the efficiency of organic waste processing would become better.
If this new project becomes successful, the city would require three more waste ­to energy plants of similar size or six plants of smaller size to recover RDF.