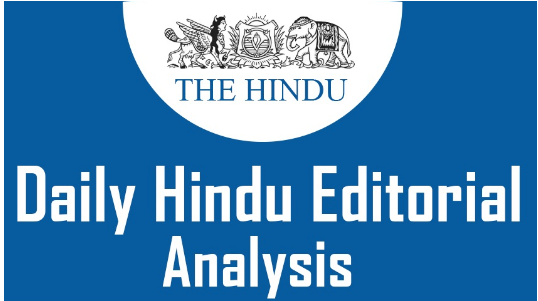 1. TERROR IN NICE-
GS 2- Effect of Policies and Politics of Developed and Developing Countries on India's interests
Context
The knife attack in the southern French city of Nice on Thursday that killed three people and injured many more has left the country, which has barely recovered from the beheading of a schoolteacher in a Paris suburb by an 18­year­old Chechen two weeks ago, in shock and pain.

Lives At Stake
(i) The suspected Nice attacker, a 21­year­ old Tunisian who is now in hospital with injuries, killed two, including an elderly woman, in a church; the other escaped to a pub nearby but later died of injuries.
(ii) France, home to Europe's largest Muslim community, has particularly been hit by Islamist terrorism in recent years.
(iii) Thursday's incident, which occurred in the context of the controversy over satirical magazine Charlie Hebdo's decision to republish Prophet Mohammed's caricatures, is the latest in a series of terror attacks in the country in the last eight years that have killed more than 200.
(iv) France's agony(pain) and anger are understandable and its leaders have repeatedly said they would not give in to threats from terrorists.
(v) But the tragic reality is that jihadists continue to strike, taking innocent lives.
(vi) Each time, it serves as a reminder that neither the government's preventive measures, that include credible intelligence gathering and deradicalisation efforts, nor its combative(aggressive) postures work in ending this terror run.
(vii) Needless to say, these attacks are driving a wedge(separate) between France's already polarised communities, feeding into the far­right Islamophobic political narrative.

Response To Terrorism
(i) An implacable(unforgiving) security response is an imperative(necessary) of any counter­terrorism strategy.
(ii) But it is important to understand the enemy. The Islamist terrorists, those who are inspired by the ideology of organisations such as al­Qaeda and the Islamic State, see the world as an arena of a clash of civilisations.
(iii) Driven by a perverted interpretation of religion, they are ready to unleash violence against anybody who does not subscribe to their worldview.
(iv) The fight against jihadists — a minuscule minority among the world's Muslims but a potent threat to societies given their embrace of violence and a vicious ideology — should be mindful of not allowing them to sow discord(conflict) on the basis of religious identities.
(v) This is the biggest challenge before the French President, Emmanuel Macron.
(vi) Mr. Macron, who earlier this month said "Islam is in crisis", should lead a united response to terrorism that does not posit French values against any belief system.

Conclusion
The fight is for civilisational values, for democracy, secularism, freedom, and equality against radical Islamism, a medieval ideology that has equipped itself with modern weapons. It is important for the world that France wins this fight.

2. SCIENCE OF MONSOONS-
GS 1- Critical geographical features (including water-bodies and ice-caps)
Context
The southwest monsoon 2020 has officially drawn to an end with the India Meteorological Department (IMD) declaring a withdrawal of the associated winds and rainfall pattern from India on Wednesday.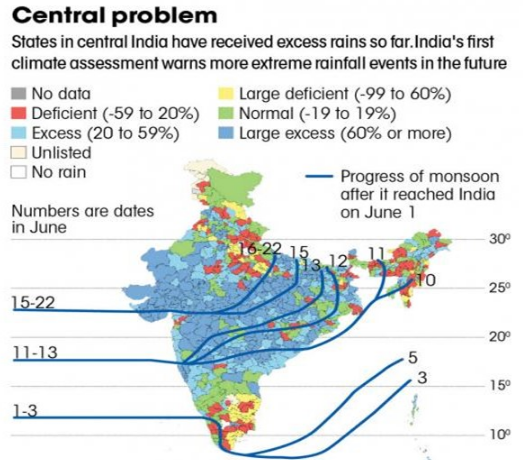 Monsoon Highlights
(i) The over 8% surplus this year has surpassed the IMD's estimates.
(ii) For the first time since 2010, India got more than 100% of its long period average (LPA) of 88 cm in consecutive years.
(iii) Last year the country saw record rainfall of 110% of the LPA, the highest in a quarter century.
(iv) India has never got over 105% of the LPA in consecutive years in at least 30 years, according to records available since 1988 on the IMD website.
(v) Meteorologists often speak of two or three decade 'epochs'(time/period) of rainfall variation.
(vi) Since 2000, India was in a low patch with several drought years and had barely a handful of above normal or excess rainfall.
(vii) In that light, the two years of a munificent monsoon could signal a possible return to a rainy epoch.
(viii) While it could mean more rain, it also implies floods, overflowing dams, landslides and loss of lives.
(ix) Moreover, surplus rains are not evenly distributed in time and space. Therefore, much like there are attempts to improve flood forecast warnings — especially the short­term ones — there ought to be commensurate efforts by authorities and infrastructure agencies to prepare for the environmental and ecological impact of excess rain.
(x) This year the IMD undertook a long­due revision of the onset and withdrawal dates of the monsoon in India.
(xi) By this reckoning, the monsoon's normal withdrawal date was October 15.
(xii) Historically, this has always been a statistical average and the actual withdrawal is usually within a few days of this.
(xiii) However, this year the withdrawal has been extremely delayed.
(xiv) Factoring in these changes must become a key part of a State and city's disaster management preparedness.

Relief Features
(i) The southwest monsoon's withdrawal also heralds the advent of north­easterly winds that bring in the northeast monsoon to parts of peninsular Andhra Pradesh and Tamil Nadu.
(ii) While significant to the agriculture there, the northeast monsoon contributes 10%­12% of India's annual rainfall, against the southwest monsoon's 75%­80%.
(iii) That, and its limited geographic spread has meant that the northeast monsoon is not showered with as much research attention.
(iv) However, studies show that northeast monsoon rainfall displays significant variation and climate models are fairly inaccurate in their forecasts of its unfolding over the sub-continent.
(v) There have been significant investments in super computing infrastructure to simulate weather as well as to tune forecasts to go beyond just giving rainfall estimates and factor in the potential damage of floods and cyclones.

Way Forward
(i) Building on these, scientists must also put in more effort and design research programmes that better analyse the vagaries of the northeast monsoon.
(ii) Along with more understanding of how climate is changing locally, India needs better science to prepare more effective disaster management plans and improve resilience(flexibility) in a warming world.

3. TIME FOR A 'SPONGE CITIES' MISSION IN INDIA-
GS 1- Developmental issues, Urbanization, their problems and their remedies.
Context
Unpredictable nature, unbridled(uncontrolled) avarice(greed) and untrammeled(unrestricted) urbanisation are back in currency, this time, in the wake of torrential rains in the third week of October in Hyderabad.

Flood Crisis
(i) The scale of destruction has been unprecedented(unmatched). This experience is not unique to the city of Hyderabad but something that cities across India have been experiencing in recent years.
(ii) Barely five years ago, it was Chennai that saw a massive flood costing much damage and lives; Gurugram over the past few years comes to a complete standstill during the monsoon months, and for Mumbai, the monsoon has become synonymous with flooding and enormous damages.

The Case Of Hyderabad
(i) The rainfall received in 2020 has been the highest for the month of October in a century.
(ii) Every year, the rains bring something unprecedented with them. But our constant, unwavering(steady) attention to the rainfall levels draws our attention away from our inability to manage the city's drainage systems.
(iii) The floods of October 2020 occurred because we did not discharge the water in time.
(iv) And when we did discharge the water, we did it in a sudden, uncontrolled manner.
(v) The second is antiquated infrastructure. Hyderabad's century­old drainage system (developed in the 1920s) covered only a small part of the core city.
(vi) The narrative of antiquated infrastructure conceals the fact that the city has grown rapidly, and into areas where there was no drainage infrastructure to begin with.

Communities Are Left Out
(i) The manner in which we talk about recurring floods in the city often reduces the problem to simple dichotomies of public versus private property and individual conduct versus faceless governmental action.
(ii) This means that we neglect the issues of incremental land use change, particularly of those commons which pro- vide us with necessary ecological support — wetlands.
(iii) This framing also disavows(denies) the role of local communities in managing local ecosystems — people with traditional rights for fishing and farming.
(iv) We need to start paying attention to the management of our wetlands by involving local communities.
(v) The risk is going to increase year after year with changing rainfall patterns and a problem of urban terrain which is incapable of absorbing, holding and discharging water.

Making Cities Permeable
(i) Urban floods of this scale cannot be contained by the municipal authorities alone.
(ii) In Hyderabad, this can be done by the Hyderabad Metropolitan Development Authority.
(iii) We need a mission that mitigates flood risk and provides a pathway to water security.
(iv) The most promising idea across the world at this time appears to be the idea of "sponge cities".
(v) The idea of a sponge city is to make cities more permeable so as to hold and use the water which falls upon it.
(vi) Sponge cities absorb the rain water, which is then naturally filtered by the soil and allowed to reach urban aquifers.
(vii) This allows for the extraction of water from the ground through urban or peri-urban wells.
(viii) This water can be treated easily and used for city water supply.
(ix) In built form, this implies contiguous(adjoining) open green spaces, interconnected waterways, and channels and ponds across neighbourhoods that can naturally detain and filter water.
(x) These can all be delivered effectively through an urban mission along the lines of the Atal Mission for Rejuvenation and Urban Transformation (AMRUT), National Heritage City Development and Augmentation Yojana (HRIDAY) and Smart Cities Mission.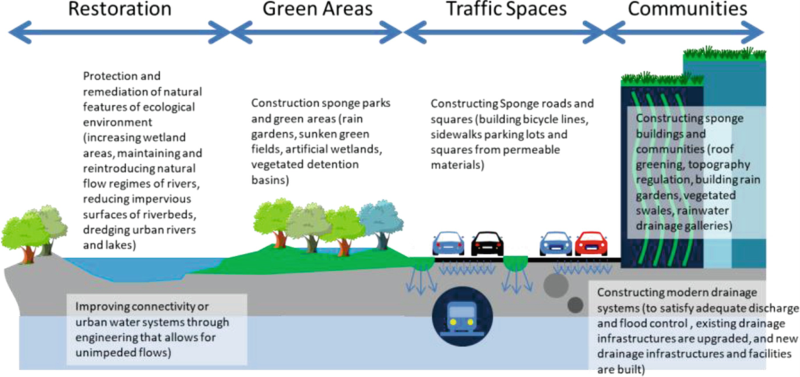 Watersheds, Terrain Alteration
(i) Watershed management and emergency drainage plan is next. This should be clearly enunciated(expressed) in policy and law.
(ii) Urban water-sheds are micro ecological drainage systems, shaped by contours of terrain.
(iii) The Metropolitan Development Authorities, National Disaster Management Authority, State revenue and irrigation departments along with municipal corporations should be involved in such work together.
(iv) A ban on any further alteration of terrain needs to be introduced.
(v) To improve the city's capacity to absorb water, new porous materials and technologies must be encouraged or mandated across scales. Examples of these technologies are bioswales and retention systems, permeable material for roads and pavement, drainage systems which allow storm water to trickle into the ground, green roofs and harvesting systems in buildings.

Stop The Blame, Start The Action
(i) Acknowledging the role of different actors for the city can create a practical space to begin this work.
(ii) Doing so will not just help control recurring floods but also respond to other fault lines, provide for water security, more green spaces, and will make the city resilient and sustainable.
(iii) We can learn to live with nature, we can regulate human conduct through the state and we can strategically design where we build.
(iv) We need to urgently rebuild our cities such that they have the sponginess to absorb and release water without causing so much misery and so much damage to the most vulnerable of our citizens, as we have seen.