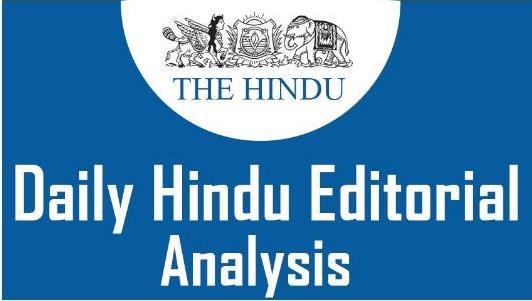 1. THE IRAN CHALLENGE-
GS 2- Effect of policies and politics of developed and developing countries on India's interests
Context
(i) When Joe Biden left the government in 2017 after having served as Barack Obama's Vice-President for eight years, the U.S.-Iran relationship was on a totally different trajectory from what it is now.
(ii) The U.S., along with other international powers, had signed a nuclear deal with Iran in 2015 and both countries were cooperating in the war against the Islamic State in Iraq.
(iii) Then came Donald Trump, who pulled the U.S. out of the Joint Comprehensive Plan of Action (JCPOA), as the nuclear deal is called, and reimposed sanctions on Iran.
What is Jcpoa?
(i) The Joint Comprehensive Plan of Action (JCPOA) is an agreement with five annexes reached by Iran and the P5+1 (China France, Germany, Russia, the United Kingdom, and the United States) on July 14, 2015.
(ii) The nuclear deal was endorsed by UN Security Council Resolution 2231, adopted on July 20, 2015.
(iii) Iran's compliance with the nuclear-related provisions of the JCPOA will be verified by the International Atomic Energy Agency (IAEA) according to certain requirements set forth in the agreement.
(iv) Under the agreement, formally known as the Joint Comprehensive Plan of Action (JCPOA), Iran dismantled much of its nuclear program and gave international inspectors extensive access to its facilities in exchange for relief from economic sanctions.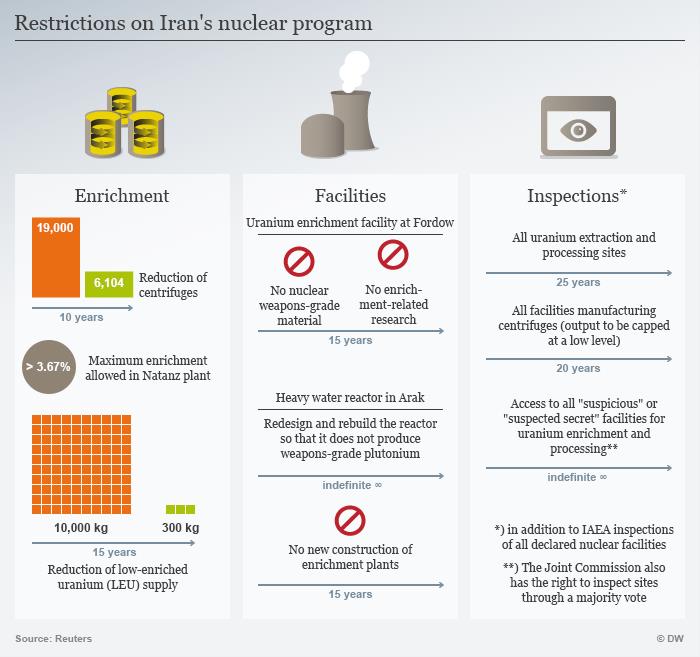 Why has US pulled out of the deal now?
Trump and opponents to the deal say it is flawed because it gives Iran access to billions of dollars but does not address Iran's support for groups the U.S. considers terrorists, like Hamas and Hezbollah. They note it also doesn't curb Iran's development of ballistic missiles and that the deal phases out by 2030. They say Iran has lied about its nuclear program in the past.
Implications For India
(i) Oil and Gas: The impact on world oil prices will be the immediately visible impact of the U.S. decision. Iran is presently India's third biggest supplier (after Iraq and Saudi Arabia), and any increase in prices will hit both inflation levels as well as the Indian rupee.
(ii) It would impact the development of Chahbahar port.
(iii) INSTC: New U.S. sanctions will affect these plans, especially if any of the countries along the route or banking and insurance companies dealing with the INSTC plan also decide to adhere to U.S. restrictions on trade with Iran.
(iv) Shanghai Cooperation Organisation: China may consider inducting Iran into the SCO. If the proposal is accepted by the SCO, which is led by China and Russia, India will become a member of a bloc that will be seen as anti-American, and will run counter to some of the government's other initiatives like the Indo-Pacific quadrilateral with the U.S., Australia and Japan.
(v) Rules-based order: By walking out of the JCPOA, the U.S. government has overturned the precept that such international agreements are made by "States" not just with prevailing governments or regimes.
Global Implications
(i) Down trends in global economy.
(ii) Fuel prices would reach high points.
(iii) Iran may block Strait of Hormuz which is a strategic choke point which inturn would affect global trade.
(iv) Giant economy like India, China and Russia will suffer.
(v) US has cancelled airlines from US to India because they pass over Iran which would affect airspace industry.
Renogiating With Iran
(i) Mr. Biden would assume the presidency on January 20 and one of his most pressing early diplomatic challenges would be Iran.
(ii) During the campaign, his promise was to take the U.S. back to the deal, but any such move would meet with strong opposition from its allies in West Asia, especially Israel.
(iii) The assassination of Mohsen Fakhrizadeh, a top Iranian nuclear physicist, last week has escalated tensions in the region.
(iv) Iran has blamed Israel for the attack (Israel has neither confirmed nor denied reports of its involvement in the hit) and vowed revenge.
(v) Any retaliatory actions by Iran could cause a further flare-up, even leading to an open war, which could scuttle diplomatic options for a Biden administration.
(vi) After the election, Mr. Biden has reaffirmed his commitment to the nuclear deal. But he has said he will seek to extend the restrictions on Iran (15 years, according to the JCPOA) and discuss the Islamic Republic's "malign" activities in West Asia.
(vii) This suggests that Mr. Biden, like Mr. Trump did after unilaterally withdrawing from the agreement, would want amendments to the original accord.
(viii) Mr. Trump had expected Iran to come to the table to renegotiate the deal, but Tehran did not give in to the pressure.
(ix) When the Trump administration exerted 'maximum pressure', Iran came up with 'maximum resistance'. The tensions took both countries to the brink of war twice, first when Iran shot down an American drone over the Gulf in June 2019 and then when the U.S. killed Iranian General Qasem Soleimani in January this year.
Conclusion
(i) The question now is whether Mr. Biden, with an emphasis on diplomacy, would manage to restore the lost trust between the two countries and be able to revive the deal.
(ii) It is in everybody's interest that the nuclear deal is revived which would not only deny Iran a path to the bomb but also restore some order in the region.
(iii) Mr. Biden will have to reassert himself and rein in America's allies from launching more provocative attacks on Iranian regime figures.
(iv) BIden should also press Tehran to return to the terms of the agreement and further talks on the country's regional activities in return for economic and security assurances.
(v) Iran, on its part, should observe strategic patience and give diplomacy another chance.
(vi) Biden must go back to nuclear deal without expecting further concessions from Tehran.

2. PERSONAL CHOICES, THE CONSTITUTION'S ENDURANCE-
GS 2- INDIAN CONSTITUTION
Context
The Allahabad High Court verdict in 'Salamat Ansari' is a reminder of the Constitution's most cherished values.
Hc Decisions
(i) The Allahabad High Court declared that religious conversions, even when made solely for the purposes of marriage, constituted a valid exercise of a person's liberties.
(ii) The High Court ruled that the freedom to live with a person of one's choice is intrinsic to the fundamental right to life and personal liberty.
(iii) In holding thus, the order recognised that our society rested on the foundations of individual dignity, that a person's freedom is not conditional on the caste, creed or religion that her partner might claim to profess, and that every person had an equal dominion over their own senses of conscience.
Right To Privacy: Hc Rules For It
(i) The High Court's order makes it clear that it is neither the province of the state nor any other individual to interfere with a person's choice of partner or faith.
(ii) By invoking the Supreme Court's judgment in Puttaswamy, the High Court held that an individual's ability to control vital aspects of her life inheres in her right to privacy, that this promise includes the preservation of decisional autonomy, on matters, among other things, of "personal intimacies, the sanctity of family life, marriage, procreation, the home, and sexual orientation".
Article 21
Protection of life and personal liberty No person shall be deprived of his life or personal liberty except according to procedure established by law.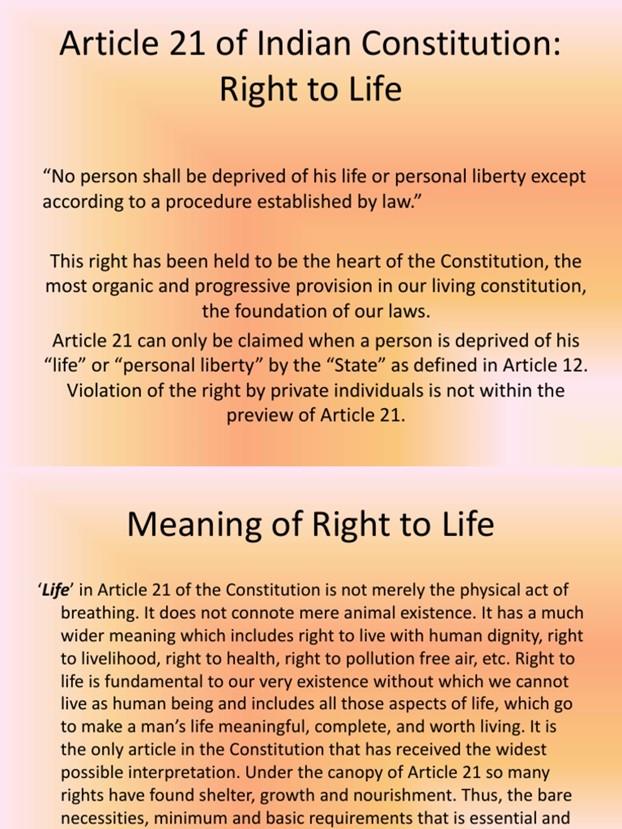 Puttaswamy Vs Union Of India
(i) In 2017, a 9 judge bench of the Supreme Court in Justice K. S. Puttaswamy (Retd) vs Union of India unanimously held that Indians have a constitutionally protected fundamental right to privacy that is an intrinsic part of life and liberty under Article 21.
(ii) It held that privacy is a natural right that inheres in all natural persons, and that the right may be restricted only by state action when -
(iii) Such a state action must has a legislative mandate;
(iv) It pursues a legitimate state purpose; and finally
(v) Must be necessary in a democratic society and must be least intrusive of the available alternatives to accomplish the ends.
Petitioners Vs State
(i) The petitioners, Salamat Ansari and Priyanka Kharwar, had approached the High Court seeking orders to quash a First Information Report (FIR) that was lodged against them.
(ii) This FIR alleged that a series of crimes had been committed, including one under Section 366 of the Indian Penal Code, which criminalises the abduction of a woman with an intent to compel her to marry against her will.
(iii) The petitioners claimed that they were both adults competent to contract a marriage, and had, in fact, wedded in August 2019, as per Muslim rites and ceremonies, only after Ms. Kharwar had converted to Islam.
(iv) They said, they had been living together for more than a year, and that their peace and happiness had been threatened by the prospects of prosecution.
Section 366 Of The IPC
366A - Procuration of minor girl.—Whoever, by any means whatso­ever, induces any minor girl under the age of eighteen years to go from any place or to do any act with intent that such girl may be, or knowing that it is likely that she will be, forced or seduced to illicit intercourse with another person shall be punishable with imprisonment which may extend to ten years, and shall also be liable to fine.
State Resists Claims
(i) The State argued that Mr. Ansari and Ms. Kharwar's partnership had no sanctity in the law, because a conversion with a singular aim of getting married was illegitimate.
(ii) In making this argument, the government relied on a pair of judgments delivered by single judges of the Allahabad High Court, in particular on the judgment in Noor Jahan v. State of U.P. (2014).
(iii) There, the High Court had held that a conversion by an individual to Islam was valid only when it was predicated on a "change of heart" and on an "honest conviction" in the tenets of the newly adopted religion.
(iv) Additionally, the High Court had ruled that the burden to prove the validity of a conversion was on the party professing the act.
(v) Therefore, in Salamat Ansari, it was argued that it was for the woman to establish that her conversion was borne out of her conscience and out of a deep-seated belief in the teachings of her new religion.
Noor Jahan vs State of Up
(i) In the Noor Jahan vs. State of U.P. case, Noor Jahan along with her alleged husband approached this High Court for claiming protection as it was alleged that she had embraced Islam after renouncing her Hindu identity to contract a Nikah with her Muslim husband.
(ii) Under these circumstances, the court had held their union to be illegal as it was performed after a conversion which could not be justified in law.
(iii) The Bench had observed, "If a conversion is not inspired by religion feeling and under gone for its own sake, but is resorted merely with object of creating a ground for some claim of right or as a device adopted for the purpose to avoid marriage or to achieve an object without faith and belief in the unity of God (Allah) and Mohamed to be his prophet, the conversion shall not be bonafide.
(iv) In case of a religion conversion there should be a change of heart and honest conviction in the tenets of new religion in lieu of tenets of the original religion."
Division Bench Rejects State's Claims
(i) The Division Bench rejected this theory. It held that the judgment in Noor Jahan was incorrectly delivered.
(ii) Marriage, the High Court said, is a matter of choice, and every adult woman has a fundamental right to choose her own partner.
(iii) Even if such a decision encourages other concomitant decisions, including a choice of religion, the state can have little to do with it.
(iv) According to the High Court, the Constitution is violated every time matters of intimate and personal choice are made vulnerable to the paternal whims of the state.
Freedom of Conscience
(i) Article 25 of the Constitution expressly protects the choices that individuals make.
(ii) In addition to the right freely to profess, practise and propagate religion, it guarantees to every person the freedom of conscience (sense of right and wrong).
(iii) Moreover, the idea of protecting one's freedom of conscience goes beyond mere considerations of religious faith. This much is evident when we ask ourselves why the Constitution accords any protection at all to religious beliefs.
(iv) The document affords to religion is not because there is something innate in religious faith that demands special security. On the other hand, this liberty is promised because questions of conscience — which include choices of faith — are matters of ethical autonomy. The provision's ultimate raison d'être is to allow individuals the freedom to lead their lives as they please.
(v) In overruling Noor Jahan, the Division Bench of the High Court said that it did not see "Priyanka Kharwar and Salamat as Hindu and Muslim," but it saw them rather "as two grown up individuals who out of their own free will and choice are living together peacefully and happily..."
Article 25:
The Indian Constitution in Article 25 grants to citizens of India of all religious persuasions freedom to profess, practice and propagate their faith in a way that does not affect public health and morality adversely.
The freedom of Religion conferred by this am de is not confined to citizens but also extends to all individuals exercising their rights either in their indhndual capacity or on behalf of some institution.
A Tenuous Peace
(i) The government of Uttar Pradesh has introduced an ordinance which makes not only religious conversions that are forcefully obtained an offence but that also declares void any conversion found to be made solely for marriage.
(ii) In supporting the law, the State will likely rely on a 1977 Supreme Court judgment in Rev. Stainislaus v. State of Madhya Pradesh, where two of the earliest anti-conversion statutes in India: the Madhya Pradesh Dharma Swatantrya Adhiniyam, 1968, and the Orissa Freedom of Religion Act, 1967, were upheld.
(iii) These laws required that a District Magistrate be informed each time a conversion was made and prohibited any conversion that was obtained through fraud or illegal inducement.
Rev. Stainislaus Vs State Of Madhya Pradesh:
(i) The SC considered the issue whether the fundamental right to practice and propagate religion includes the right to convert.
(ii) It held that the right to propagate does not include the right to convert and therefore upheld the constitutional validity of the laws enacted by Madhya Pradesh and Orissa legislatures prohibiting conversion by force, fraud or allurement.
(iii) Conversion cannot be secured to force, fraud or allurement.
(iv) The court observed that the word `propagate' that has been used in Article 25(1), for what the Article grants is not the right to convert another person to one's own the religion, but to transmit or spread one's of the religion by an exposition of its tenets."
Conclusion – Respect People's Choices:
(i) On constitutional law, the jurist, H.M. Seervai, wrote that the "judgment is clearly wrong, is productive of the greatest public mischief and ought to be overruled".
(ii) A nine-judge Bench ruling of the Supreme Court, in Puttaswamy, has recognised that every individual possesses a guaranteed freedom of thought; that at the core of liberty is the rights of persons to decide for themselves how they want to lead their lives.
(iii) Finally, when we fail to acknowledge and respect the most intimate and personal choices that people make — choices of faith and belief, choices of partners — we undermine the most basic principles of dignity.
(iv) Our Constitution's endurance depends on our ability to respect these decisions, to grant to every person an equal freedom of conscience.

3. IN FARMERS PROTEST, THE CORE IS PROCUREMENT-

GS 3- Issues related to direct and indirect farm subsidies and minimum support price, public distribution system
Context
Recently there was a huge protest by farmers, the main aspect of protest is procurement by government agencies.
What is The Matter?
(i) The farmers' unions want nothing short of a complete withdrawal of the recently enacted Farm Acts, which they claim will ruin small and marginal farmers.
(ii) Their main worry is about a possible withdrawal of the Minimum Support Price (MSP) and a dismantling of the public procurement of grains.
(iii) On the other hand, the government claims that the Acts will only increase options for farmers in the output markets, that the MSP-procurement system will continue, and that there is no plan to dismantle the system.
(iv) It needs to be noted that the protests are largely in the States of Punjab and Haryana. If the government's assertions are true, then why are farmers in these States so rattled?
Indian Farmers' Union
Bharatiya Kisan Union (Indian Farmers' Union) is a non-partisan farmer's representative organisation in India. It was founded by Chaudhary Charan Singh from the Punjab Khetibari Union (Punjab Farming Union) which became its Punjab branch. The western Uttar Pradesh branch of the union was founded on 17 October 1986 by Mahendra Singh Tikait. The union is affiliated to the All India Kisan Sangharsh Coordination Committee and Via Campesina. The national headquarters of the union is located in Sisauli, Uttar Pradesh.
What is Pds?
(i) The Indian food security system was established by the Government of India under the Ministry of Consumer Affairs, Food and Public Distribution to distribute food and non-food items to India's poor at subsidised rates. Major commodities distributed include staple food grains, such as wheat, rice, sugar and essential fuels like kerosene, through a network of fair price shops (also known as ration shops) established in several states across the country. Food Corporation of India, a Government-owned corporation, procures and maintains the public distribution system (PDS).
(ii) Today, India has the largest stock of grain in the world besides China, the government spends Rs. 750 billion ($10 billion) per year, almost 1 per cent of GDP, yet 21% remain undernourished. Distribution of food grains to poor people throughout the country is managed by state governments.
What is The Matter About Pds?
(i) It is also true that a large-scale public procurement of paddy is going on in Punjab as the protests are raging. But farmers are really worried and appear prepared for the long haul. Why?
(ii) The Public Distribution System (PDS) is the lifeline in these States. Farmers in Punjab and Haryana are heavily dependent on public procurement and assured price through MSP. This is far greater than farmers in any other State.
(iii) Nearly 88% of the paddy production and 70% of the wheat production in Punjab and Haryana (in 2017-18 and 2018-19) has been absorbed through public procurement, Food Grains Bulletin and Agricultural Statistics at a Glance, Government of India.
(iv) In contrast, in the other major paddy States such as Andhra Pradesh, Telangana, Odisha and Uttar Pradesh, only 44% of the rice production is procured by public agencies.
(v) In the case of wheat, this percentage is even lower.
(vi) In the major wheat States of Madhya Pradesh and Uttar Pradesh, only a quarter (23%) of the production is procured by public agencies.
(vii) This clearly shows the heavy dependence of farmers in Punjab and Haryana on MSP and the public procurement system. In a sense, this system has been the lifeline of these States. It is conceivable then that any disruption to the system, real or perceived, will cause a major upheaval.
Procurement Agency: FCI
(i) The Food Corporation of India is an organization created and run by the Government of India. It is a statutory body under the Ministry of Consumer Affairs, Food and Public Distribution, Government of India, formed by the enactment of Food Corporation Act 1964. It was set up in 1965 with its Initial headquarters at Chennai. Later this was moved to New Delhi. It also has regional centers in the capitals of the states. Important regions of the state also serve as district centers.
(ii) It was formed to implement the following objectives of the National Food Policy
(iii) Effective price support operations for safeguarding the interests of the poor farmers
(iv) Distribution of foodgrains throughout the country for Public Distribution System (PDS)
(v) Maintaining a satisfactory level of operational and buffer stocks of foodgrains to ensure National Food Security
(vi) Regulate market price to provide foodgrains to consumers at a reliable price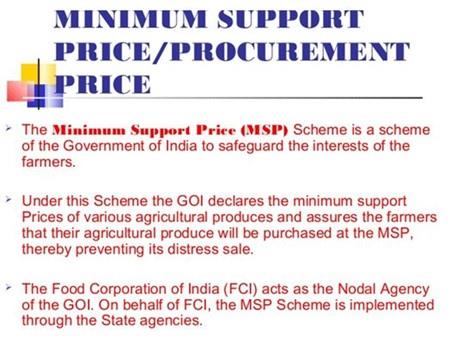 Government's Obligations
(i) The government needs to continue procurement too. What is missed in this scenario is that if farmers of Punjab and Haryana need the procurement system, the government needs it even more.
(ii) This is because of its obligations under the PDS and the National Food Security Act (NFSA). Support under the NFSA is a legal and rights-based entitlement.
(iii) There are nearly 80 crore NFSA beneficiaries and an additional eight crore migrants who need to be supported under the PDS.
(iv) In the last three years, nearly 40% of the total paddy production in the country (45 million tons) and 32% of wheat production (34 million tons) has been procured by public agencies to supply the PDS.
(v) This year, due to the onset of the novel coronavirus pandemic and the migrant crisis, the government has earmarked much larger quantities for public distribution.
(vi) This translates into nearly half of the rice production (49%) and 35% of the wheat production in the country. This implies that the government needs to procure a huge quantum of grains than in previous years as the government cannot afford to go to the open market.
(vii) The stock restrictions have gone under the recent Essential Commodities Act Amendment, there is a possibility of large-scale hoarding too.
National Food Security Act, 2013
(i) The National Food Security Act 2013 (also Right to Food Act) is an Act of the Parliament of India which aims to provide subsidized food grains to approximately two-thirds of India's 1.2 billion people. It was signed into law on 12 September 2013, retroactive to 5 July 2013.
(ii) The National Food Security Act, 2013 (NFSA 2013) converts into legal entitlements for existing food security programmes of the Government of India. It includes the Midday Meal Scheme, Integrated Child Development Services scheme and the Public Distribution System. Further, the NFSA 2013 recognizes maternity entitlements.
(iii) The Midday Meal Scheme and the Integrated Child Development Services Scheme are universal whereas the PDS will reach about two-thirds of the population (75% in rural areas and 50% in urban areas).
(iv) Under the provisions of the bill, beneficiaries of the Public Distribution System (or, PDS) are entitled to 5 kilograms (11 lb) per person per month of cereals.
Essential Commodities Act 1955
(i) The Essential Commodities Act is an act of Parliament of India which was established to ensure the delivery of certain commodities or products, the supply of which if obstructed owing to hoarding or black-marketing would affect the normal life of the people. This includes foodstuff, drugs, fuel (petroleum products) etc. This act was modified by the Essential Commodities (Amendment) Act, 2020.
(ii) The ECA was enacted in 1955. It has since been used by the Government to regulate the production, supply, and distribution of a whole host of commodities it declares 'essential' to make them available to consumers at fair prices. Additionally, the government can also fix the maximum retail price (MRP) of any packaged product that it declares an "essential commodity".
(iii) The list of items under the Act includes drugs, fertilizers, pulses, and edible oils, and petroleum and petroleum products. The Centre can include new commodities as and when the need arises, and take them off the list once the situation improves.
Why Punjab And Haryana Matters?
(i) If the government intends to procure such huge quantities of grains, then it needs to turn to these two States, because it is these States that have always been in the forefront in supplying grains to procurement agencies.
(ii) Nearly 35% of the rice and 62% of the wheat procured in the last three years has been from these States.
(iii) Also, nearly 50% of the total coarse grains came from these two States.
(iv) Thus, the government has little option but to continue its procurement from these States in the foreseeable future.
Conclusion
The absence of a regulatory mechanism (to ensure fair play by private players vis-à-vis farmers) and the lack of transparency in trade area transactions are two of the major limitations that need to be addressed immediately. The severe trust deficit that resulted from the way the Farm Bills have been rushed through needs to be addressed by adopting a conciliatory approach towards farmers and the States.