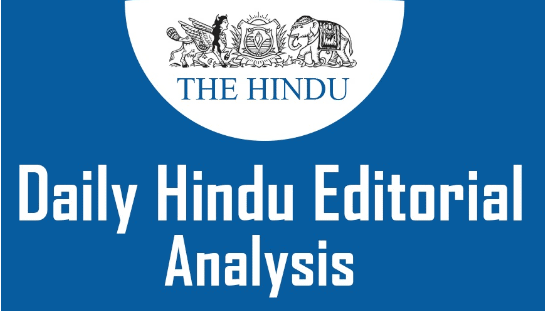 1. MIXED SIGNALS: ON SEPTEMBER GST DATA-
GS 3- Indian Economy and issues relating to planning, mobilization of resources, growth, development and employment
Context
(i) In these pandemic-hit times, when most economic news has been grim(serious), the latest GST data give cause for some hope, albeit(although) cautious, especially to policy makers overseeing beleaguered(weak) public finances.
(ii) Gross revenue collections from GST scaled a six-month high of ₹95,480 crore in September, the first time in the current fiscal year when the tax receipts exceeded the year-earlier period's figure.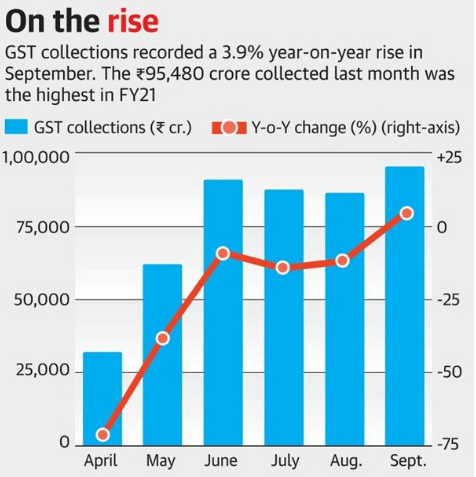 Economic Activity
(i) Clearly, with lockdown restrictions having been significantly eased, economic activity appears to have regained some momentum as people strive to reclaim a semblance(similarity) of normality and businesses rush to restock inventory ahead of the peak consumption season in festival-marked October and November.
(ii) Other high-frequency indicators, including automobile wholesales and the survey-based Purchasing Managers' Index (PMI) for manufacturing, both for September, reflected this push to build up stocks.
(iii) The IHS Markit Manufacturing PMI reading was at its highest in more than eight years as accelerated increases in new orders and production buoyed the sector's outlook.
(iv) GST revenue from the import of goods was also marginally higher than in the year-earlier period, signalling that inward shipments of commodities used as inputs in manufacturing had inched up.
(v) Merchandise trade data from the Commerce Ministry show Indian purchases of metal ores and pharma products in September posted increases of almost 43% and 28%, respectively, appearing to correlate with the trend in GST.

Durability Of Trend
(i) However, the 3.88% year-on-year growth in gross GST revenue must be seen in the backdrop of the fact that GST receipts had slid to a six-month low in September 2019 — a 2.7% contraction — as overall economic momentum slowed considerably.
(ii) The key concern now would be to gauge the durability of the trend in GST collections, especially considering that over the first six months of the current fiscal, the cumulative revenue receipts are 25% lower year-on-year.
(iii) Finance Minister's annual Budget for 2020-21, announced in February before the pandemic and lockdowns pushed the economy into a record contraction, had projected a 12.8% growth in GST receipts, a goal that now seems surely impossible to realise.
(iv) With the GST Council expected to meet today and attempts to resolve the contentious issue of GST compensation shortfall, Finance Ministry officials have their task cut out in trying to assess if their earlier projections of a ₹3-lakh crore shortfall in GST compensation would need to be recalibrated(measured) in light of the uptick in receipts.
(v) A reasonably accurate prognostication(prediction) for the tax collection trend for the second half may well hold the key to untangling this logjam(problem) over the ways to fund the shortfall and the Centre-State trust deficit it has created.

Conclusion
The latest GST data give cause for hope of a sustainable momentum in growth

2. ENGLISH IS AN INDIAN LANGUAGE-
GS 2- Government policies and interventions for development in various sectors
Context
(i) The National Education Policy (NEP) 2020 proposes a three-language formula under which schools must teach at least two languages that are "native to India".
(ii) Conspicuous(clearly) by its absence in this category is English, threatening access to English instruction in public schools.
(iii) This has played into popular notions that English is no more than a "colonial imposition", not "native" to Indians.
(iv) It is time to retire and reject these notions and recognise that English is very much an Indian language.
(v) Rather than trying to justify contentious historical criteria for "native", we must focus on what English is to India today: an aspirational, cosmopolitan, widely spoken language we have made our own.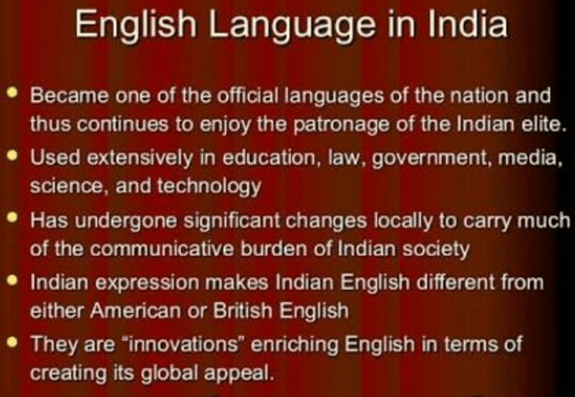 An Inclusive Language
(i) The history of language and learning in India has been fraught(filled) with problems.
(ii) Education in traditional knowledge systems has been highly discriminatory, especially along caste lines.
(iii) English education emerged as an emancipator(reliever) and equaliser, allowing people across social groups to break away from exclusionary knowledge systems.
(iv) Dialect and vocabulary in regional languages are still indicators of caste and community, and enable further exclusion.
(v) English presents an opportunity to master a language that no one can exclusively claim as their own in India.
(vi) This has helped sustain its appeal long after the British left.
(vii) Middle-class Indians, many of whom have never studied English, want their children to attend English-medium schools, not just because of a promise of jobs, but of a respectability that English represents.
(viii) This has made English a pathway to unique economic and sociocultural mobility that has given us a global advantage.
(ix) English is the global lingua franca(common language); it is the world's preferred language of commerce, science, diplomacy and culture.
(x) Competence in English has enabled India to establish itself in these areas and its diaspora to thrive across the world, especially in the field of technology.
(xi) The association between English and stable, well-paying careers is obvious and apparent.
(xii) Today, Indians give shape to new thought through English. Science has relied on it to pool the best minds of the country and create a strong base of research, innovation and teaching in the field.
(xiii) We have drafted a Constitution and given shape to essential rights and ideals in English.
(xiv) Legal processes in India rely heavily on what has become the international language of the law.
(xv) It is the language of our courts and some of our greatest legal minds such as H.M. Seervai, Nanabhoy Palkhivala and Krishna Iyer.
(xvi) Indian authors have also produced enduring English literature.

Part Of Daily Life
(i) Our debates on language are often detached from practical reality; the truth is that in India, the usage of English is already much more pervasive(present) than people acknowledge.
(ii) Whatever part of the country we are from, we talk on mobile phones and say "hello", "thank you" and "happy birthday".
(iii) Whatever language one speaks, texting uses the Roman alphabet (in convenient Indian English keyboards), and emailing in any other script is unheard of.
(iv) We have English words for many parts of daily life, and every Indian language relies on them.
(v) Would a car/cycle mechanic, electrician or postal worker be able to conduct tradecraft without some English?
(vi) Do we have a well-developed and widely known vocabulary of medical jargon in any other Indian language? Every city has its own impressive English slang.
(vii) How long can people hold a simple conversation on their own without using any English words?
(viii) The convenience that even a passable knowledge of English lends to general communication is unparalleled.
(ix) English is most popular in parts of India where the opposition to the homogenising 'Hindi, Hindu, Hindutva' agenda is strongest.
(x) The NEP's refusal to consider English as an Indian language is simply a backhanded effort to impose Hindi nationwide, restricting the autonomy of schools and States.
(xi) In Tamil Nadu, a two-language policy has worked successfully for decades.
(xii) Children have continued learning Tamil while also benefiting from the practical advantages of English.
(xiii) The NEP threatens this, and will not be acceptable to the people of Tamil Nadu.

Conclusion
(i) The fact is that today, English has become essential to success in India. For an aspirational middle class, knowledge of English is a great emancipator(relief giver) — a path to a better future.
(ii) In making rich contributions to the country and world through English, we have made it our own. The time has come to recognise it.

3. A COMMISSION MISGUIDED-
GS 2- Mechanisms, laws, institutions and Bodies constituted for the protection and betterment of these vulnerable sections
Context
(i) The National Commission for Protection of Child Rights (NCPCR) is the apex body for upholding, monitoring and facilitating child rights in the country.
(ii) We note with great concern some of the recent actions of the Commission that suggest a grave departure from its primary duty to ensure the well-being of all children, especially children in need of care and protection.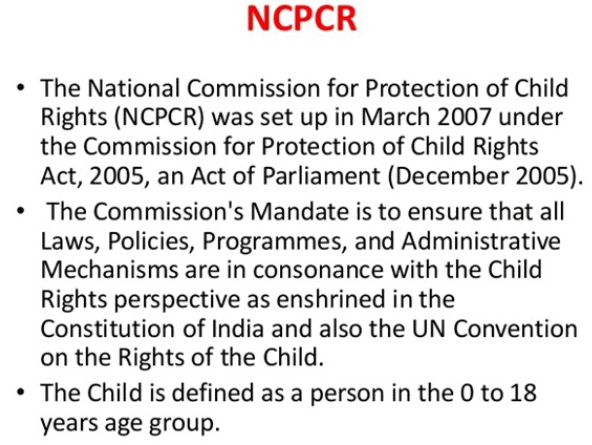 Major Concerns
(i) Amongst its significant powers and duties, the NCPCR has been specifically charged with the monitoring of Child Care Institutions (CCIs) and was instructed to carry out a social audit of the same by the Supreme Court.
(ii) The social audit was initiated in 2015.
(iii) Upon its completion, the NCPCR, in its wisdom, directed District Magistrates in 8 States to ensure that all children within CCIs be de-institutionalised, repatriated(send back) and rehabilitated(reintegrate) within a specified period.
(iv) Civil society organisations have raised several obvious concerns about this, especially because most of these children are in CCIs due to abusive conditions in the family.
(v) A mandated repatriation without an adequate case-by-case assessment plan within a short period of time would likely place the children again at grave risk of abuse, exploitation and neglect.
(vi) They also point to the sheer inadequacy of current systems to organise adoption and foster care.
(vii) Juxtaposed(placing) with this diktat is the disturbing report of raids being undertaken on the eve of Gandhi Jayanti by the NCPCR in select NGO-run CCIs, in order to establish whether foreign funds have been misused in any manner.
(viii) Not only is monitoring of the FCRA regulations outside of the mandate of the NCPCR, but the raids also seem to target individuals who have been outspoken in the criticism of the Central government on issues such as the National Register of Citizens and the Citizenship (Amendment) Act.
(ix) Such raids seem to have communal overtones(angle) as an enquiry led by none less than the Chairperson reportedly delved into whether the previously homeless children in the CCIs belonged to a particular community (Rohingya), and what religious practices they engaged with, even as the institutions are known to maintain a secular character.

A Lot To Be Done
(i) The pandemic has exacerbated(worsened) existing issues of child malnutrition, child labour, child abuse, child marriage and mental illness.
(ii) We would have expected the NCPCR to show concern for the gross violation of children's rights during the lockdown and in its aftermath.
(iii) The NCPCR could have used its authority and power to issue recommendations to relieve these grave conditions by reiterating the need for strengthening all child-related institutions (government and non-government) through adequate funds, and appreciating the relief measures that many civil society organisations, including the ones being raided and instructed to close down, were engaged in.
(iv) As citizens concerned with the rights and welfare of children, we have also been appalled(disturbed) at the daily reports of Dalit children and young women being raped and murdered, with gross irregularities by the very institutions that are charged with their protection.
(v) We would have expected the NCPCR to exhibit its priorities better by taking suo motu cognisance(self-action taken) of the rape and murder of a 14-year-old girl in Bhadohi in Uttar Pradesh.
(vi) It should have made a test case of the lack of systems to fight crimes against children instead of moving to undermine and dismantle(destroying) whatever little does exist for their protection.

Conclusion
(i) Undoubtedly, CCIs need monitoring and reforms; the Commission should be in the vanguard(forefront) to ensure the support that would necessarily be required to implement these reforms.
(ii) Yet, it seems to be deriving its priorities from the political agenda of the day rather than upholding a steadfast(continuous) and fair commitment to the welfare of children.