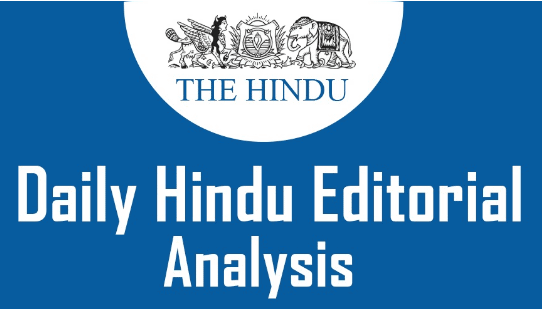 1. FOUR FOR ONE: ON QUAD, INDIA AND THE U.S.-
GS 2- Bilateral, regional and global groupings and agreements involving India and/or affecting India's interests
Context
(i) With the second meeting of the Australia-India-Japan-United States Quadrilateral Strategic Dialogue of Foreign Ministers in Tokyo on Tuesday, the Quad has entered a decisive phase.
(ii) The Ministers, who had last met at the UN General Assembly, made a considered push to hold the meeting, despite the COVID-19 pandemic.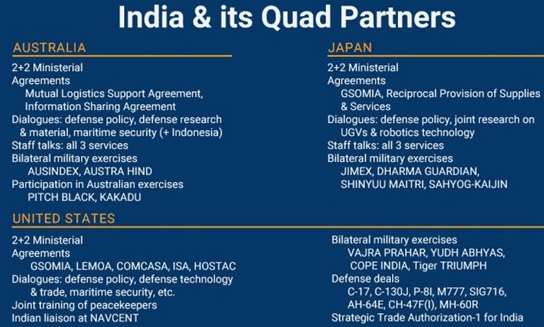 Explicit Statements
(i) In a departure from the earlier secrecy, they made public a large part of their deliberations, including the decision to make the FM meeting an annual event.
(ii) Also to cooperate on combating the pandemic, and on building infrastructure, connectivity and a supply chain initiative in the region.
(iii) As the host, Japan's Prime Minister Yoshihide Suga dispelled any notion that he might not be as proactive as his predecessor, Shinzō Abe, who originally conceived the idea in 2007.
(iv) Australia's Foreign Minister Marise Payne attended despite the two-week quarantine that she faces on return.
(v) And India's External Affairs Minister S. Jaishankar undertook the journey despite the government's preoccupation with the LAC standoff.
(vi) But it is probably the U.S. that displayed the most eagerness to hold the meeting, just weeks before the Presidential election.
(vii) Mr. Trump's COVID-19 illness and sudden hospitalisation prompted U.S. Secretary of State Mike Pompeo to cancel other scheduled stops, in South Korea and Mongolia.
(viii) But in Tokyo, he made it clear that his mission was to direct the Quad towards building a coalition to counter Beijing's aggression in the region, saying that their partnership was not "multilateralism for the sake of it".
(ix) He called on the entire Quad to "collaborate to protect" the region from what he called the "CCP's exploitation, corruption, and coercion".
(x) What he seemed to propose was not just a coalition of democracies committed to a free and open Indo-Pacific, as the Quad's informal charter has thus far stated.
(xi) Instead, the U.S. seems keen on turning the Quadrilateral into a full-fledged military alliance of countries facing tensions with China.

Strategic Gains
(i) The government should not downplay the import of such openly stated intentions.
(ii) While Japan and Australia are bound by alliance treaties to the U.S., New Delhi has thus far charted its course on strategic autonomy.
(iii) Mr. Pompeo's words could well be bluster borne(harsh words) of politics ahead of the U.S. elections.
(iv) They point to an interest in bringing India into bilateral tensions in the Indo-Pacific, while inviting the Quad to take a role in India-China tensions as well.
(v) The Modi government has rebuffed(rejected) such suggestions, and any shift would be unwise now.
(vi) India has much to gain strategically and in terms of capacity building from the Quadrilateral dialogue.
(vii) But India won't gain much from the impression it is being led by Washington on an important initiative for the region in which India is an equal and important stake-holder.

Conclusion
Whatever the benefits of Quad, India should not be led by the U.S. on regional initiatives.

2. GIG WORK AND ITS SKEWED TERMS-
GS 2- Important aspects of governance, transparency and accountability
Context
(i) The new Code on Social Security allows a platform worker to be defined by their vulnerability — not their labour, nor the vulnerabilities of platform work.
(ii) Swiggy workers have been essential during the pandemic.
(iii) Even so, they have faced a continuous dip in pay and no rewards for being essential workers, reducing their base pay from ₹35 to ₹10 per delivery order.
(iv) During the last six months, many platform workers have unionised under the All India Gig Workers Union and have protested day in and day out.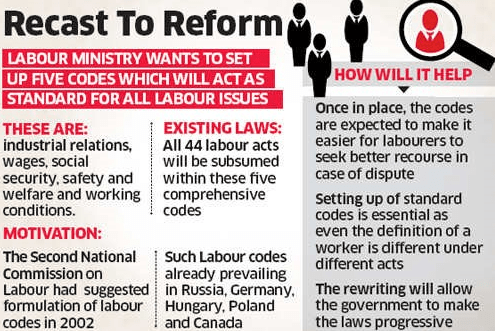 New Codes
(i) It has been truly remarkable to see the 'food delivery' identity being developed through collective action, just as that of Uber and Ola taxi drivers has been taking shape for a few years now.
(ii) Stable terms of earning have been a key demand of delivery-persons and drivers through years of protests.
(iii) The three new labour codes passed by Parliament recently acknowledge platform and gig(temporary) workers as new occupational categories in the making.
(iv) This was done in a bid to keep India's young workforce secure as it embraces 'new kinds of work', like delivery, in the digital economy.
(v) But do the codes let Swiggy workers ask for the pay that they were promised? No.
(vi) What a platform worker is allowed to claim as rights, responsibilities and working conditions that can be legally upheld is the key question in these codes.
(vii) E.g. factory workers, who have been an important industrial element in India and around the world.
(viii) The specific issues of working in factories, the duration of time needed on a factory floor, and associated issues are recognised as the parameters for defining an ideal worker under most labour laws, and this has not shifted much.

Defining An 'Employee'-
(i) The Code on Wages, 2019, tries to expand this idea by using 'wages' as the primary definition of who an 'employee' is.
(ii) The wage relationship is an important relationship in the world of work, especially in the context of a large informal economy.
(iii) Even so, the terms 'gig worker', 'platform worker' and 'gig economy' appear elsewhere in the Code on Social Security.
(iv) Since the laws are prescriptive, what is written within them creates the limits to what rights can be demanded, and how these rights can be demanded.
(v) Hence, the categories and where they appear become key signs for understanding what kind of identity different workers can have under these new laws.
(vi) Platform delivery people can claim benefits, but not labour rights. This distinction makes them beneficiaries of State programmes.
(vii) This does not allow them to go to court to demand better and stable pay, or regulate the algorithms that assign the tasks.
(viii) This also means that the government or courts cannot pull up platform companies for their choice of pay, or how long they ask people to work.
(ix) The main role of the laws for a 'platform worker' is to make available benefits and safety nets from the government or platform companies.
(x) Even though platforms are part of the idea of how work will evolve in the future, the current laws do not see them as future industrial workers.

No Guarantees-
(i) In the Code on Social Security, 2020, platform workers are now eligible for benefits like maternity benefits, life and disability cover, old age protection, provident fund, employment injury benefits, and so on.
(ii) However, eligibility does not mean that the benefits are guaranteed.
(iii) None of these are secure benefits, which means that from time to time, the Central government can formulate welfare schemes that cover these aspects of personal and work security, but they are not guaranteed.
(iv) Actualising these benefits will depend on the political will at the Central and State government-levels and how unions elicit political support.
(v) For some states like Karnataka, where a platform-focused social security scheme was in the making last year, this will possibly offer some financial assistance by the Centre.
(vi) However, that is not assured. The language in the Code is open enough to imply that platform companies can be called upon to contribute either solely or with the government to some of these schemes.
(vii) But it does not force the companies to contribute towards benefits or be responsible for workplace issues.

Conclusion
(i) The 'platform worker' identity has the potential to grow in power and scope, but it will be mediated by politicians, election years, rates of under-employment, and large, investment- heavy technology companies that are notorious for not complying with local laws.
(ii) But there are no guarantees for better and more stable days for platform workers, even though they are meant to be 'the future of work'.

3. THE COST OF POLITICAL POSTURING-
GS 2- Effect of policies and politics of developed and developing countries on India's interests, Indian diaspora
Context
(i) U.S. President has turned the screws tight of his country's immigration system by announcing a hike in the salaries for those arriving in the U.S. on H-1B or skilled-worker visas.
(ii) This is expected to cut visa applications by around 33%, according to experts.
(iii) And it comes as only the latest White House rule following executive actions that earlier banned the issuance of new skilled worker visas and new green cards.
(iv) The question that these policy changes beg is, how much of the motivation for them is pure economic rationale versus political value for the incumbent's(current holder) final stages of election campaigning?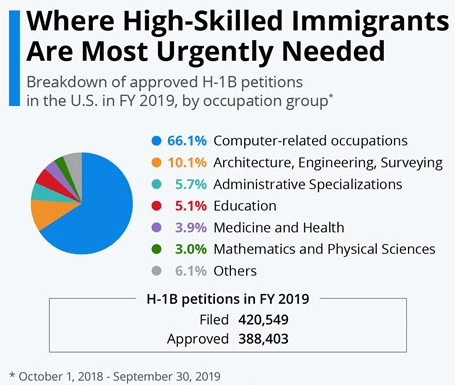 Slasing The Import Of Services
(i) It would not be unreasonable to expect that the visa issuance ban, combined with the mandatory salary floor soon to be instituted, will seriously hit U.S. imports of services from India.
(ii) Value of imports is estimated to be at $29.6 billion in 2018, 4.9% more than in 2017, and 134% more than 2008 levels.
(iii) The skilled visa issuance picture has been a positive one to date.
(iv) The U.S. Citizenship and Immigration Services has been issuing 85,000 H-1B visas annually, of which 20,000 are given to graduate students and 65,000 to private sector applicants.
(v) Approximately 70% of which are granted to Indian nationals.
(vi) The Migration Policy Institute has predicted that Mr. Trump's June 22, 2020 ban on new H-1B visa issuance could impact up to 219,000 workers.
(vii) These workers would effectively be blocked from taking up any potential jobs on offer in the U.S. going forward.
(viii) But how likely are firms, including the Silicon Valley tech giants, to embark on recruitment drives at this economically depressed time in the wake of the COVID-19 pandemic?
(ix) Unemployment in the U.S. peaked in the summer and has fallen for the fifth consecutive month since then.
(x) The latest figures suggest that both the unemployment rate and the number of unemployed people remain substantially higher than the pre-pandemic values in February 2020.
(xi) Even so, it is important to distinguish between the ban on new visa issuance and the Labour Department rule that would insist on higher salaries being paid to all H-1B visa workers in the U.S.
(xii) Under the latter rule, assuming it stands the test of time and inevitable litigation, companies would be required to pay entry-level staff in the 45th percentile of their industry's salary instead of the 17th percentile.
(xiii) For high-skilled workers, the rise would be from the 67th to the 95th percentile.

Staunch Criticism-
(i) Speaking of litigation, a federal judge in the Northern District of California blocked the enforcement of the new visa ban, ruling that the President "exceeded his authority" under the U.S. Constitution.
(ii) Driving that legal challenge to the White House proclamation was a swathe(large number) of U.S. manufacturing and industry associations.
(iii) In a similar vein, Google CEO Sundar Pichai hit out at the ban, saying, "Immigration has contributed immensely to America's economic success, making it a global leader in tech, and also Google the company it is today.
(iv) Disappointed by today's proclamation — we'll continue to stand with immigrants and work to expand opportunity for all."
(v) Tesla CEO Elon Musk and Apple CEO Tim Cook echoed similar sentiments.

Conclusion
(i) This goes to the heart of the issue, the question of why Mr. Trump is willing to risk damage to corporate America's bottom lines, all to garner some campaign ammunition(fire) for his familiar plank of nativist populism.
(ii) The answer is a simple one: people vote, while companies do not.
(iii) What might happen after the election is an entirely different story.