Objective
To verify Hooke's law - Hooke's law states that the extent to which an elastic material will change size and shape under stress is directly proportional to the amount of stress applied to it.
Theory
An ideal spring is remarkable in the sense that it is a system where the generated force is linearly dependent on how far it is stretched, this behavior is described by Hooke's law. According to Hooke's Law stated above that to extend a spring by an amount dx from its previous position, one needs a force F which is determined by F = kdx. Here k is the spring constant which is a quality of each spring. Therefore, in order to verify Hooke's Law, you must verify that the force F and the distance at which the spring is stretched are proportional to each other (that just means linearly dependent on each other), and that the constant of proportionality is k.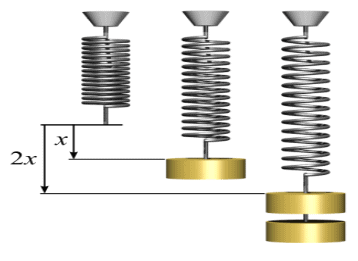 As performed in the lab
Materials Required -
A spring, a measuring ruler and weights.
Procedure -
Hang a spring from a horizontal metal rod.
Attach a mass hanger directly to the bottom of the hanging spring and record the position of the bottom of the mass hanger relative to a meter stick.
Hang a weight from the spring and wait for it to come to rest.
Record the final position of the mass hanger.
Calculate increase in length and and note in the "Observation Table".
Repeat the above steps with different weights.
Plot a graph with your readings. Force applied (mass X gravity) vs Increase in length (Initial length - Final Length).
As performed in the simulator
Click on the weight to be attached to the spring.
Allow the spring to come to rest.
Record the reading on the scale in the "Observation Table".
Repeat the procedure for other weights.
Once all the readings are recorded in the "Observation Table", click on "Plot" button to plot the graph.