Two-body collisions - general concepts

No external forces. Collision via massless springs or other force type.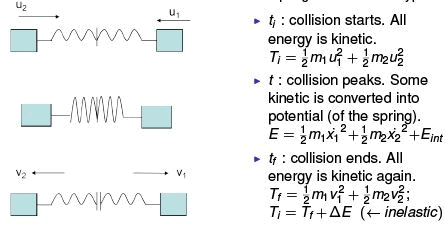 1.1 Momentum exchange and impulse
During collision: internal force causes change of momentum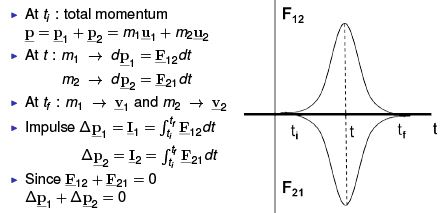 1.2 An off-axis collision in 2D


Elastic collisions in the Lab frame

Conservation of momentum:

Conservation of energy:

[Note that the motion is in a plane, and the 2D representation can be trivially extended into 3D by rotation of the plane].
2.1 Elastic collisions in 1D in the Lab frame


→ Relative speed before collision = Relative speed after
2.2 Special case in 1D where target particle is at rest


Special cases:

Example: Newton's cradle

If the balls are touching, the most general case is:
Momentum after collision :
Energy after collision :2 equations, 3 unknowns
The obvious solution:
But other solution(s) possible:
Momentum :

Energy :

So why does the simple solution always prevail?

Relationship between speeds and angles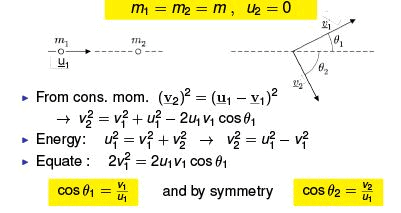 Note we can also do this via components of momentum :