Aspirants who are just starting their preparations often have questions such as "How many subjects are there in the IAS Exam?" and "How many optionals are there in the UPSC?" This article aims to provide clarity and familiarize students with the optional subjects in the IAS Exam.
In this article, we have listed the UPSC optional subjects that a candidate can choose. We have also provided you with expert strategy on how to choose the best optional subject for UPSC.
EduRev UPSC Package gives you access to all UPSC courses in one convenient package. From understanding the exam syllabus to mastering important topics, you'll have everything you need to succeed.
What is an Optional Subject in UPSC?
The UPSC optional subject list comes with the release of the official Notification of UPSC on its official website. Candidates get to choose any subject they want from these listed IAS Optional Subjects.
The UPSC CSE consists of three stages, i.e. Prelims, Mains and Interview.
In the CSE Main exam, out of the nine papers, two papers, Paper VI and Paper VII are from the optional subject for UPSC. They are optional Subject Paper 1 and Optional Subject Paper 2.
Each of the optional paper carries 250 marks. So, the UPSC optional subject carries 500/1750 marks in the UPSC Mains Exam.
The marks obtained in the UPSC optional subjects are considered for the preparation of final merit.
As we have mentioned above, the optional paper carries a total of 500 marks, so it is crucial to pick a subject that the candidate is comfortable with.
It would add a huge advantage if the candidate has completed his/her UG or PG in any one of the optional subjects in UPSC.
UPSC Optional Subject List

Those aiming to take the UPSC exam can opt for one of the 25 subjects provided by the UPSC based on their educational background and interests.
We have compiled a list of optional subjects from which candidates can choose one.
| | |
| --- | --- |
| S. No. | UPSC Optional Subjects List |
| 1 | |
| 2 | |
| 3 | |
| 4 | |
| 5 | |
| 6 | |
| 7 | |
| 8 | |
| 9 | |
| 10 | |
| 11 | |
| 12 | |
| 13 | |
| 14 | |
| 15 | |
| 16 | |
| 17 | |
| 18 | |
| 19 | |
| 20 | |
| 21 | |
| 22 | |
| 23 | |
| 24 | |
| 25 | |
UPSC Optional Subject List for Literature Subjects

Literature of the following languages is also part of the optional subjects for IAS, from which the candidate gets to choose any preferred language as his/her optional subject.
| | |
| --- | --- |
| S. No. | List of Literature UPSC Optional Subject |
| 1 | Assamese |
| 2 | Bengali |
| 3 | Bodo |
| 4 | Dogri |
| 5 | Gujarati |
| 6 | Hindi |
| 7 | Kannada |
| 8 | Kashmiri |
| 9 | Konkani |
| 10 | Maithili |
| 11 | Malayalam |
| 12 | Manipuri |
| 13 | Marathi |
| 14 | Nepali |
| 15 | Oriya |
| 16 | Punjabi |
| 17 | Sanskrit |
| 18 | Santhali |
| 19 | Sindhi |
| 20 | Tamil |
| 21 | Telugu |
| 22 | Urdu |
| 23 | English |
How to Choose Optional Subject in UPSC?

The UPSC optional subjects play a very important role in the UPSC CS Main Examination. It consists of a total of 500 marks out of a total of 2025 marks. If you choose wisely, then these 500 marks can make a great difference in the final total marks. Most students commit the mistake of choosing optional subjects for UPSC on the basis of toppers' scores in that subject, or because of other factors like popularity, availability of study groups, etc. However, you should be very careful while choosing an optional subject on such parameters as it may cost you an attempt!
Here are some of the factors that you may consider to choose the best from the list of optional subjects for UPSC:
1. Overlapping Syllabus

Some of the optional subjects like
History
,
Political Science & International Relations
,
Sociology
, Geography,
Economics
,
Public Administration
, etc. have syllabi that overlap with the General Studies syllabus in both Prelims and Mains. Hence, it might save you some preparation time.
2. Competition Level

Some candidates feel a good UPSC optional subject is the one that has a high success ratio in terms of the number of candidates appearing to the recommended candidates. However, it is only partially true. More than everything else, your copy will be evaluated on the basis of your answer's comprehensibility. Hence, choose a subject that you're comfortable with.
3. Interest and Academic Background

While going through the UPSC Optional List, you need to find an optional that you are interested in. The UPSC CSE optional subject must match your comfort level while reading.
4. Availability of resources

Now, there are 47 optional subjects available, but the resources in terms of educators, study materials, and relevant books are extremely limited. Although now, with the onset of online education, you can access more resources sitting at the comfort of your home, it is imperative that you evaluate the choice of optional on the basis of the available resources.
5. Familiarity with the subject

Another important factor that you must consider while choosing the best UPSC optional subject is familiarity with the subject. If you already have that subject as part of your graduation or post-graduation, then that should be your choice. Otherwise, opt for a subject that you can consistently study without losing interest
Other than these, factors such as relevance to the civil services job role, a consistent choice of subject among high rankers, scoring potential, and comfortability with the subject may also be considered while evaluating the optional subjects.
Also Read: How to Choose the Best Optional for UPSC?
Best Optional Subjects for UPSC Mains

Every year lakhs of candidates try to find the easiest and the best optional subject in UPSC. There is no perfect answer to this question; however, some key points would help you find the right UPSC optional subject. Let's uncover which optional subject is easiest for UPSC. It is advisable for the candidates to check the UPSC syllabus for the optional subjects before picking the same.
Technical subjects (along with Mathematics) can fetch excessive marks because the solutions are absolute. Generally, not like the humanities topics, the examine's biases do not play a big role.
The non-technical subject, on the other hand, specifically the ones that have a few overlaps with the GS syllabus, offers extra practice time. That is why candidates can score well if they prepare well for these subjects; additionally, it will help them with covering other portions of the UPSC syllabus.
Before selecting any optional subject in UPSC, a candidate should ask herself/himself to consider these key points.
How vast is the syllabus of the optional?
How much preparation time do you have?
Do you have prior knowledge of the subject at the graduate/PG level?
How much syllabus overlap is there between your optional choice and GS part in Prelims/Mains?
Are the study material and coaching readily available?
Do you have the requisite drive/interest to study the subject for the UPSC exam?
Depending on these above mentioned factors, a candidate should make an `individual` choice to pick the best subject among the list of optional subjects for UPSC.
Optional Subject in UPSC with Most Overlap with GS
The following UPSC Optional subjects are popular among IAS aspirants from both technical and non-technical because of the high overlap with GS or other parts of the UPSC exam:
Public Administration: Highly relevant, compact syllabus, paper II (Indian Administration) has a lot of overlap with polity and governance part in GS II.
Sociology: the study of society, lots of material which can be used in GS I, Essay, and even in Ethics paper.
History: relevant for prelims as well as GS I.
Geography: relevant for prelims as well as GS I
Political Science: relevant for prelims as well as GS II
Law: relevant for prelims as well as GS II
Optional subjects in UPSC like Economics, Philosophy, and Agriculture are also good choices.
Top 10 most chosen UPSC Optional Subjects
Though choosing the UPSC optional subject is an individual choice, however, as analysed the aspirants mostly prefer the following subjects as the best to opt as their Optional Subject. If confused to choose from 26 subjects, do prefer the list of 10 best optional subjects in UPSC from the below section-
Sociology
Law
Psychology
Medical Science
Agriculture
Literature
Anthropology
Public Administration
Geography
History
Success Rate of UPSC Optional Subjects

According to the latest UPSC 71st Year report, the Department of Personnel & Training (DoPT) updated the success rate of the optional subjects for the UPSC 2021.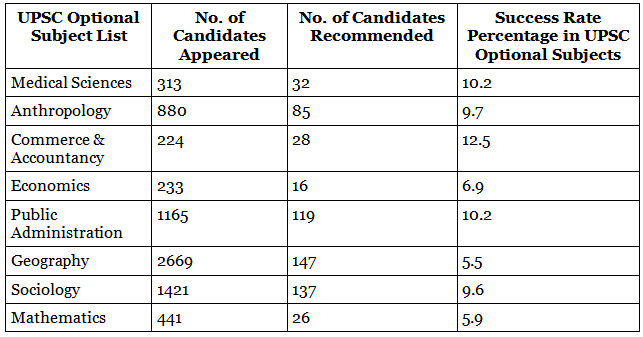 UPSC optional subjects taken by toppers
Below, the table represents the UPSC optional subjects taken by toppers each year. However, your choice of optional subject shouldn't depend on this factor only. The UPSC Toppers' preparation strategy for completing the optional subjects can mold the preparation of the candidates in a unique way.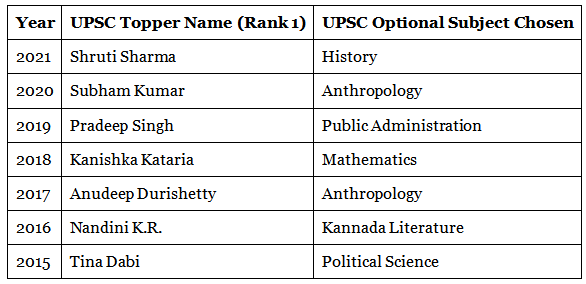 How to Prepare for Optionals using EduRev?
EduRev experts have provided guidance to high-achieving students such as Anudeep Durishetty, among others, in their preparation for the UPSC Exam.
Our courses on UPSC Optionals are thorough and complete, designed to help you score the necessary marks to achieve your goal of becoming an IAS.
Also Read: UPSC Bible: 15 Steps to Clear UPSC CSE by Toppers
Which is the easiest optional for UPSC?
According to the overall pattern, if you are extremely committed and devoted, there are several subjects such as Mathematics, Anthropology, Sociology, various types of Literature, Public Administration, and Geography that could possibly enable you to obtain a score of approximately 330 in your optional exams.
What to avoid while choosing the optional subject in UPSC?
When it comes to choosing an optional subject for the IAS exam, it's important to base your decision on your own interests and not simply follow the crowd. Don't pick the subject solely based on the decision of the past years' toppers.
As such, there is no restriction from UPSC's side on the choice of optional subjects in the IAS exam. A candidate is both free to make his/her own choice but is also constrained by the effects of making that choice.
Should I take an optional subject which is already covered in the General Studies?
It is always a smarter idea to choose an optional subjects for UPSC which is already covered in the GS paper syllabus because it is a great time saver for the student. However, this is not the only option. Many students, even toppers of previous years, end up taking the subject they have expertise in. Many choose a subject they have done in their master's or graduation. So, while it is sometimes smarter to take an overlapping optional subject, it is even more smarter to take a subject you know well.
What are the 26 optional subjects in UPSC?
The 26 optional subjects in UPSC are:

Agriculture
Animal Husbandry and Veterinary Science
Botany
Chemistry
Civil Engineering
Commerce
Electrical Engineering
Geology
Law
Mathematics
Management
Mechanical Engineering
Medical Science
Philosophy
Physics
Psychology
Statistics
Zoology
Which optional subject is most scoring in UPSC?
Philosophy is one of the highest scoring subjects in UPSC as its syllabus is less as compared to other subjects. Apart from this, Sociology and Public Administration are also scoring subjects. But scoring the highest in UPSC also depends on the candidate's interest in the subject and how familiar they are with it.