Summary
When interest calculation becomes an integral part of the account. The account maintained is called "Account Current".
Some examples where it is maintained are:
(i) Frequent transactions between two parties.
(ii) Goods sent on consignment
(iii) Frequent transactions between a banker and his customers
(iv) In case of Joint venture when no separate set of books is maintained for joint venture ♦ There are three ways of preparing an Account Current :
(i) With the help of interest tables
(ii) By means of products
(iii) By means of products of balances

Multiple Choice Questions
Ques 1: Red ink interest is
(a) really not interest
(b) negative interest
(c) used in connection with average due date.
Ans: b
Ques 2: An account current is a statement of mutual transactions
(a) between two parties
(b) in lieu of average due date
(c) prepared for a particular accounting period.
Ans: a
Ques 3: In account current, while counting the number of days, the due date is ignored and date up to which the accounts are prepared, is
(a) included
(b) excluded
(c) ignored
Ans: a

Theoretical Questions
Ques 1: Define Account Current. Explain ways of preparing an Account Current
Ans: An Account Current is a running statement of transactions between parties for a given period of time and includes interest allowed or charged on various items. It takes the form of an ledger account.
There are three ways of preparing an Account Current:
(i) With help of interest table.
(ii) By means of products.
(iii) By means of products of balances.

Ques 2: Write short note on Red-ink interest.
Ans: In case the due date of a bill falls after the date of closing the account, then no interest is allowed for that. However, interest from the date of closing to such due date is written in "Red-Ink" in the appropriate side of the 'Account current. This interest is called Red-Ink interest. This Red Ink interest is treated as negative interest. In actual practice, however the product of such bill [value of bill X (due date-closing date) is written in ordinary ink in the opposite side on which the bill is entered]. It means interest from future date from date of account current i.e., present date. In earlier periods, it was written in red ink; hence it got the name of red ink interest. It implies that rebate will be allowed on interest paid/ received, if settlement of future due transaction is done on account current date

Practical Questions
Ques 1: Roshan has a current account with partnership firm. It has debit balance of ₹ 75,000 as on 01-07-2016. He has further deposited the following amounts:


He withdrew the following amounts :


Show Roshan's A/c in the ledger of the firm. Interest is to be calculated at 10% on debit balance and 8% on credit balance. You are required to prepare current account as on 30th September, 2016 by means of product of balances method.
Ans: Roshan's Current Account with Partnership firm (as on 30.9.2016)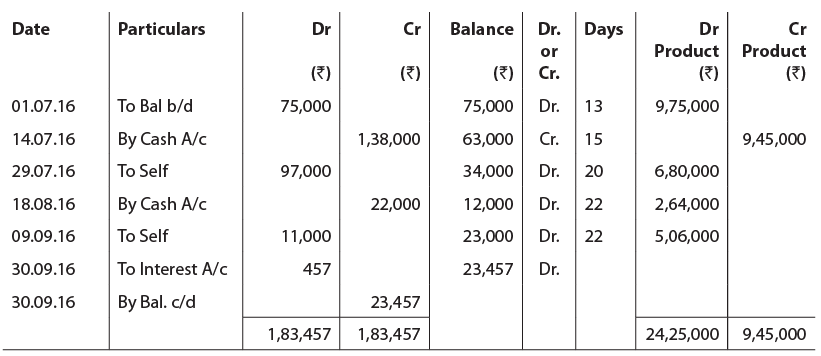 Interest Calculation:



Ques 2: From the following particulars prepare a account current, as sent by Mr. Ram to Mr. Siva as on 31st October 2016 by means of product method charging interest @ 5% p.a.


Ans: Siva in Account Current with Ram as on 31st Oct, 2016