6.5.3 Correction in the next Accounting Period
Rectification of errors discussed so far assumes that it was carried out before the books were closed for the concerned year. However, sometimes, the rectification is carried out in the next year, carrying forward the balance in the Suspense Account or even transferring it to the Capital Account. Suppose, the Purchase Book was cast short by '1,000 in December, 2015 and a Suspense Account was opened with the difference in the trial balance. If the error is rectified next year and the entry passed is to debit Purchase Account (and credit Suspense Account), it will mean that the Purchases Account for year 2016 will be '1,000 more than the amount relating to year 2016 and thus the profit that year 2016 will be less than the actual for that year. Thus, correction of errors in this manner will 'falsify' the Profit and Loss Account.
To avoid this, correction of all amounts concerning nominal accounts, i.e., expenses and incomes should be through a special account styled as "Prior Period Items" or "Profit and Loss Adjustment Account". The balance in the account should be transferred to the Profit and Loss Account. However, these Prior Period Items should be charged after deriving net profit of the current year. 'Prior Period items' are material income or expenses which arise in the current period as a result of errors or omissions in the preparation of the financial statements of one or more periods. Prior Period Items should be separately disclosed in the current statement of profit and loss together with their nature and amount in a manner that their impact on current profit or loss can be perceived.

ILLUSTRATION 8
Mr. Roy was unable to agree the Trial Balance last year and wrote off the difference to the Profit and Loss Account of that year. Next Year, he appointed a Chartered Accountant who examined the old books and found the following mistakes:
(!) Purchase of a scooter was debited to conveyance account ₹ 3,000.
(2) Purchase account was over-cast by ₹ 10,000.
(3) A credit purchase of goods from Mr. P for ₹2,000 entered as a sale.
(4) Receipt of cash from Mr. A was posted to the account of Mr. B ₹ 1,000.
(5) Receipt of cash from Mr. C was posted to the debit of his account, ₹500.
(6) ₹ 500 due by Mr. Q was omitted to be taken to the trial balance.
(7) Sale of goods to Mr. R for ₹2,000 was omitted to be recorded.
(8) Amount of ₹2,395 ofpurchase was wrongly posted as ₹2,593.
Mr. Roy used 10% depreciation on vehicles. Suggest the necessary rectification entries.
Solution: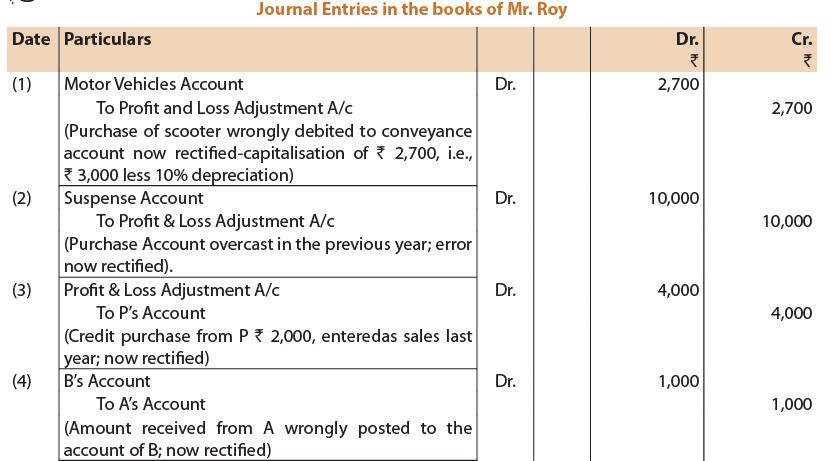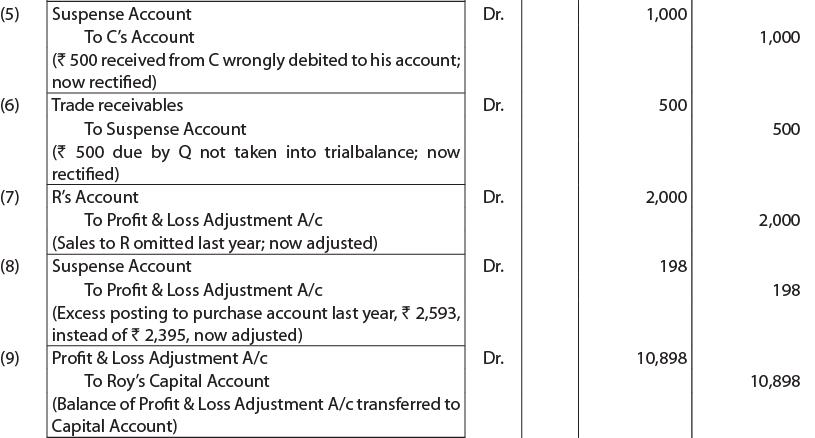 Note : Entries No. (2) and (8) may even be omitted; but this is not advocated.