Use of YouTube Videos (Why to reinvent the wheel?):
Thousands of educators/educational organizations from all across the world have created an immense pool of educational videos on various topics and shared them on YouTube and as an educator You must have referred to these videos while preparing for any topic. Did you ever feel the need to share the same video with your students? Eureka! EduRev courses offer You an opportunity to integrate YouTube videos along-with notes, tests to make it more engaging.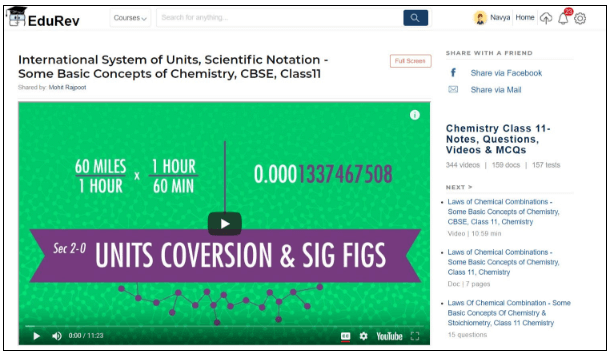 Mr. Mohit Rajpoot used YouTube videos in the complete course of Class 11 and Class 12
Structure Your Course:
Divide an individual chapter into various topics, various textbooks can be used as a reference to finalize the topics. Insert/Curate videos in consideration to this structure.
Guidelines to curate videos:
If You are unsure of which videos to be used for a particular topic, we've shortlisted few guidelines to help You:
Search for the particular topic on YouTube (try using different phrases, some great videos may not come up with a simple search)
Keep a check on suggested videos while accessing any video, it may lead you to find some good videos
Use short videos with maximum length of 20mins
Animated videos are preferred because the concept is communicated really well with the helps of images, diagrams (https://edurev.gumlet.io/studytube/Structure-of-Human-Heart-Animal-Kingdom--General-S/35d25433-d8b6-463c-82b0-d00ce6ae283c_v)
Recommend unconventional videos which helps to memorize the topic (https://edurev.gumlet.io/studytube/01-Introduction-to-Real-Numbers-Class-10-Maths/b975b13a-e6b9-45ca-baa6-99d8adce1c7e_v#course_7027)
Audio/Video should be clear for a student to understand
Avoid using classroom teaching videos (use them only if they are good and don't have any noise in the background)
Check the comments on YouTube to understand on how people are responding to a particular video
Make a list of good YouTube channels (as per their relevant topics) for future reference
These are some general pointers and we hope that you will make progress with period of time.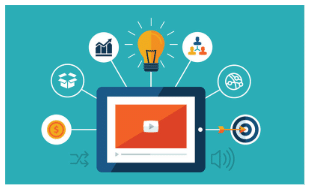 Issues with using YouTube videos:
You need to understand that YouTube is a 3rd party tool while hosting a course on EduRev, so you gotta take care of 2 things:
Videos removed from YouTube: If the creator has removed the video from YouTube, the same will automatically get deleted from your course.
Change in settings: The creator can change the settings of the video on YouTube to restrict the usage of videos on other platforms including EduRev.
Though the above mentioned cases are very rare but You need to accept that this can happen. In case if it does, You will be notified immediately through an email and expect you to act ASAP to replace the same with an alternative video from YouTube to maintain the consistency and quality of your course.