Q.1. Why we are unable to see the moon and other stars during the day?
Ans. Sun is the star that is nearest to the Earth. During the day, the Sun's light is so bright that we cannot see the light of other stars. Thus, they are not visible during the day.

Q.2. What is another name for the Milky Way galaxy?
Ans. Akash Ganga.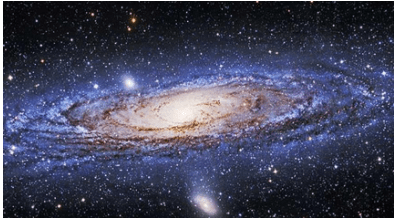 Milky Way

Q.3. Why is the Milky Way galaxy named as Akash Ganga?
Ans. Milky Way galaxy is often Known as Akash Ganga. This is because at the clear night the entire galaxy looks like a white and wide river especially like river Ganga.

Q.4. Name a constellation.
Ans. Saptarishi.

Q.5. Name the celestial body nearest to Earth.
Ans. Moon.

Q.6. Name the factor which makes life on earth difficult-
(a) It has water and air
(b) It is neither too hot nor too cold
(c) It has life-supporting gases such as oxygen
(d) Harmful Sun rays
Ans. Harmful Sun rays.

Q.7. How many days does the moon takes to complete one spin?
Ans. 27 days.

Q.8. The shape of Earth's is ______.
Ans. Geoid.

Q.9. Name the planets with rings around them.
Ans. Jupiter, Saturn, Uranus, and Neptune.

Q.10. We are a part of the Milky Way galaxy. True/False
Ans. True.

Q.11. Give an example of a satellite.
Ans. Moon.

Q.12. Name the celestial bodies that are made up of gases and emit their own heat and light.
Ans. Stars.

Q.13. What is another name for the Pole Star?
Ans. North Star.

Q.14. The Pole Star always indicates the ______ direction therefore it is called north star.
Ans. North.

Q.15. Name the celestial bodies that do not have their own light and are lit by the light of stars and revolve around the stars.
Ans. Planets.

Q.16. What are Planetoids?
Ans. The larger Asteroids are called planetoids.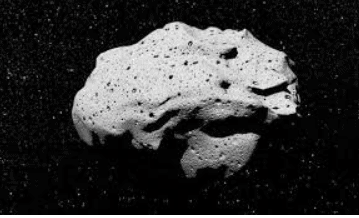 Planetoids

Q.17. For how many times in a month, Full moon is visible?
Ans. Once.

Q.18. What are Constellations?
Ans. Constellations are various patterns formed by different group of stars.

Q.19. Name the star nearest to the earth.
Ans. Sun.

Q.20. Why moon is called a satellite?
Ans. It revolves around planet Earth.

Q.21. The planet that takes minimum days to revolve around the sun is ______.
Ans. Mercury.

Q.22. The inner planets are demarcated from the outer planets by ______ belts.
Ans. Asteroids.

Q.23. Name the outer planet from the following:
(a) Venus
(b) Jupiter
(c) Earth
(d) Mars
Ans. Jupiter.

Q.24. Name an inner planet
(a) Jupiter
(b) Saturn
(c) Uranus
(d) Mercury
Ans. Mercury.

Q.25. Name the planet which is called the terrestrial planets and is made up of rocks and metals.
Ans. Mercury.

Q.26. Ursa Major is a ______.
Ans. Constellation.

Q.27. Sapota Rishi is also known as small bear. True/False
Ans. False.

Q.28. Name the instrument used to see the celestial bodies.
Ans. Telescope.

Q.29. On new moon night, we can see ______ moon.
Ans. No.

Q.30. Name the common name that can be given to the various planets, stars, asteroids etc.
Ans. Celestial bodies.

Q.31. Name the planet with maximum number of moons.
Ans. Saturn.

Q.32. Name the life supporting gas in the air on the earth.
Ans. Oxygen.

Q.33. Uranus has about ______ moons.
Ans. 27 moons.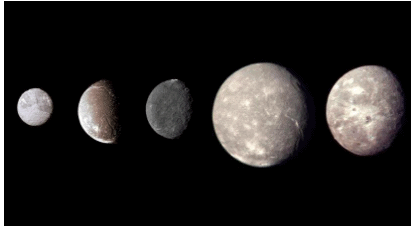 Five Largest moons of Uranus

Q.34. How many days does Mercury takes to complete one round along its orbit?
Ans. 88 days.

Q.35. Name the celestial body known as the natural satellite of the Earth.
Ans. Moon.

Q.36. Name the materials by which the rings around Jupiter, Saturn and Uranus are made up of?
Ans. Small debris made up of rocks, metals and ice.

Q.37. A famous astronomer of ancient India was
(a) Aryabhatta
(b) Copernicus
(c) Galileo
(d) Ptolemy
Ans. Aryabhatta.

Q.38. When the meteor falls on the earth, they create ______.
Ans. Craters.

Q.39. Name some of the Indian satellites in space.
Ans. INSAT, Aryabhatta, IRS, EDUSAT, etc.

Q.40. Name the inner planets and the biggest planet.
Ans. Inner Planets: Venus, Mercury, Earth and Mars.
Biggest Planet: Jupiter.