Very Short Question Answers:
Q1: Metals have lustre. (TRUE/FALSE)
TRUE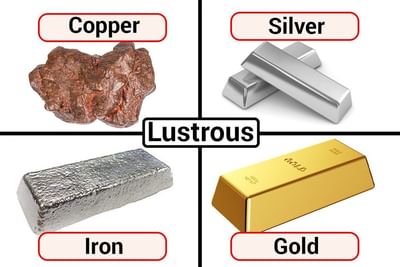 Examples of lustrous metals
Q2: Give two examples of objects made up of metals.
Lock and steel glass.

Q3: Wood and copper both show lustre.(TRUE/FALSE)
FALSE

Q4: Write any two properties of material.
Hardness and soluble or insoluble.

Q5: What are soft materials?
Soft materials are those which can be compressed or scratched easily.
Q6: Give two examples of soft material.
Cotton and sponge.

Q7: Give two examples of hard material.
Iron and wood.

Q8: Materials can have different properties such as______________ and ______________.
Lustre and hardness

Q9: A piece of stone is ______________ material. (hard /soft )
Hard

Q10: What type of substances are said to be soluble in water?
Substances that completely disappear or dissolve in water are said to be soluble in water.

Q11: Salt is soluble in water while sand is not. (TRUE/FALSE)
TRUE

Q12: Gases can also dissolve in water. (TRUE/FALSE )
TRUE

Q13: Name any gas which can be dissolved in water.
Oxygen.

Q14: All gases are soluble in water. (TRUE/FALSE)
FALSE

Q15: Dried leaf ______________ on the surface of water.(FLOAT/SINK)
Float

Q16: Blood is ______________.(transparent/opaque)
Ans : Opaque
Q17: Write the name of two objects that can float in water.
Leaf and paper

Q18: Stone will ______________ in water.
Sink

Q19: Chocolates, toys and other items are displayed in a shop in see-through containers that are made of glass or plastic. This explains the property of ____ of glass and plastic.
Transparency

Q20: Those materials through which things can be seen are called ______________.
Transparent

Q21: Materials that cannot be compressed are called ______________ materials.
Hard

Q22: Give two examples of opaque material.
Wooden box and metal container.

Q23: Glass is transparent, stone is opaque. (TRUE/FALSE)
TRUE

Q24: The material through which objects can be seen but not clearly are known as ______________.
Translucent.

Q25: Wood is transparent.(TRUE/FALSE)
FALSE

Q26: Sugar is soluble in water.(TRUE/FALSE)
TRUE

Q27: Oily patch on paper is______________.( translucent/transparent)
Translucent

Q28: Sand dissolves in water. (TRUE/FALSE)
FALSE

Q29: What kind of material is said to be opaque?
The materials through which we are not able to see are called opaque.

Q30: Name two materials which sink in water.
Stone and coin

Q31: Water is a ______________ liquid. (transparent/translucent )
Transparent

Q32: Oil is insoluble in water. (TRUE/FALSE)
TRUE

Q33: Which of the following is non eatable item:
Orange, mango, salt, basket ball, tomato
Basket ball

Q34: Find the odd one out:
iron, gold, water, silver.
Water

Q35: Which among the following are transparent:
Iron, Water, glass, wood
Water, glass

Q36: Air is transparent. (TRUE/FALSE)
Ans : TRUE

Q37: Eraser has lustre. (TRUE/FALSE)
FALSE