Very Short Q & A :
Q1: Circulatory system consists of the heart, blood vessels and _____________.
Ans : Blood.
Q2: Name the system in the body responsible for removal of unwanted harmful substances and excess water in the body cells.
Ans : Excretory system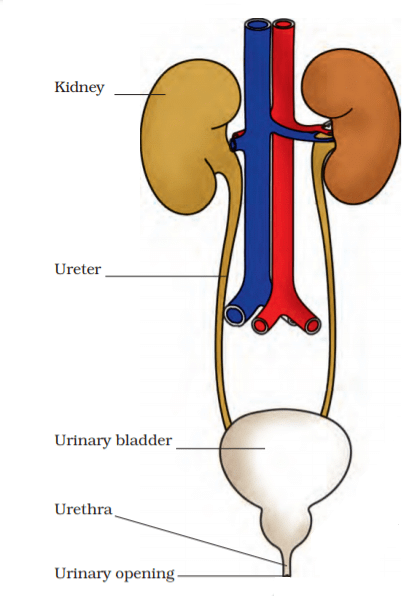 Excretory System
Q3: Name the fluid part of blood.
Ans : Plasma
Q4: Name the three types of cells present in blood.
Ans : White blood cell, red blood cell and platelets
Q5: Red blood cells, also called RBCs, have iron pigments known as _____________.
Ans : Haemoglobin
Q6: The presence of haemoglobin gives red colour to blood.True/ False.
Ans : True
Q7: White blood cells, or WBCs, defend the body against ___________________.
Ans : Infection
Q8: When a blood vessel is cut, blood comes out immediately. After some time, a dark red clot is formed on the cut. Name the cell responsible for this.
Ans : Platelets
Q9: Name the two types of blood vessels
Ans : Arteries and vein
Q10: Which of the two carry oxygen rich blood, arteries or vein?
Ans : Arteries
Q11: A number of capillaries together form a ___________
Ans : Vein
Q12: Where is heart located in human body?
Ans : Heart is located in the chest cavity with its lower parts towards the left.
Q13: Name the vein in the body that carries oxygen-rich blood.
Ans : pulmonary vein
Q14: Pulmonary artery, the only artery in the human body that carries carbon dioxide-rich blood.True/ False.
Ans : True
Q15: What is heart beat?
Ans : The muscles of the heart contract and relax, which constitutes a heartbeat.
Q16: What is pulse?
Ans : Throbbing that occurs in arteries due to flowing of blood is called pulse or the flow of blood in an artery over a bone is called the pulse.
Q17: The normal pulse rate is
70 to 90 per minute.
70 to 80 per minute.
40 to 70 per minute.
70 to 100 per minute.
Ans : 70 to 80 per minute.
Q18: What is removed along with water as sweat?
Ans : Extra salts are removed along with water as sweat.
Q19: What is the function of valves present in veins?
Ans : Valves are present in veins to prevent backflow of blood in tissues.
Q20: Name the term for transport of food from leaves to other parts of plants
Ans : Translocation
Q21: Name the type of blood vessels which carry blood from organs to the heart.
Ans : Veins
Q22: Name the waste products formed in body.
Ans : Urea, uric acid and excess water.
Q23: Define excretion.
Ans : The removal of waste products is termed excretion.
Q24: Name organs of excretory system.
Ans : Kidneys, the ureters, the urinary bladder and the urethra.
Q25: Sweat makes the body warm and it helps to maintain normal temperature.True/ False
Ans : False
Q26: What is osmoregulation?
Ans : Osmoregulation is the regulating osmotic pressure of the body fluids by controlling amount of water and salts in the body.
Q27: Heart pumps carbon-dioxide rich blood to______________and oxygen rich blood to rest of the __________.
Ans : Lungs and body
Q28: The roots of the plants remain in contact with underground water.True/ False
Ans : True
Q29: What does the xylem transport?
Ans : Xylem-water and minerals
Q30: What does the phloem transport in plants?
Ans : Phloem- prepared food.
Q31: Vena cava transport oxygenated blood or deoxygenated blood?
Ans : deoxygenated blood
Q32: Transpiration process help in eliminating extra water from plants.True/ False
Ans : True
Q33: Arteries and veins are joined by a network of ___________________.
Ans : Capillaries
Q34: Kidney eliminates the waste material in the liquid form called as__________________.
Ans : Urine
Q35: Name the main excretory product in human being.
Ans : Urea
Q36: Water absorption through roots can be increased by keeping the plants
in the shade
in dim light
under the fan
covered with a polythene bag
Ans : under the fan
Q37: In plants, water is transported through
Xylem
Phloem
Stomata
Root hair
Ans : Xylem
Q38: Name the instrument used to measure blood pressure.
Ans : Sphygmomanometer