BANKING & FINANCIAL AWARENESS
1. Which company will acquire the UK based chip designer Arm of Softbank for as much as $40 billion ______ Nvidia.
Note:
➢ The deal puts a vital supplier to Apple Inc and others across the industry under the control of a single player and will face potential pushback from regulators and Nvidia rivals.
➢ Nvidia will pay SoftBank $21.5 billion in shares and $12 billion in cash, including $2 billion on signing.
➢ The deal will see SoftBank and the $100 billion Vision Fund, which has a 25% stake in Arm, take a stake in Nvidia of between 6.7% and 8.1%.

2. ICICI Lombard has entered into a Bancassurance tie-up with which bank to sell its insurance products ______ Yes Bank.
Note:
➢ Through this agreement, ICICI Lombard aims to offer innovative insurance solutions to Yes Bank's Customers across 28 States and 8 Union Territories.
➢ Bancassurance is an arrangement between a Bank and an Insurance Company allowing the Insurance Company to sell its products to the Bank's Client Base.

3. S&P Global Ratings projected what per cent of contraction of Indian GDP in the current financial year (FY2020-21) ______ 9 per cent.
Note:
➢ S&P Global Ratings has projected the GDP of India to contract by 9% in the fiscal year 2020-21 (FY21), as against its previous estimate of a 5% contraction, due to the impact of the COVID-19 pandemic.
➢ For the FY22 (2021-22), S&P expects GDP growth of 6% and for the FY23 (2022-23), GDP growth is projected at 6.2%.

4. SBI General Insurance Company Ltd has signed a corporate agency agreement with which bank to distribute the products of SBI General Insurance to the customers of the bank ______ YES Bank.
Note:
➢ This partnership offers customers a wide range of non-life insurance products and services and deploys technology across the customer value chain to facilitate superior experiences for them.
➢ The unique branch and digital banking capabilities of YES Bank together with the brand strength and innovative product suite of SBI General Insurance will boost the customer value proposition of YES Bank.

5. The Organisation for Economic Cooperation and Development (OECD) expects the Indian economy to contract by what percent in FY21 (2020-21) ______ 10.2%.

Organisation for Economic Cooperation and Development
Note:
➢ The Organisation for Economic Cooperation and Development (OECD) expects the Indian economy to contract by 10.2% in FY21 (2020-21) as compared to its previous estimate of 16.7% in June.
➢ For FY22 (2021-22), the Paris-based OECD projects India's gross domestic product (GDP) to grow at 10.7%.

6. Watch maker Titan Company has partnered with which bank to launch India's first contactless payment watches named "Titan Pay" ______ State Bank of India.
Note:
➢ Using these watches, the account holders of SBI can tap their Titan Pay watch on the contactless payment POS machines for making payments.
➢ It is powered by YONO SBI.
➢ Under this mechanism, payments of up to Rs. 2,000 can be made without entering a PIN, as per the RBI guidelines.

7. According to Asian Development Bank what is estimated GDP growth of India in the financial year 2020-21 ______ -10.2%.
Note:
➢ This estimate is worse than ADB's previous estimate of -4%.
➢ However, for the FY22 (2021-22), ADB expects India's GDP at 8 per cent. ADB also expects the gross domestic product (GDP) growth for developing Asia at – 0.7 per cent in 2020, the first negative economic growth since 1962.

8. Which bank has collaborated with Mastercard World Debit Card for High Net Worth Customers ______ SBM Bank (India) Limited.
Note:
➢ It represents a combination of niche banking solutions and thoroughly managed lifestyle privileges, including some of the finest shopping and dining opportunities.
➢ The custom built card is an addition to SBM Bank India's Private Wealth offering.

9. What is the estimated GDP contraction of India as per the UBS Securities projection ______ 8.6%.
Note:
➢ UBS Securities has projected India's GDP for 2020-21 (FY21) to contact by 8.6%. (Earlier it was -5.8%).
➢ For FY22, UBS Securities projects India's GDP to grow by 10%. UBS Securities is a Chinese investment bank and brokerage firm headquartered in Beijing, China.

10. Which home finance company has launched "Apna Ghar Dreamz" a new home loan scheme for skilled laborers like electricians, mechanics, painters, grocery store owners etc in the informal sector of Delhi ______ ICICI Home Finance.
Note:
➢ The credit amount of this loan ranges from Rs 2 lakh to 50 lakhs.
➢ This scheme targets the people of the informal sector without all the documents which are required to get a loan from a formal financial institution.

11. Which bank has launched launched an online credit solutions platform to provide loans for Small and medium-sized enterprises (SMEs) businesses in a convenient manner with credit facility up to Rs 20 crore ______ DBS Bank India.
Note:
➢ This segment-flagship platform facilitates access to business credit across the entire spectrum of micro, small and medium enterprises.
➢ For loans above Rs 5 crore, customers can avail the loan through a simple online process by uploading bank statements, and IT(Income Tax) returns.
➢ If the lending criteria is met, the platform is enabled to auto-generate an e-offer letter.

12. Which public sector bank has launched lead management system (LMS) – i-Lead 2.0 (Inspiring Leads System version 2.0) ______ Canara Bank.
Note:
➢ The system has been launched to provide its services to customers irrespective of where they reside.
➢ Through lead management system (LMS), customers can enquire and get services rendered through simple modes such as internet banking, mobile banking, call centre, SMS and missed call.

13. Which Bank has set new vertical "Emerging Entrepreneurs Business (EEB)" to support the emerging needs of the unbanked and underbanked segment of customers ______ Bandhan Bank.
Note:
➢ The vertical will focus on supporting this segment of customers in their journey to becoming entrepreneurs.
➢ In addition to micro loans, the vertical will also manage micro home loan, micro bazaar loan and micro enterprise loan.
OBITUARIES
1. Renowned personality Kapila Vatsyayan passed away recently, she was a veteran ______ Classical Dance Scholar.
Note:
➢ Dr. Vatsyayan was a former member of Parliament and life time trustee of India International Centre (IIC).
➢ Dr. Vatsyayan, the grand matriarch of cultural research, has for decades been an icon for students of the arts and for aesthetes in general.

2. Renowned sportsperson Sadashiv Patil passed away, he was associated with which sports ______ Cricket.
Note:
➢ Former Maharashtra cricketer, Sadashiv Patil passed away. He had represented India in only one Test and played 36 first-class matches between 1952 and 1964.
➢ He made his first-class debut for Maharashtra during the 1952-53 season and his only test debut against New Zealand at the Brabourne Stadium in 1955.

3. Renowned personality Amitabha Ghosh passed away recently, he was former ______ Governor of RBI.
Note:
➢ He was the shortest-serving Governor of the Reserve Bank of India for 21 days.
➢ He had served as the 16th Governor of the Reserve Bank of India for 21 days between January 15, 1985, to February 4, 1985.

4. Former president of which country, General Moussa Traore passed away recently ______ Republic of Mali.
Note:
➢ He was born in 1936 in Kayes, Mali. He was a former military leader, forcibly took over the reign from Modibo Keita (known as the 'father of independence'), after participating in a military coup.
➢ However, in March 1991, he himself was overthrown by popular protests and a military takeover.

5. Renowned personality Ashok Gasti passed away recently he was a veteran ______ Politician.
Note:
➢ The first-time he took oath as Rajya Sabha MP on July, 2020. He is credited for organising the BJP in Raichur district.
➢ Gasti, a lawyer by profession and former general secretary of BJP's Other Backward Classes (OBC) Cell, was also a former chairperson of the Backward Class Development Corporation in Karnataka.

6. Renowned personality Babu Sivan passed away recently, he was a veteran ______ Tamil Filmmaker.
Note:
➢ He started his career with assisting director Dharani and made his directorial debut in 2009 with movie Vettaikaaran starring Vijay and Anushka Shetty.
➢ Later, he also directing daily soap opera Rasaathi
IMPORTANT DAYS
1. National Engineers Day is celebrated every year on which date ______ 15th September.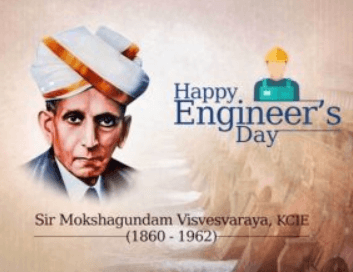 Note:
➢ In India, the Engineer's Day is celebrated on September 15 every year, since 1968, to recognise the contribution of engineers' in the development of the nation.
➢ The day marks the birth anniversary of the engineering pioneer of India, Sir Mokshagundam Vishweshvaraya, (popularly known as Sir MV).

2. International Day of Democracy is observed globally every year on ______ 15th September.
Note:
➢ The International Day of Democracy provides an opportunity to review the state of democracy in the world.
➢ Democracy is as much a process as a goal, and only with the full participation of and support by the international community, national governing bodies, civil society and individuals, can the ideal of democracy be made into a reality to be enjoyed by everyone, everywhere.

3. The United Nations observes International Day for the Preservation of the Ozone Layer every year on which date ______ 16th September.
Note:
➢ The ozone layer is a fragile shield of gas which protects the Earth from the harmful portion of the rays of the sun and thus help in preserving life on the planet.
➢ The theme of the day for 2020: "Ozone for life: 35 years of ozone layer protection". It marks 35 years of the Vienna Convention.

4. The World Patient Safety Day is observed globally every year on which date ______ 17th September.
Note:
➢ The theme for World Patient Safety Day 2020: Health Worker Safety: A Priority for Patient Safety.
➢ Raise global awareness about the importance of health worker safety and its interlinkages with patient safety.
➢ Engage multiple stakeholders and adopt multimodal strategies to improve the safety of health workers and patients

5. The World Water Monitoring Day is observed globally every year on ______ 18th September.
Note:
➢ This day is celebrated to increase public awareness and involvement in water monitoring and protecting water resources around the world.
➢ World Water Monitoring Day engages people of all ages in monitoring the condition of local rivers, streams, estuaries and other water bodies.
➢ This year theme for World Water Monitoring Day 2020 is 'Solve Water.'

6. International Coastal Cleanup Day is celebrated every year on which date ______ 19th September (third Saturday in September).
Note:
➢ In 2020, the day is being held on 19 September. This year theme for International Coastal Cleanup Day 2020: "Achieving a trash-free Coastline".

7. International Equal Pay Day is observed globally for the first time on ______ 18th September 2020.
Note:
➢ On the occasion of the first International Equal Pay Day, and in the midst of the fallout from the global COVID-19 pandemic, the Equal Pay International Coalition (EPIC) will host a virtual global Call to Action to encourage all labour market actors to take the necessary steps to ensure that equal pay is at the heart of recovery efforts worldwide.

8. World Bamboo Day is observed globally every year on ______ 18 September.
Note:
➢ This day is celebrated to raise awareness of the benefits of bamboo and to promote its use in everyday products.
➢ The theme for 11th edition of WBD 2020 is 'BAMBOO NOW.'

9. World Alzheimer's Day is observed is observed every year on which date ______ 21st September.
Note:
➢ This day tries to create awareness about the condition and the challenges one may face.
➢ It also attempts to eliminate the stigma that surrounds this condition.
➢ Alzheimer's is a progressive diseases which leads to memory loss.

10. International Day of Peace in observed around the world on which date ______ 21st September.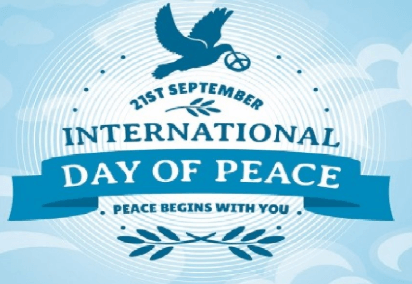 International Day of Peace
Note:
➢ The UN General Assembly has declared this as a day devoted to strengthening the ideals of peace, through observing 24 hours of non-violence and cease-fire.
➢ This year, it has been clearer than ever that we are not each other's enemies. Rather, our common enemy is a tireless virus that threatens our health, security and very way of life.
➢ The 2020 theme for the International Day of Peace is "Shaping Peace Together."
NEW APPOINTMENTS
1. Who has been appointed as new Executive Director of Asian Development Bank (ADB), Manila ______ Sameer Kumar Khare.
Note:
➢ Khare is a 1989-batch Indian Administrative Service (IAS) officer of Assam cadre. He is currently serving as Additional Secretary in the Department of Economic Affairs under Ministry of Finance.
➢ He has been appointed to the post for a tenure of three years with effect from the date of assumption of the charge of the post or until further orders, whichever is earlier.

2. Who has been appointed as Executive Director at World Bank in Washington DC ______ Rajesh Khullar.
Note:
➢ The Appointment Committee of the Cabinet (ACC) has approved the appointment of Rajesh Khulla for a tenure of three years from the date of assumption of charge or till the date of his superannuation (August 23, 2023).
➢ Khullar is currently posted as principal secretary to chief minister Manohar Lal Khattar. He will join the World Bank in the first week of November.

3. Who has been elected as the new Chief of Japan's ruling, Liberal Democratic Party (LDP) and Prime Minister-designate of the country ______ Yoshihide Suga.
Note:
➢ The 71-year-old will assume charge of the office from 16 September 2020.
➢ Suga received maximum votes of 377 of the 534 valid votes in the Party election, held to pick a successor to Prime Minister Shinzo Abe, who announced in August 2020 that he would resign due to health problems.

4. Who has been appointed as the country director for India by the Manila based Asian Development Bank (ADB) ______ Takeo Konishi.
Note:
➢ Konishi will replace Kenichi Yokoyama who has taken over as Director-General of ADB's South Asia Department.
➢ India is the fourth-largest shareholder of ADB and has been its largest borrower since 2010.
➢ As head of the country office in New Delhi, Konishi will lead to ADB operations and policy dialogue with the government and other development partners in India.

5. Name the Bollywood actor who has been signed up by the Amazon.com Inc for its Alexa voice assistant ______ Amitabh Bachchan.
Note:
➢ Amitabh Bachchan is the first Indian celebrity to lend his voice to Alexa.
➢ Alexa users will be able to access Amitabh Bachchan's voice on Alexa by purchasing the Amitabh Bachchan voice experience.
➢ Amazon first used a celebrity voice when Hollywood actor Samuel L. Jackson made a debut on Alexa.

6. Who has been appointed as the brand ambassador of Paytm First Games (PFG) ______ Sachin Tendulkar.
Note:
➢ Tendulkar would promote the gaming platform PFG and all its fantasy sports such as cricket, kabaddi, football, and basketball.
➢ Paytm is the official umpire partner for IPL till 2022 and has been the title sponsor for Indian cricket.

7. Who has been appointed as the chief of the National Technical Research Organisation (NTRO) ______ Anil Dhasmana.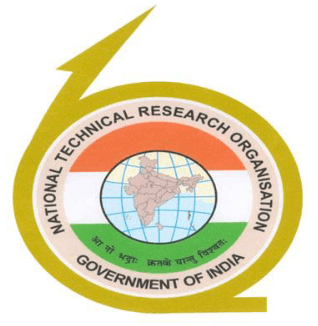 National Technical Research Organisation
Note:
➢ Dhasmana succeeds former Intelligence Bureau officer Satish Jha, who demitted office.
➢ Dhasmana, a 1981 batch IPS officer, is a Pakistan expert and was the lead planner of the Balakot airstrikes in February 2019.
➢ He had stepped down a few months later when his extended term due to the general elections ended in June 2019.

8. Who has been given the additional charge of Food Processing Industries Ministry following Harsimrat Kaur Badal resignation ______ Narendra Singh Tomar.
Note:
➢ He has been given the additional charge as President Ram Nath Kovind has accepted the resignation of Smt.
➢ Harsimrat Kaur Badal from the Union Council of Ministers, with immediate effect, under clause (2) of Article 75 of the Constitution.