Banking & Financial Awareness
1. Food tech giant, Swiggy has launched its digital wallet 'Swiggy Money' in partnership with which bank _______ ICICI Bank.
Note:
➢ The digital wallet named 'Swiggy Money', will provide users with a single-click checkout experience.
➢ Through this partnership, Swiggy customers allow storing money to be used for orders on the platform.

2. Which bank has approved a USD 750 million Micro, Small, and Medium Enterprises (MSMEs) Emergency Response Program to support severely impacted MSMEs in India due to COVID-19 crisis _________World Bank.
Note:
➢ The International Bank for Reconstruction and Development (IBRD) will provide the loan.
➢ The World Bank's MSME Emergency Response program will address the immediate liquidity and credit needs of around 1.5 million applicable MSMEs.

3. Which bank has launched 'e-Kisaan Dhan' App for Farmers in India_______HDFC Bank.


Note:
➢ With this app, farmers can access a bouquet of services in banking and agriculture, through their mobile phones.
➢ It will provide users information in regard to new government schemes and ways to access them.

4. Fitch Ratings Inc in its 'Global Economic Outlook (GEO)', has lowered India's growth forecast for FY 2021-22 to _______ 8 per cent.
Note:
➢ However, Fitch has not made any change in its previous estimate of a 5% decline in the economy during the current financial year (FY 2020-21).
➢ Fitch has also predicted growth in the global economy at 4.9 % in 2021& in 2022 it is estimated to be 3.4 %.

5. Name the Indian Telecom company that has launched video conferencing platform to take on likes of Zoom, Google Meet and Microsoft Teams with unlimited number of free calls _______Jio.
Note:
➢ Additionally, JioMeet appears to not impose a short time limit on a call's duration the free call can be uninterrupted for "up to 24 hours" long.
➢ The video conferencing platform can also be accessed through Google Chrome and Mozilla Firefox for users working on desktop apart from Android and iOS phones. It is absolutely free of cost.

6. Which entity will set up a Special Purpose Vehicle (SPV) in the form of Special Liquidity Scheme (SLS) Trust through which special liquidity scheme for NBFCs and HFCs will be operated _________ SBICAP.

Fig: NBFCs under Special Liquidity SchemeNote:
➢ The SPV will purchase the short-term papers from eligible NBFCs/HFCs, who shall utilise the proceeds under this scheme solely for the purpose of extinguishing existing liabilities.
➢ The instruments will be CPs and NCDs with a residual maturity of not more than three months and rated as investment grade.

7. Which bank has launched 'Insta Loans against Mutual Funds', a facility in partnership with Computer Age Management Services(CAMS) ________ICICI Bank.
Note:
➢ The facility enables the retail customers to avail loans upto Rs 1 crore instantly by pledging their holdings in both debt and equity Mutual Funds(MFs).
➢ It is a full digital and paperless facility. It empowers customers to get this loan as an overdraft (OD) within a few minutes without having to visit a branch and submit physical documents.

8. American multinational private equity company Carlyle Group has decided to acquire about 25% stake in which Indian telecom company __________ Airtel.
Note:
➢ Airtel will continue to hold the remaining 75% stake in the business.
➢ Nxtra will use the proceeds from the stake sale to scale up its infrastructure across the country. The deal will peg the company's post-money enterprise valuation at $1.2 billion, which is over Rs 9,084 crore.

9. United States-based Intel Corporation's investment arm Intel Capital will invest Rs 1,894.50 crores in which Indian telecom company _________ Jio.
Note:
➢ Rs 1894.50 of investment will translate to 0.39 percent of an equity stake for Intel Capital in Jio Platforms.
➢ In a matter of 11 weeks since 22nd April 2020, this was the 12th foreign investment in Jio Platforms.
➢ The 12 investments make a total of Rs 1,17,588.45 crores that have been raised in Jio Platforms. This investment also takes the total stake in Jio Platforms of foreign investors to 25.09 percent.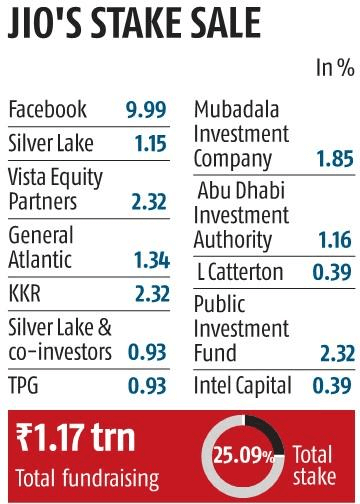 10. Which bank offered an instant car loans to existing customers through an initiative called "ZipDrive" in 1,000 cities _________ HDFC Bank.
Note:
➢ This solution gives the customer with a pre-approved loan offer to avail an auto loan through net banking or via assistance from the bank's phone banking team.
➢ It is a technology-enabled loan product where credit assessment is done by banking software.

11. Care Ratings has forecasted Indian economy in the financial year 2020-21 to contract by _______ 6.4 per cent.


Note:
➢ The rating agency has slashed the GDP growth rate of Indian economy citing continued restrictions in the economic activities due to the lockdown on account of the COVID-19 pandemic.
➢ It also expects that the positive growth will come from only agriculture and the government sector.

12. Which bank has partnered with Mastercard to enable its customers to make real-time domestic & cross-border payments(Business to Consumer- B2C) and remittances quickly and efficiently through 'Mastercard Send' _______SBM Bank.
Note:
➢ This partnership allows the bank's customer base to offer quick, convenient and secure payments experiences.
➢ Mastercard Send is a secured and innovative solution. It has played a key role in diversifying MasterCard payment flows and the payment experience for customers.

13. Which bank has launched a digital solution, 'Loan in Seconds' for instant disbursement of retail loans ________ Yes Bank.
Note:
➢ The algorithm evaluates the loan application in real-time and eliminates the need for documentation.
➢ The solution aims to provide customers, hassle-free loans to help them meet their immediate financial needs.

14. Which entity has launched the Global Bharat program, designed to enable Indian micro, small, and medium enterprises (MSMEs) become globally competitive by equipping them with digital technologies _______ SAP India.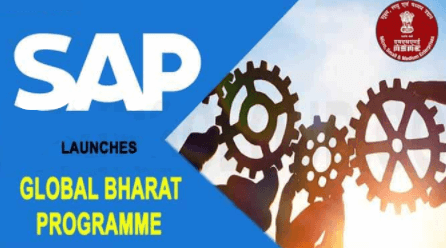 Note:
➢ A subsidiary of Germany based enterprise technology firm in partnership with NASSCOM foundation United Nations Development Programme (UNDP) and Pratham InfoTech Foundation, has rolled out Global Bharat program.
➢ It is to equip micro, small and medium enterprises (MSMEs) by providing them access to global marketplace, digital skilling for the workforce and transforming business processes.

15. Which bank has joined the Paris based Network for Greening the Financial System (NGFS) as an observer _______Asian Development Bank.
Note:
➢ The NGFS is a global forum that brings together central banks and supervisors committed to understanding and managing the financial risks and opportunities associated with climate change.
➢ ADB now joins the ranks of the World Bank (WB), the International Finance Corporation (IFC), the International Monetary Fund (IMF), and the Organisation for Economic Co-operation and Development (OECD) as NGFS observers.

16. Which Bank has collaborated with Innoviti Payment Solutions Pvt. Ltd to provide EMI billing options on bank's Debit Cards which are swiped on Innoviti Point of Sale (POS) terminals _________ Kotak Mahindra Bank.
Note:
➢ More than half of Innoviti's POS terminals have been installed in 350 smaller cities and towns in India with a population of less than 2 million.
➢ This will help consumers especially in tier 2 & 3 cities to access credit conveniently through their Kotak debit cards.

17. As per the RBI data in FY 2020 India's External debt increased by ________ 2.8%.
Note:
➢ India's external debt stood at $558.5 billion in March 2020, an increase of $15.4 billion or 2.8% as compared to the March 2019.
➢ The largest component of the external debt is Commercial borrowings with a share of 39.4%, followed by nonresident deposits at 23.4% and short-term trade credit at 18.2%.
Obituaries
1. Renowned personality Carl Reiner passed away recently, he was a veteran ________ Actor.
Note: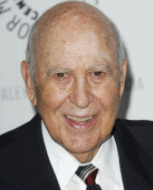 ➢ Legendary comedian, Carl Reiner passed away. He was a prolific writer, comedian, director and actor.
➢ He had a run as a movie director with such films as "Oh, God!" (1977) and "The Jerk" (1979). He won several Emmys awards in writing and producing.

2. Renowned personality Saroj Khan passed away recently, she was a veteran ________ Choreographer.
Note:
➢ In a career spanning over four decades, Khan is credited with choreographing more than 2,000 songs, including Dola Re Dola from Sanjay Leela Bhansali's Devdas, Ek Do Teen from Madhuri Dixit-starrer Tezaab and Ye Ishq Haaye from Jab We Met in 2007.

3. Famous sportsperson Everton Weekes passed away recently he was associated with which sports _________ Cricket.
Note:
➢ Everton Weekes made his first-class debut at 19-year-old and his Test debut in 1948 at 22.
➢ His test career spanned between 1948 to 1958, where he played 48 Tests & scored 4455 runs at an average of 58.62.

4. Name the Hollywood screen writer, film maker, actor and voice artist passed away recently __________ Carl Reiner.
Note:
➢ Veteran Hollywood and multi-hyphenate personality Carl Reiner, a creator and director of several Steve Martin films, died at 98 of natural causes at his Beverly Hills home.
He has won multiple Emmy Awards, among which 5 awards were backed by "The Dick Van Dyke Show" in the 1960s.
Important Days
1. National Postal Worker Day is observed every year on which date _______1st July.
Note:
➢ National Postal Worker Day is a unique way to say 'thank you' to the postmen and all delivery personnel, as online shopping has become a lifeline for many of us.➢ In India, amid the COVID-19 pandemic, postal services have uniquely diversified.➢ Workers in postal departments have become the new 'corona warriors', playing an active role in India's fight against COVID-19

2. National Charted Accountants Day is celebrated every year on which dated ________1st July.
Note:
➢ This day is celebrated to commemorate the finding of the Institute of Chartered Accountants of India (ICAI) by the parliament of India in 1949. Every year on the day of the establishment of the ICAI, CA Day is celebrated to honour the Chartered Accountant.

3. What is the theme of the National Doctor's Day 2020 which is celebrated every year in the country on 1st July________ Lessen the mortality of COVID 19.
Note:
➢ The theme for National Doctor's Day 2020 is "Lessen the mortality of COVID 19" and includes awareness about asymptomatic hypoxia and early aggressive therapy.
➢ The National Doctor's Day also marks the birth and death anniversary of Dr Bidhan Chandra Roy. He was the one of the most renowned physicians of India.

4. World Sports Journalists Day is observed globally every year on _________ 2nd July.
Note:
➢ The day aims to acknowledge the work of sports journalists & to encourage them to do better at their work.
➢ The day was established in 1994 to mark the 70th anniversary of the International Sports Press Association (AIPS). This year 2020 marks the 96th anniversary of AIPS.

5. The United Nations celebrates the International Day of Cooperatives every year on the _______ first Saturday of July.
Note:
➢ In the year 2020, the International Day of Cooperatives will be celebrated on 4th July with a focus on the contribution of cooperatives to combating climate change.
➢ UN has also appealed to spread the word: "#Coops4ClimateAction" to celebrate the International Day of Cooperatives 2020.

6. International Buddhist Confederation (IBC) celebrated Dharma Chakra Day on ________ 4th July.
Note:
➢ This day commemorates Buddha's First Sermon to his first five ascetic disciples at the Deer Park, Rsipatana in the present day Sarnath near Varanasi, UP.
➢ The day is also observed as Guru Poornima by both Buddhists as well as Hindus as a day to mark reverence to their Gurus.

7. World Chocolate Day or International Chocolate Day is observed every year on _______ 7th July.
Note:
➢ The day celebrates the existence of chocolate in our lives. It is marked by eating chocolates and sharing with dear ones.
➢ The first International Chocolate Day was celebrated in 2009. The day is celebrated on July 7th because it was on this date in 1550 that chocolate was first brought to Europe.
New Appointments
1. Gudni Johannesson was re-elected as president of which country ________ Iceland.
Note: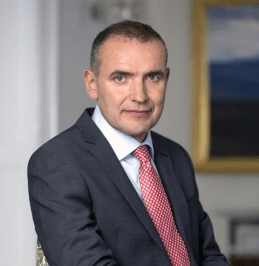 ➢ In 2016, Gudni became the youngest president of Iceland since Independence in 1944.➢ He enjoyed a solid support from 76 to 86 percent throughout his first term.
➢ Iceland is the Second European country to hold polls during the COVID 19 pandemic.

2. Who has been appointed as the next Ambassador and Permanent Representative of India to the United Nations and other International Organizations in Geneva, Switzerland ________ Indra Mani Pandey.
Note:
➢ He will represent India in more than 25 important organisation of the UN in Geneva including World Health Organisation (WHO) and therefore the United Nations Human Rights Council (UNHRC).
➢ India was appointed as the chair of the executive committee of the WHO in 2020 at the World health assembly.

3. Who has been appointed as the Chief Executive Officer (CEO) of Central Board of Films Certification (CBFC) ______ Ravinder Bhakar.
Note:
➢ He is a 1999 batch officer of Indian Railway Stores Service (IRSS). He will replace Anurag Srivastava.
➢ Prior to this, Bhakar was posted as the Secretary & Chief Public Relations Officer of Western Railways. He also served as an Indian Engineering Services officer.

4. Who has been appointed as the as the Director General of the Indian Institute of Mass Communication (IIMC) ______ Sanjay Dwivedi.
Note:
➢ He is presently serving as the Registrar of Makhanlal Chaturvedi National University of Journalism and Communication, Bhopal.
➢ K.S. Dhatwalia, Principal Director General in the Press Information Bureau, is presently holding the additional charge of the post of Director General of the Indian Institute of Mass Communication (IIMC).

5. Who has been appointed as the new chairman of Indian Oil Corporation (IOC) ______ Srikant Madhav Vaidya.
Note:
➢ Vaidya will also be the chairman of Chennai Petroleum Corporation Ltd, a stand-alone refining subsidiary of IOC, and Indian Oiltanking Ltd, a joint venture providing terminalling services.
➢ He will also take over as the head of Ratnagiri Refinery & Petrochemicals Ltd and also be a director on the board of Petronet LNG Ltd. He has had a decade-long association with India's largest cracker plant—the Panipat Naphtha Cracker Complex.

6. As per the votes during referendum in Russia the President Vladimir Putin can lead the Russia until _______ 2036.
Note:
➢ As per the votes during the Referendum, 77.95 percent of Russian citizens have voted in support of the Amendments to the 1993 Constitution of Russia.
➢ Only 21.23 percent of the Russian Citizens voted against the Amendments.

7. Who has been appointed as the New Managing Director (MD) of Cholamandalam MS General Insurance Company ____________ V Suryanarayanan.
Note:
➢ Suryanarayanan was a Chartered Accountant and Company Secretary served in financial services sector of the Murugappa Group for the past 24 years.
➢ Suryanarayanan served in Cholamandalam Investments and Finance for 10 years and moved to Chola MS as the CFO in 2006 and became the President and COO in April 2019.

8. Jean Castex has been appointed as prime minister of which country ________France.
Note:
➢ He is known for his role in drafting the strategy to lift lockdown measures in the country in the French Media.
➢ He is known as Mr Deconfinement of French Media.

9. Who has been appointed as the 1st chairman of the International Financial Services Centres Authority (IFSCA) for a period of three years _______ Injeti Srinivas.
Note:
➢ Besides the Chairman, IFSCA has a member each nominated from RBI, IRDAI, SEBI and PFRDA. There are also two members from the Central Government and full-time or part-time members in the Authority.
➢ The IFSCA was recently established by the finance ministry on April 27 as the unified authority to regulate all financial services in International Financial Services Centres (IFSCs) in the country.

10. Who has been appointed as the chairman of the nine member working Group (WG) set up by IRDAI to study the suitability of insurers offering surety bonds for contractors ________ G. Srinivasan.