CURRENT AFFAIRS: BUSINESS AND ECONOMY
RBL, Zomato launch co-branded credit card offering cash back and loyalty membership benefits
RBL Bank and Zomato launched a co-branded credit card, powered by Mastercard, in a bid to tap the potential of online food delivery market which has been expanding beyond big cities.The co-branded card, which comes in two variants — Edition and Edition Classic, will offer benefits such as Zomato Gold membership, cash back as well as airport lounge access
Indian Railways turns old coaches to restaurant on wheels
Indian Railways launched its first 'Restaurant on Wheels' at the circulating area of Asansol railway station for the use of passengers as well as the general public of Asansol.
The Minister of State for Environment, Forest & Climate Change, Babul Supriyo, inaugurated this first of its kind restaurant at a program held in Asansol, West Bengal
Fitch cuts India growth forecast to 4.9 per cent for fiscal year 2020-21
Fitch Ratings cut its forecast for India's economic growth to 9 per cent in the current fiscal on weak domestic demand and supply chain disruptions due to the coronavirus outbreak.
It stated that the GDP growth is forecast to recover slightly to 4 per cent in 2020-21 (April 2020 to March 2021)
Unemployment rate rises to 7.78 per cent in February, highest in four months
India's unemployment rate rose to 78 per cent in February from 7.16 per cent in January, the highest since October last year, according to a report by the Centre for Monitoring Indian Economy (CMIE).
According to the Mumbai-based private think-tank, the unemployment rate in rural areas surged to 37 per cent in February 2020 from 5.97 per cent in January
FDI inflow dips 1.4% to $ 10.67 bn in October-December
Foreign direct investment into India dipped marginally by 1.4 per cent to $ 10.67 billion (about Rs 76,800 crore) during October-December period of 2019-20, according to government data.
Inflow of foreign direct investment (FDI) during October-December of 2018-19 stood at $ 10.82 billion. FDI inflows in July-September period of the current financial year stood at $ 9.77 billion.
BEE launches star rating programme for Deep Freezer and Light Commercial Air Conditioners (LCAC)
The Star Labelling Programme has been formulated by the Bureau of Energy Efficiency, as part of its mandate, under the Energy Conservation Act, 2001. Under this Programme, BEE has covered 24 appliances till date wherein 10 appliances are under mandatory regime. On the occasion of 19th foundation day, BEE has expanded the coverage by including Energy Efficient "Deep Freezers" and "Light Commercial Air Conditioners (LCAC)".
Paytm arm gets IRDAI brokerage licence
Paytm is set to make a foray into the business of selling insurance products with subsidiary Paytm Insurance Broking securing a brokerage license from the sector regulator Insurance Regulatory and Authority of India (IRDAI).
The company plans to offer insurance products across four categories including auto, health, and life.
Pine Labs, Zest Money to offer instant credit, EMI to customers at PoS
Merchant commerce platform Pine Labs has partnered with consumer lending fintech Zest Money to provide in-store, digital equated monthly instalment (EMI) options to customers. This will be available through Pine Labs' Plutus and Plutus Smart point-of-sale (PoS) devices.
ICICI Prudential AMC ties up Saraswat Co-op Bank to tap rural potential
ICICI Prudential AMC has tied up with Saraswat Co-operative Bank, the largest in the urban co-operative banking space in India, to distribute its products with the bank's customers.
The tie-up Saraswat Co-operative Bank will offer investment products of ICICI Prudential Mutual Fund to its customers, through its 280 branches, spread across six States.
IRDAI asks insurance companies to design policies to cover coronavirus
Insurance Regulatory and Development Authority of India, IRDAI has asked insurers to expeditiously settle hospitalisation claims related to novel coronavirus disease under health policies. The Regulator has instructed insurance companies to come out with policies to cover treatment costs for coronavirus infection.
Microsoft, Accenture join to provide tech support to social enterprise startups
Intending to help deepen the reach of entrepreneurs and start-ups that are focused on social impact and sustainability, the joint initiative by Microsoft and Accenture aims to provide hands-on support and technologies to social enterprises, helping them build scalable solutions and business models that can lead to more tangible and lasting benefits.
Zomato buys UberEats India for $206 million
Ride-hailing major Uber sold its food delivery business in India to food-tech giant Zomato for $206 million according to the firm's recent regulatory filings.
Zomato had acquired UberEats India in January in an all-stock transaction with UberEats selling the business for a 9.99 per cent stake in the online food delivery business.
After Mumbai, Google to launch its cloud infrastructure in Delhi by 2021
Google announced that it plans to open cloud region in Delhi that is expected to be operational by
This will be the company's second cloud region in India; the first one was in Mumbai that was launched in 2017
STATIC GK
Zomato
CEO- Deepinder Goyal
Headquarters: DLF Phase V, Gurugram, Haryana, India
Founded: July 2008
Google
Headquarters– California, United States
CEO– Sundar Pichai
IRDAI
Founded: 1999
Headquarters: Hyderabad
Chairperson: Subhash Chandra Khuntia
Uber
CEO: Dara Khosrowshahi
Founded: March 2009,
Headquarters: San Francisco, California, United States
ICICI Prudential Life Insurance
CEO: N. S. Kannan (19 Jun 2018–)
Headquarters: Mumbai
Saraswat Bank
Saraswat bank is an urban co-operative banking institution based in Maharashtra, India and operating as a co-operative society since 1918. The Founding Members of the society were Mr. J.K. Parulkar as Chairman, Mr. N.B. Thakur as Vice Chairman, Mr. P.N. Warde as Secretary, and Mr. Shivram Gopal Rajadhyaksha as Treasurer.
Microsoft
CEO: Satya Nadella
Headquarters: Redmond, Washington, United States
Founders: Bill Gates, Paul Allen
Accenture
CEO: Julie Sweet
Headquarters: Dublin, Ireland
Paytm
Founded: 2010
CEO: Vijay Shekhar Sharma (Dec 2010–)
Headquarters: Noida, Uttar Pradesh
IRDAI
Founded: 1999
Headquarters: Hyderabad
Chairperson: Subhash Chandra Khuntia
Pine labs
Pine Labs is an Indian merchant platform company that provides financing and last-mile retail transaction technology, founded in 1998.
Headquarters: Noida
Lokvir Kapoor : Executive Chairman
Vicky Bindra: Chief Executive Officer
Bureau of Energy Efficiency (BEE)
The Bureau of Energy Efficiency is an agency of the Government of India, under the Ministry of Power created in 1st March 2002 under the provisions of the nation's 2001 Energy Conservation Act. The agency's function is to develop programs which will increase the conservation and efficient use of energy in India.
Headquarters: New Delhi
Purpose: Development of policies and strategies, with an emphasis on self-regulation and market principles
FDI
A foreign direct investment (FDI) is an investment made by a firm or individual in one country into business interests located in another country. Generally, FDI takes place when an investor establishes foreign business operations or acquires foreign business assets in a foreign company. However, FDIs are distinguished from portfolio investments in which an investor merely purchases equities of foreign-based companies.
RBL bank
Founded :1943
Headquarters: Mumbai, Maharashtra, India
MD & CEO : Mr Vishwavir Ahuja
Fitch ratings
Fitch Ratings Inc. is an American credit rating agency and is one of the "Big Three credit rating agencies", the other two being Moody's and Standard & Poor's. It is one of the three nationally recognized statistical rating organizations designated by the U.S. Securities and Exchange Commission in 1975.
Headquarters: New York, United States
CEO: Paul Taylor
CURRENT AFFAIRS: STATES
Kerala High Court bans all forms of agitations in schools, colleges
The Kerala High Court banned all forms of agitations by student groups in school and college campuses in the state that disrupt the functioning of educational institutions
Lok Sabha Speaker Om Birla launches 'Suposhit Maa Abhiyan' in Kota
Lok Sabha Speaker Om Birla has stated that society should also come forward to remove malnutrition problems in the country. Mr. Birla was addressing the program after launching the 'Suposhit Maa Abhiyan' in his constituency Kota
Bihar government raises India's first tribal women battalion
The Bihar government raised the country's first tribal women police battalion named the 'Bihar Police Swabhiman Vahini' with a strength of 675 constables
Punjab prohibits online supply of food from FBOs not possessing hygiene rating
Punjab Food & Drug Administration prohibits online supply of food from FBOs not possessing hygiene rating. Ban also applicable on FBOs having less than three marks in hygiene rating
Historic City Chowk in Jammu renamed as 'Bharat Mata Chowk'
The historic City Chowk, the commercial hub in old Jammu, was renamed as 'Bharat Mata Chowk' following the passage of a resolution by the general house of the Bharatiya Janata Party (BJP)-led Jammu Municipal Corporation (JMC)
Yog mahotsav begins in Rishikesh
An international yoga festival began in Rishikesh with yoga teachers and practitioners from eleven countries taking part in the week-long event. The annual event known as "Antar rashtriya yog mahotsav"
MP govt unveils "Chilli Chaha" mascot to rebrand the hot spice
Madhya Pradesh, the state government has unveiled a mascot named "chilli chacha" for better marketing of the popular spice.
The mascot was launched in the first such "chilli festival" organised in Khargone district, which is the largest producer of chillies in the state
Week-long Ekam Fest begins in New Delhi
A week-long Ekam Fest began in New Delhi to promote craftsmanship and products of Divyang artisans and entrepreneurs.
EKAM Fest is an effort for promoting entrepreneurship and knowledge among Divyangjans and provides a platform for marketing
Centre declares National Chambal Sanctuary in MP as eco-sensitive zone
The Centre declared the National Chambal Sanctuary in Madhya Pradesh, home to gangetic dolphins and 75 per cent population of critically endangered species gharial, as eco-sensitive zone (ESZ).
TN launches Rs 2,857 cr health system reform programme
Tamil Nadu Chief Minister K. Palaniswami launched the Rs 2,857 crore Tamil Nadu Health System Reform Programme (TNHSRP).
The programme, supported by the World Bank at an estimated cost of USD 410 million, roughly Rs 2,857 crore.
India's biggest multi-level parking to come up in Noida
Uttar Pradesh Chief Minister Yogi Adityanath inaugurated and laid foundation stones for 23 development projects worth Rs 2,821 crore in Gautam Buddh Nagar, Noida.The initiative is part of the state government to develop the Gautam Buddha Nagar City as a smart city and ideal model of development and opportunities.
UP govt announces Rs 900 per month for stray cattle upkeep
The Uttar Pradesh government has announced a grant of INR 900 per month for the upkeep of a stray cow to individuals who look after any such animal.
The government feels that the announcement will help end the traffic menace caused by stray cattle roaming freely on roads, besides their proper care.
Tripura government to provide Rs 5000 to eligible students for buying smartphone
The Tripura government has decided to provide Rs 5000 to 14,608 students of the final year of the undergraduate level for buying Smartphones They will be given Rs 5,000 each under the 'Mukhyamantri Yuva Yogayog Yojana' scheme for buying a smartphone. The money would be directly sent to their bank accounts.
Student Health Card scheme for school children launched in J&K
In Jammu and Kashmir, Lt. Governor G.C. Murmu launched Student Health Card scheme in Jammu. He stated that now Student Health card scheme will also prove to be very beneficial because it will ensure regular checkup of school going children
Gairsain function as the summer capital of Uttarakhand
Uttarakhand will now have two capitals, with Gairsain as the summer capital. The decision came from CM Trivendra Singh Rawat in the state assembly.
Gairsain, located in Chamoli district between the Kumaon and Garhwal regions, will function as the summer capital.
The state's current winter capital is
Baghel presents Rs 95,650-crore budget for Chhattisgarh
Chhattisgarh Chief Minister Bhupesh Baghel presented a Rs 95,650-crore budget, without any new tax proposals, for fiscal 2020-21 in the Legislative Assembly.
He announced a new scheme, 'Rajiv Gandhi Kisaan Nyay Yojana', to provide good returns to farmers for agricultural produce with a provision of Rs 5,100 crore
3 day Namaste Orchha festival begins in Madhya Pradesh
In Madhya Pradesh, 'Namaste Orchha' festival is starting in Orchha, a famous tourist destination of the state. Orchha is famous for its Ramaraja temple as well as other historical buildings.
Three days Namaste Orchha festival is an attempt to creating new opportunities and initiatives to promote the state and its rich cultural, natural and architectural heritage and its traditions and history.
Chapchar Kut, the biggest and most joyful festival of Mizoram begins
In Mizoram, the biggest and most joyful festival of Mizos, Chapchar Kut is being celebrated across the state.
The Chapchar Kut is also regarded as the most popular spring festival to the people of the state. This festival is a public holiday in the state.
STATIC GK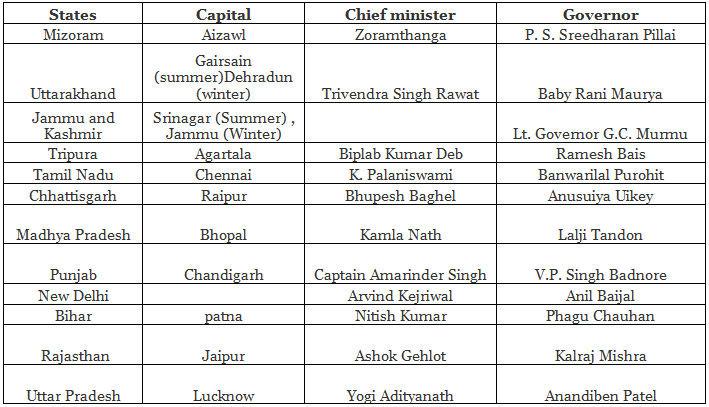 CURRENT AFFAIRS: ACQUISITIONS AND MERGERS
NCLT approves NBCC bid to acquire Jaypee Infratech via insolvency
State-owned NBCC got approval from the NCLT to acquire debt-laden Jaypee Infratech through an insolvency process and complete around 20,000 pending flats over the next three and half years
STATIC GK
NBCC
NBCC (India) Limited, formerly known as National Buildings Construction Corporation Limited, is a Government of India Navratna Enterprise NBCC (India) Limited is a blue-chip Government of India Navratna enterprise and a Central Public Sector undertaking which trades publicly in the market.
Founded: 1960
Headquarters: Delhi
Chairman-cum-Managing Director : Mr. P K Gupta
CURRENT AFFAIRS: APPS AND PORTALS
Government Launches Humsafar Mobile App For Doorstep Diesel Delivery
Housing societies, hotels, and hospitals in the national capital region will soon be able to get diesel delivered at their doorsteps, with the launch of mobile application 'Humsafar' by Labour Minister Santosh Gangwar
SEBI launches mobile app 'Sebi SCORES' for investors to lodge grievances
Markets regulator Sebi has launched a mobile application for convenience of investors to lodge grievances in Sebi Complaints Redress System (SCORES).
The app, 'Sebi SCORES', is available on both iOS and Android platforms
STATIC GK
Ministry of Labour and Employment
Minister- Santosh Kumar Gangwar
Constituency- Bareilly, UP
Securities and Exchange Board of India
Headquarters– Mumbai, Maharashtra
Chairman– Ajay Tyagi
CURRENT AFFAIRS: MOU
India keen to partner with Japan in Mission Purvodaya
Union Minister for Steel and Petroleum & Natural Gas, Dharmendra Pradhan, met the Chief Minister of Odisha, Naveen Patnaik, along with the Ambassador of Japan to India, Satoshi Suzuki, in
With the abundance of raw materials, strategic geographical location and strong and developing connectivity, Odisha is well poised to be the heart of this eastern steel hub.
In Odisha, Kalinganagar will be developed as the epicentre of Mission Purvodaya
Memorandum of Understanding Between Indian Air Force and Savitribai Phule Pune University
As a unique initiative of Indian Air Force, the IAF and Savitribai Phule Pune University entered into an academic collaboration by signing a Memorandum of Understanding to establish a 'Chair of Excellence' at Department of Defence & Strategic Studies on 29 Feb 20
Tripura Govt and AAI sign MoU for construction of 6 equipment hiring centers
Tripura State Government and Airport Authority of India has signed a memorandum of understanding for the construction of six equipment hiring centers in Manu Block under the Dhalai District of Tripura
ICAR inks pact with Patanjali for farm research, training
The country's premier agri-research body ICAR signed an agreement with Hardiwar-based Patanjali Bio Research Institute (PBRI) to undertake research work as well as training and education
IIT Mandi Signs Deal with NABARD for Setting up Three FPOs in Himachal
The Indian Institute of Technology (IIT), Mandi & Enabling Women of Kamand (EWOK) Society has inked a tripartite deal with the National Bank For Agriculture and Rural Development for setting up three Farmer Producer Organization in Mandi, Himachal Pradesh.
India, US sign Rs 1200 crore deal for missile protection suites for new VVIP planes
India has signed a Rs 1,200 crore deal with the United States for buying protection suites to protect the two new Boeing VVIP planes from missile attacks that will be used to ferry the President and the Prime Minister.The missile protection suites on the two Boeing-777 extended range planes to be code named 'Air Force One' would provide it the capability to fend off any missile attacks.
STATIC GK
USA
Capital– Washington, D.C.
Currency– US Dollar
President– Donald Trump
NABARD
Founded- 1982
Headquarters- Mumbai
Agency executive- Harsh Kumar Bhanwala (Chairperson)
Tripura
Capital: Agartala
Governor: Ramesh Bais
Chief minister: Biplab Kumar Deb
AAI
Headquarters: New Delhi
Founded: 1 April 1995
Key people: Arvind Singh (Chairman), B.S. Bhullar, DGCA (Ex-Officio)
ICAR
The Indian Council of Agricultural Research (ICAR) is an autonomous body responsible for coordinating agricultural education and research in India. The Union Minister of Agriculture serves as its president. It is the largest network of agricultural research and education institutes in the world.
Location: New Delhi, India
President: Narendra Singh Tomar
Established: 16 July,1929
Director: Trilochan Mohapatra
CURRENT AFFAIRS: APPOINTMENTS AND RESIGNATION
Sebi chief Ajay Tyagi gets 6 months extension
Ajay Tyagi will continue to be the head of India's capital and commodities markets regulator the Securities and Exchange Board of India (Sebi) for another six months.
Tyagi took over as Sebi chief in 2017 for a three-year term
Muhyiddin Yassin sworn in as Malaysia's new Prime Minister
In Malaysia, newly appointed Prime Minister Muhyiddin Yasin took the oath of office. The swearing-in ceremony was held at the national palace in Kuala Lumpur.
Muhyiddin Yasin heads a coalition dominated by the country's ethnic Malay Muslim majority
Nokia appoints Pekka Lundmark as CEO from September 1
The Fortum CEO will replace Rajeev Suri. Nokia Chief Executive Rajeev Suri will step down in September and is to be replaced by Pekka Lundmark, until now the CEO of energy group Fortum . Suri steps down after more than a decade in charge of Nokia and Nokia Siemens Networks, the company stated
Dayapatra Nevatia named Mindtree COO
IT services firm Mindtree has appointed Dayapatra Nevatia as its Chief Operating Officer. In this new role, Nevatia will support the company into its next phase of growth, a statement from the company stated.
Nevatia holds decades of industry experience and joins Mindtree from Accenture, where he was the MD and Director of Delivery for Advanced Technology Centers in India
Sudhanshu Pandey takes charge as new CMD of MMTC Ltd
Additional Secretary at the Department of Commerce Sudhanshu Pandey has assumed additional charge as Chairman and Managing Director of MMTC Ltd.
His predecessor Ved Prakash.
Revenue Secretary Ajay Bhushan Pandey appointed as Union Finance Secretary
Revenue Secretary Ajay Bhushan Pandey was designated as the Finance Secretary, according to a Personnel Ministry order.
The Appointments Committee of the Cabinet has approved designating Pandey, a 1984 batch IAS officer of Maharashtra cadre, as Finance Secretary, it stated
Glaxo Smith Kline India appoints Sridhar Venkatesh as MD and Vice-President
Drug firm Glaxo Smith Kline Pharmaceuticals stated it has appointed Sridhar Venkatesh as managing director & vice president of GSK India, effective April 1, 2020.
He will succeed Annaswamy Vaidheesh, who is set to retire from the company effective March 31, 2020, GlaxoSmithKline Pharmaceuticals stated in a statement.
Sanjay Kumar Panda appointed India's Ambassador to Turkey
Senior diplomat Sanjay Kumar Panda has been appointed as India's Ambassador to Turkey.Panda is presently Consul General, Consulate General of India, San Francisco.
Former India spinner Sunil Joshi named BCCI's selection committee chairman
Former India spinner Sunil Joshi was named chairman of the national selection panel by the BCCI's Cricket Advisory Committee (CAC) in Mumbai .
The CAC also picked ex-pacer Harvinder Singh for a place in the five-member group.
Amrish Rau appointed as CEO of Pine Labs
Amrish Rau has been appointed as CEO of Pine Labs, a leading merchant commerce platform company.Rau founded the start up Citrus Pay, which was sold off to PayU,replaces Vicky Bindra who after a two-year stint as CEO is moving back to San Francisco
Slovenia confirms Janez Jansa as new PM
Slovenia's lawmakers backed an anti-immigrant politician Janez Jansa to become the new prime minister, paving the way for the formation of a right-leaning government
Reserve Bank of India Deputy Governor N S Vishwanathan quits
RBI Deputy Governor N S Vishwanathan has decided to step down by March 31 due to ill health, three months before the end of his extended one-year tenure.
While the Reserve Bank has accepted his request to be relieved by March 31, His one-year extension was to end on July 3
Puma signs Kareena Kapoor Khan as new brand ambassador
German sportswear brand Puma has signed Bollywood actor Kareena Kapoor Khan as its new brand ambassador.The new partnership is aimed at encouraging more women to lead a fit and healthy lifestyle
Singapore's Daren Tang to Succeed Gurry as Next WIPO Director General
Daren Tang has been elected to be the next WIPO Director General, succeeding Francis Gurry. Tang is currently the Chief Executive of the Intellectual Property Office of Singapore (IPOS)
Denys Shmygal becomes Ukraine's new prime minister
The Ukrainian parliament has voted in Denys Shmygal, as Ukraine's new prime minister. Shmygal succeeds Oleksiy Honcharuk, who resigned recently
SBI Life re-appoints Sanjeev Nautiyal as MD & CEO
SBI Life Insurance has re-appointed Sanjeev Nautiyal as managing director and chief executive officer of the company.
The re-appointment is subject to approval of Insurance Regulatory and Development Authority of India (IRDAI) and members of the company.
Bimal Julka appointed as new Chief Information Commissioner
Information Commissioner Bimal Julka was appointed as the Chief Information Commissioner (CIC), according to a Rashtrapati Bhavan communique.
President Ram Nath Kovind administered the oath of office to Julka as the CIC in the Central Information Commission at a ceremony held at the Rashtrapati Bhavan.
STATIC GK
SBI Life Insurance Company
Founded- 2001.
Headquarters- Mumbai.
Pine labs
Founded: 1998
Headquarters: Noida
Executive Chairman: Lokvir Kapoor
Chief Executive Officer: Vicky Bindra
BCCI
Secretary: Jay Shah
Headquarters: Mumbai
CEO: Rahul Johri
Vice president(s): Mahim Verma
Founded: December 1928
Presidents: C.K. Khanna, Sourav Ganguly
MMTC
MMTC earlier known as Metals and Minerals Trading Corporation, is the single largest trader for product lines like minerals, metals and precious metals.
Headquarters- New Delhi
RBI
Governor of RBI : Shaktikanta Das
Deputy Governors of RBI: B P Kanungo, Michael Mohapatra, M K Jain
Mindtree
CEO: Debashis Chatterjee
Founded: 18 August 1999
Headquarters: Warren, Michigan, United States
SEBI
Founded- 1992
Headquarter– Mumbai,India
Chairperson– Mr Ajay Tyagi
Malaysia
Prime minister: Muhyiddin Yassin
Capital: Kuala Lumpur
Currency: Malaysian ringgit
Nokia
Headquarters: Espoo, Finland
CEO: Rajeev Suri (1 May 2014–)
Founded: 12 May 1865
Founders: Fredrik Idestam, Leo Mechelin
PUMA
Headquarters– Bavaria, Germany
Chairman– Jean-François Palus
World Intellectual Property Organization
Founded- 1967
Headquarters- Geneva, Switzerland
Ukraine
President- Volodymyr Zelensky
Capital- Kyiv
Currency- Ukrainian hryvnia