IMPORTANT NEWS – STATE
1. Which state has launched the 'Ek Sankalp – Bujurgo ke naam' campaign for the elderly people living alone in homes during the global pandemic COVID-19 ______ Madhya Pradesh.
Note:
➢ In this campaign, the police are taking care of the elderly people from the food to their health. Renowned social activist Anna Hazare has also praised this initiative of Chhatarpur Police.

2. Which state government has launched the Niraman Mazdoor Registration Abhiyan for construction workers from August 24 to September 11 ______ Delhi.
Note:
➢ Special camps would be set up for construction workers to register themselves and take advantage of nearly 18 different assistance schemes.
➢ Delhi government will set up camps at 70 schools—one each in all the 70 assembly constituencies of Delhi—to help workers who are not tech-savvy.

3. Uttar Pradesh government has signed a 'plan of cooperation' with which country to resolve water crisis in Bundelkhand region ______ Israel.
Note:
➢ The partnership between the two governments seeks to address water crisis in drought hit regions of Bundelkhand.
➢ It will support regional farmers with latest farming technologies such as drip irrigation, meant for water deficient regions like Bundelkhand

4. Which state government is working on a mobile-based application to enable farmers to upload picture of grievances such as water availability in canals and their redressal in a fixed timeframe ______ Odisha.
Note:
➢ The application being developed through Odisha Computer Application Centre (OCAC) will use command area of projects as geo-fencing region to forward the grievance to the authority concerned.

5. Which state government has extended a ₹50 lakh insurance cover to private doctors who die of COVID-19 ______ Maharshtra.
Note:
➢ The Maharashtra government has extended ₹50 lakh insurance cover to private doctors who die of coronavirus infection during the pandemic.
➢ In a circular issued, director of state Health Services Dr Sadhana Tayde said the insurance cover, which is being given to doctors in government and semi- government services, has now been extended to private medical practitioners who succumb to the infection.

6. Which state is to host the first-ever State Dragonfly Festival 2020 ______ Kerala.
Note:
➢ The festival has been christened as Thumbimahotsavam 2020.
➢ 'Pantalu' is the official mascot of the festival. As part of the festival, various programmes will be rolled out in the coming months to reach out to various sections of society.

7. The longest river ropeway of India has been inaugurated in which state of India ______ Assam.
Note:
➢ The ropeway will be operated from Kachari Ghat in Guwahati to Dol Govinda temple in North Guwahati.
➢ The new ropeway service empowered with state-of-the-art technology will decrease the travel time between Guwahati and North Guwahati.

8. Which state government has launched a new scheme for promoting intensive aquaculture through Biofloc technology in fisheries ______ Odisha.
Note:
➢ The scheme will provide livelihood support to entrepreneurs, unemployed youth and interested progressive fish farmers and will also increase fish production in the state.

9. Nitin Jairam Gadkari, Union Minister for Road Transport and Highways inaugurated and laid foundation stones for 45 highway projects in which state ______ Madhya Pradesh.
Note:
➢ He also announced that Rs.700 crore from the Central Road Fund (CRF) will be utilised for the road sector of Madhya Pradesh.
➢ The aim was to complete projects worth Rs 50,000 crore out of Rs 1.25 lakh crore by 2023.

10. Which state government has inked an MoU with the M3M Foundation to facilitate online preparation, training and mentoring for government jobs to students ______ Haryana.
Note:
➢ Through this MoU, a program will be implemented to select 50,000 candidates for online training based on their past performance in government examinations in the state.
➢ Under the MoU, M3M Foundation will finance the initiative, identify, select and hire suitable students and undertake a periodic review of the implementation of the program.

11. Which state will establish the first international women's trade centre (IWTC) of India ______ Kerala.
Note:
➢ The IWTC seeks to accelerate the women entrepreneurship and secure gender parity.
➢ It will also offer a safe place away from home to women to start new businesses, set up or expand, and get their products marketed globally.

12. Which state government has launched 'Major Dhyan Chand Vijaypath Yojana' scheme under which 19 International Players will get road connectivity to their homes ______ Uttar Pradesh.
Note:
➢ The initial list includes 19 International Players from the state, and later on more players are expected to be added to the list.
➢ The list includes Indian Cricketers Bhuvneshwar Kumar, Praveen Kumar, Piyush Chawla and Mohammad Kaif.
IMPORTANT NEWS – WORLD
1. The first meeting of the National Coordination Committees for monitoring implementation of mutually agreed projects between India and which Central Asian country was concluded ______ Uzbekistan.
Note:
➢ Both nations reexamined the activities of bilateral economic and trade cooperation which are in operation or planned for the future.
➢ The Committee was set up under the supervision of the Prime Minister of India Narendra Modi and President of Uzbekistan Shavkat Mirziyoyev.

2. Which tech giant has launched 'The Anywhere School' initiative in more than 250 countries around the world ______ Google.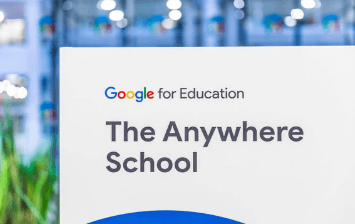 Note:
➢ Under the initiative, Google will roll out over 50 new features across products like Google Meet, Classroom, G Suite and other products.
➢ Google will launch custom and blurred backgrounds in Google Meet to provide 'extra privacy' to the users.

3. Which country has launched its New Optical Remote-Sensing Satellite "Gaofen-9 05" along with 2 Smaller Payloads ______ China.
Note:
➢ The satellite, Gaofen-9 05, was sent into orbit by a Long March-2D carrier rocket.
➢ A multifunctional test satellite and another satellite named Tiantuo-5 were also launched via the rocket.

4. A pair of gold-rimmed spectacles worn by Mahatma Gandhi were sold in an auction for £260,000 (over Rs 2.5 crore) in which country ______ UK.
Note:
➢ The iconic spectacles were sold to an American collector within six minutes of bidding at an auction in Bristol.
➢ The glasses had been dropped in their letter box by a man who claimed that they were originally gifted to his uncle by Gandhi himself.

5. Indian Institute of Technology's (IIT) Alumni Council has signed an agreement with which country to build the world's largest and fastest hybrid quantum computer in India __________ Russia.
Note:
➢ The most promising areas for Indo-Russian joint projects are Information and Communications Technology, space exploration, climate change, quantum technology and data security.

6. Which global telecom company has partnered with United Nations Children's Fund (UNICEF) to help map school internet connectivity in 35 countries by the end of 2023 ________ Ericsson.
Note:
➢ This joint initiative is a part of the Giga initiative launched by UNICEF and International Telecommunication Union (ITU), in September 2019 to provide internet connection to every school and their surrounding communities.

7. Which country will offer free coronavirus tests to community groups such as taxi drivers, food delivery workers and hawkers as part of efforts to expand the COVID-19 testing regime __________ Singapore.
Note:
➢ Singapore will offer free coronavirus tests to community groups such as taxi drivers, food delivery workers and hawkers as part of efforts to expand the COVID-19 testing regime.
HONOR & AWARDS
1. Which water technology company has won the prestigious Global Water Award for its 45 million liters a day Tertiary Treatment Reverse Osmosis Plant ________ VA Tech Wabag Ltd.
Note:
➢ The plant has won the distinction award under the category of 'wastewater project of the year'.
➢ The plant is one of the largest and technologically advanced water treatment plants in India.

2. Which company has bagged the "Swachhta Hi Seva award" for transforming Neyveli Township into a plastic-free, green campus _________ NLCIL.
Note:
➢ The award was conferred to three units of the PSU - Township administration office (First rank), Thermal Power Station -I (second rank) and Mines Sub-stores (third rank).
➢ NLCIL implemented the Swachhta Hi Seva programme in two phases -- the first phase from September 11 to November 2, 2019 and the second phase from October 3 to 27, 2019.

3. Who has won the first ever Gold Medal for India in Mental Calculations World Cup (MCWC) _________ Neelakantha Bhanu Prakash.
Note:
➢ Bhanu Prakash had secured the gold medal with a score of 167, Lebanese contender Mohammed El Mir secured the Silver Medal with a score 102 and Asmita Pal from the UAE bagged the Bronze medal with a score of 100 points.

4. Who has authored the book titled 'Running Toward Mystery: The Adventure of an Unconventional Life' _______ Tenzin Priyadarshi and Zara Houshmand.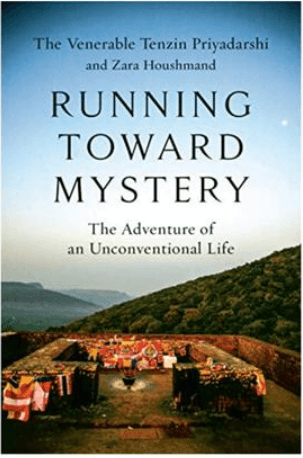 Note:
➢ The book provides an account of how the Dalai Lama traced his Spiritual Teacher Khunu Lama in India.
➢ Tenzin Priyadarshi is the President and CEO of The Dalai Lama Center for Ethics and Transformative Values at the Massachusetts Institute of Technology (MIT) and Zara Houshmand is an Iranian American author and literary translator.

5. Who has been adjudged as the winner of the International Booker Prize 2020 _________ Marieke Lucas Rijneveld.
Note:
➢ The book was first published in Dutch in 2018 and eventually translated into English by Michele Hutchison.
➢ The £50,000 prize ($66,000) will be split equally between the author and translator to give equal recognition to both.

6. "Nayi Disha" is the HR initiative of which bank for which it has been awarded with Brandon Human Capital Management (HCM) Excellence Award 2020 ________SBI.
Note:
➢ The award is also known as the Academy Awards of Learning & Development 2020.
➢ The SBI has been awarded with the global recognition for its HR initiative, "Nayi Disha".
➢ The award winners will be honored at Brandon Hall Group's annual HCM Excellence Conference, January 26-28, 2021 at the Hilton West Palm Beach, Florida.
SPORTS NEWS
1. Which football team has won the Europa League for a sixth time __________ Sevilla.
Note:
➢ Italy's wait for a first European trophy in a decade, and Inter's nine-year trophy drought, goes on after Lukaku could not stop Carlos's spectacular strike.
➢ It is Europe's secondary club football tournament organised by UEFA, and the 12th season since it was renamed from the UEFA Cup to the UEFA Europa League.

2. Manika Batra has been selected for Rajiv Gandhi Khel Ratna Award 2020 along with others, she is associated with sports _________ Table tennis.
Note:
➢ The government has announced the National Sports Awards 2020.
➢ Rohit Sharma(Cricketer), Mariyappan Thangavelu(Para-Athlete), Manika Batra (TT player), Vinesh Phogat (Wrestler) and Rani Rampal (Hockey) will receive the Rajiv Gandhi Khel Ratna Award.

3. Former cricketer Lisa Sthalekar has been inducted into the International Cricket Council's Hall of Fame, she held from which country ________ Australia.
Note:
➢ Former Australian captain Lisa Sthalekar were inducted into the International Cricket Council's Hall of Fame in a virtual ceremony along with Legendary South African all-rounder Jaques Kallis and Pakistan batting great Zaheer Abbas.
➢ Pune born Sthalekar represented Australia in eight Tests, 125 ODIs and 54 T20s. Sthalekar is the 27th from Australia and the ninth woman player in the list, which includes five from her country.

4. Who has won the Women's British Open 2020 title in Golf ________ Sophia Popov.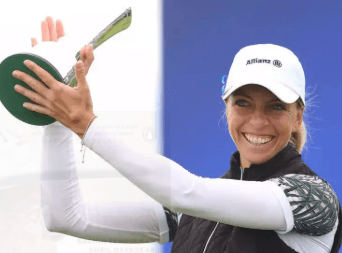 Note:
➢ German Golfer Sophia Popov won the Women's British Open 2020 title (rebranded as 2020 AIG Women's Open) by defeating Thailand's Jasmine Suwannapura by two strokes at Royal Troon in Scotland.
➢ Sophia has now become the first female golfer from Germany to win the LPGA Tour's major title.

5. Which football club has won the UEFA Champions League 2019-20 title _______ Bayern Munich.
Note:
➢ Bayern Munich has become the first European Cup winners who won all their matches during the tournament.
➢ This is the sixth European Champions League title for Bayern Munich.

6. Famous all-rounder Cameron White was playing for which country who has announced his retirement from all forms of professional cricket _________ Australia.
Note:
➢ He represented Australia in 4 Test matches, 91 ODIs and 47 T20Is.
➢ He also led the Australian limited-overs team in 7 international games. He amassed 146 runs in tests, 2072 runs in ODIs and 984 runs in T20Is.

7. Poulomi Ghatak was associated with which sports, who announced her retirement from the sport ________ Table Tennis.
Note:
➢ Poulomi Ghatak belongs to the state of West Bengal.
➢ She won three junior national championships as well as seven senior national championships between 1996 and 2016.

8. Who became the first-ever fast bowler to take 600 wickets in Test Match Cricket ________ James Anderson.
Note:
➢ Overall, he is the 4th bowler to take 600 test wickets after 3 spinners Muttiah Muralitharan, Shane Warne, and Anil Kumble.
➢ Anderson, who made his Test debut in 2003 against Zimbabwe, had become the highest wicket-taker among seamers in 2018 when he dismissed Mohammed Shami against India at The Oval to go past Glenn McGrath's tally of 563 Test wickets.

9. Which country will host BRICS Games 2021 ________India.
Note:
➢ This announcement came after Sports Minister Kiren Rijiju attended a meeting of Sports Ministers of the BRICS nations (Brazil, Russia, India, China and South Africa).
➢ India will get the chairmanship of the five-nation independent international group in 2021.

10. Brothers pair, Mike Bryan and Bob Bryan have announced their retirement from the sport. They are associated with which sport ________ Tennis.
Note:
➢ They are the most successful men's doubles pair in tennis history.
➢ The brother's pair captured an Open Era record with 119 trophies in 26 seasons which comprises all four Grand Slams, all nine ATP Masters 1000s as well as the Olympic gold medal.
BOOKS AND AUTHORS
1. Who has authored the book titled 'Grandparents' Bag of Stories _________ Sudha Murthy.
Note:
➢ This was announced by the publishing house Penguin Random House India on the 70th birthday of award-winning author.
➢ The book, scheduled to be released in November, is a sequel to Murty's last release Grandma's Bag of Stories and will feature 20 stories.

2. Who has authored the book on cancer titled "Gastric Cancer", released by Union Minister, Jitendra Singh ________ Dr Ashok K. Vaid.
Note:
➢ The book was launched during a special session organized during the 3-day virtual conference on Oncology.
➢ The book is published by Springer Healthcare Education.
➢ Ashok K. Vaid is a Noted Oncologist and was awarded Padma Shri in 2009 for his outstanding work in the field of medicine.

3. Who has authored the book titled "Who painted my lust red" _______ Sree Iyer.
Note:
➢ The book is something about when Bollywood meets Cricket meets Politicians.
➢ This is the second book in this series of Sree Iyer's Money Trilogy series. The first book was "Who painted my money white?".

4. Who has authored the book titled "Cricket Drona" on the life of one of India's most renowned cricket coaches, Vasudev Jagannath Paranjpe __________ Anand Vasu & Jatin Paranjpe.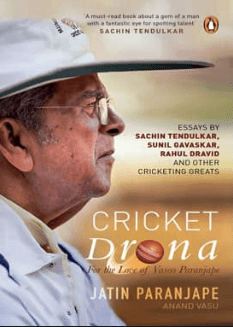 Note:
➢ The book is published by Penguin.
➢ The book talks about the impact of Paranjpe on shaping the careers of India's greatest cricketers like Gavaskar, Tendulkar, Rahul Dravid and Rohit Sharma.

5. Released by Indian Army Chief, General Manoj Mukund Naravane, the book titled "National Security Challenges: Young Scholars' Perspective" has been authored by _______ Group of Journalist.
Note:
➢ The book contains various themes pertaining to national security. It aims to develop strategic thinking among the youth of this country.
➢ The book is a tribute to Field Marshal Sam Manekshaw, the strategist of 1971 Indo-Pakistan War, that resulted in the liberation of Bangladesh.

6. Name the cricket coach who has co-authored his memoir titled "Pitching It Straight" with sports journalist MS Unnikrishnan ________ Gurcharan Singh.
Note:
➢ The book portrays the personal and professional life of Gurcharan Singh, who trained numerous young talents.
➢ The 186-page memoir of covers the period when cricket was patronised by royal families and the life incidence of Gurcharan Singh during the 1947 partition.
SCIENCE AND DEFENCE
1. Which institution has developed a UV disinfection tower for sanitizing coronavirus-prone areas ________ DRDO.
Note:
➢ The equipment named UV Blaster is "useful for high tech surfaces like electronic equipment, computers and other gadgets in laboratories and offices that are not suitable for disinfection with chemical methods.
➢ The product is also effective for areas with large flow of people such as airports, shopping malls, metros, hotels, factories and offices

2. A newly built Interceptor boat of the Indian Coast Guard built by Larsen and Toubro was launched in which city ________ Surat.
Note:
➢ A newly-built "Interceptor" boat of the Indian Coast Guard (ICG) was launched in Surat.
➢ Interceptor Boat 'ICGS C-454', built by Larsen and Toubro, was launched into the service of the Coast Guard.

3. Which app has been launched by the Indian Air Force to provide career-related information and details to the aspirants who wish to join the Indian Air Force (IAF) ________ 'MY IAF'.
Note:
➢ The application was launched by the Chief of the Air Staff, Rakesh Kumar Singh Bhadauria.
➢ The app launched as a part of the Digital India initiative has been developed in association with the Centre for Development of Advanced Computing (C-DAC).

4. The India Pavilion at the Army-2020 International Military and Technical Forum was inaugurated in which country ____________ Russia.
Note:
➢ The forum will also host discussions among global military officials, researchers and defence industry experts about the application of 3D technologies in designing, manufacturing and operating weapons and military equipment.
➢ The forum was organised by the Russian Defence Ministry will be held from August 23-29 at the Patriot Park near Moscow, which has been the venue since 2015.

5. ISRO has signed a Memorandum of Understanding (MoU) with which university to set up the first of its kind innovation cum incubation centre to promote space research ________ Veer Surendra Sai University of Technology.
Note:
➢ Under the MoU ISRO and VSSUT will collaborate to develop high-end simulation tools, miniature test facilities like Static test facility and solid propulsion research lab and establishment of testing facilities for the scaled-down model.
➢ ISRO will offer technical consultancy support and financial assistance of Rs.50 lakhs for the development of infrastructure of VSSUT.

6. Which Paramilitary forces of India has created and launched an in-house mobile Application (app), 'Pensioners Corner' to get in touch with the pensioners and to bring them to the digital platform as a one stop solution ________ CISF.
Note:
➢ It will also cater to the needs of its pensioners.
➢ It is a part of its 'e-karyalay', an electronic office app launched in the wake of the COVID-19 pandemic.