A. Answer the following questions.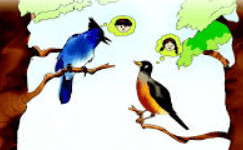 1. Name two birds mentioned in the poem.
___________________
2. Where are the birds sitting?
___________________
3. Who are the birds talking about?
___________________

B. Tick (✓) the correct answer.


1. The speakers in the poem are
(a) Children.

(b) Birds.


(c) Trees.

2. The speakers say that the people do not have
(a) Feathers.

(b) Hair.


(c) Beak.


3. The speakers think that the people are
(a) Happy.


(b) Rude.


(c) Funny.



C. Circle and write down the pairs of words that rhyme in the poem given below.


Think about the people
The way they grow,
They don't have feathers
At all you know.
They don't sit talking
They don't grow wings,
They don't like sitting,
On the wires and things.
___________________
___________________
___________________
___________________