Comprehension 1
Read the passage given below and answer the questions.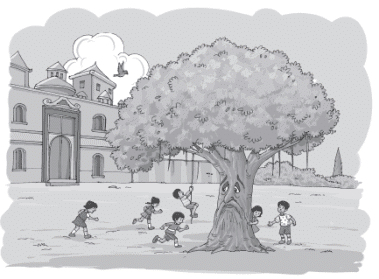 The old banyan tree had stood for years in the backyard of the mansion. Many people had lived there. Children had played in the mansion and climbed the tree, swung on its branches and enjoyed a wonderful childhood. One by one all the children had grown up. They found jobs in other cities and went away. The banyan tree was silently watching the deserted mansion now. 'I wonder if anyone will come to live here again,' thought the banyan. 'Perhaps the house and I will simply fade away!' But the next morning a large man in a blue suit came to see the mansion. He walked through it and then saw the banyan tree. 'I'll take it,' he told the agent immediately. For a few weeks workmen came and there was a lot of hammering and painting and polishing. Then gardeners came to mow the lawn, trim the hedges and lop the trees. The banyan was worried about whether he too would be chopped down. But to his relief, he stood safely in the yard. The large man and his family arrived the next morning. The sounds of voices and running feet filled the house. Two little boys came running out with a small girl toddling after them. The boys scrambled onto the branches and climbed up. They put the little girl on one branch that was like a swing. She swung happily to and fro watching her brothers. The birds that nested in the banyan, the squirrels, the owl in the hollow, all the creatures were delighted for now they could have fun playing with the children. And there would be lots of crumbs and food too! The banyan smiled for now he knew he would not be lonely anymore!

A. Answer the following questions.
1. Where did the banyan tree stand?
______________________
2. What did the banyan tree wonder?
______________________
3. Who came to live in the mansion?
______________________
4. Name three creatures that lived on the banyan tree?
______________________
5. Why was the banyan tree happy?
______________________

B. Fill in the blanks with the correct options.
1. The old banyan tree had stood for years
______________________.
(a) In the garden
(b) In the backyard of the mansion
(c) In the town
2. The children had grown up and found
______________________.
(a) Jobs in other cities
(b) The mansion boring
(c) The town backward
3. They put the little girl on one branch
______________________.
(a) But she was scared
(b) That was like a swing
(c) And she fell off

C. Write three sentences about a tree in or near your house or school that you like very much.
______________________
______________________
______________________
______________________