READING COMPREHENSION :-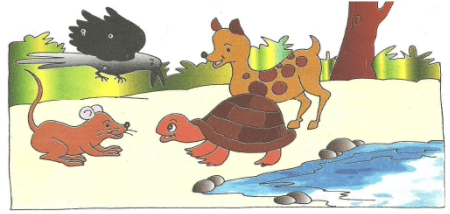 READ THE PASSAGE AND DO THE EXERCISE GIVEN BELOW.
A mouse, a crow, a tortoise and a deer were very close friends. The mouse had a brown body with a long tail and pink ears. The crow's feathers were as black as coal. The tortoise had a hard, brown shell and moved very slowly. The deer had beautiful spots on her golden skin. Everyday they met near the lake and had their food together. They also helped one another in times of need.
The following statements are incorrect. Rewrite them correctly.
Q.1. The mouse had golden skin.
Ans. _____________
Q.2. The crow had brown feathers.
Ans. _____________
Q.3. The tortoise had a hard shell.
Ans. _____________
Q.4. The dear moved slowly.
Ans. _____________
Q.5. The four friends lived near a river.
Ans. _____________