Underline the nouns in each sentence.
Example :- My favorite meal is chicken.
1. Grandma loves watching the ducks in the pond.
2. I keep notes in a notebook from my teacher.
3. Ice cream in a cone is yummy.
4. The house was built with bricks.
5. Joe hiked up the hill last summer.
6. The game at the playground was fun.
7. My brother went to the doctor.
8. I mowed the grass on Saturday.
9. Horses are beautiful animals.

Rewrite the sentences with beginning capital letters for titles and brand names.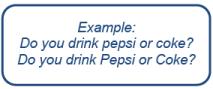 Example :- We read the book the three little pigs in class.
We read the book The Three Little Pigs in class.
2. Have you seen the movie toy story?
__________
3. Do you prefer pepsi or coca-cola?
__________
4. The lady wrote a poem called the moon.
__________
5. The book gone with the wind was made into a movie.
__________
6. charlotte's web is a book about a spider.
__________
7. The princesses in frozen are beautiful.
__________
8. We buy kleenex tissues.
__________