A. Add 'full' to the words in the tree and complete the sentences.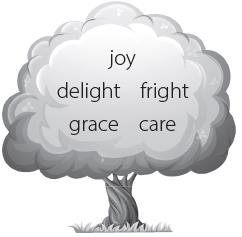 1. The peacock's dance is ________.
2. The lion's roar is ________.
3. The cuckoo's song is ________.
4. It was a ________ day for me.
5. You should be ________ while walking on the road.

B. Read the words in the grey circles. Now make two new rhyming words for the circles in the center.



C. Look at the animals in the pictures and read the names of their groups. Spot and circle these names in the grid. One has been done for you.