Very short answer questions
I. Choose the correct answer to fill in the blanks.
Female anopheles, stagnant, microscope, anaemia, larvae, flies, blood, algae, iron, Haemoglobin, bad air, Ronald Ross, enlarges, Nobel Prize, Cinchona.
a) The _____________ has to be tested to find out the patient has malaria or not.
b) Blood is observed under the _____________.
c) Lack of haemoglobin in blood causes _____________.
d) The young ones of mosquitoes (baby mosquitoes) called __________.
e) _____________ spread many diseases especially stomach problems. f) Mosquitoes lay eggs in _____________ water
g) ___________________ spread Malaria.
h) _____________ found that mosquitoes spread Malaria.
i) Malaria means _____________.
j) Microscope is an instrument which _____the image of things thousand times bigger.
k) Ronald Ross got the highest award _____________ for his discovery.
l) Jaggery, Amla and green leafy vegetables are rich in _____________.
m) _____________ increases in our blood if we eat iron rich food.
n) In olden days people used the bark of the _____________ tree to make a medicine for Malaria.
o) Very small green plants that are found around the watery spots are called _____________.

II. Tick (✔) the correct answer.
a) What does a mosquito do when it bites us?
i) It pinches us ( )
ii) It bites off a piece of flesh ( )
iii) It tickles us ( )
iv) It sucks blood from our body ( )

b) What is the symptom that shows that a person has malaria?
i) Indigestion ( )
ii) Shivering ( )
iii) Stomach pain ( )
iv) Vomitings ( )

c) How do mosquitoes locate human beings to bite?
i) They have sharp eyes ( )
ii) They locate human beings through heat ( )
iii) They use sound to locate them ( )
iv) They use their sense of smell ( )

d) In which season is Malaria more common?
i) Rainy season ( )
ii) Winter ( )
iii) Summer ( )
iv) Spring ( )

e) Where will you look for mosquitoes' eggs in water?
i) At the bottom of the water ( )
ii) In the middle layer of water ( )
iii) At the top floating on it ( )
iv) Everywhere in water ( )

III. A diagram of a mosquito is given below. Tick (✔) the part which you think the mosquito uses for sucking blood.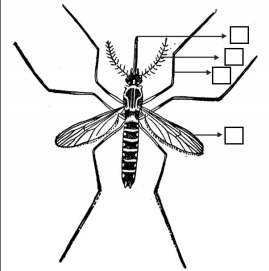 IV. Tick (✔) the food items which contain iron.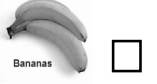 1 mark questions. (Short answer questions)
I. Identify the pictures and write their names in the blanks.
a)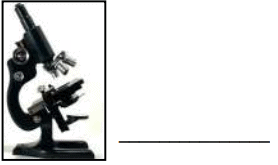 b)



c)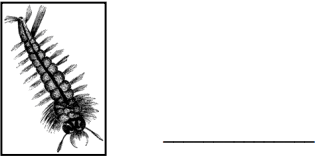 d)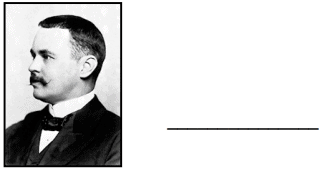 e)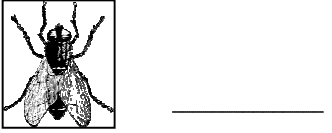 II. Answer the following questions.
a) How does a person get Malaria?
b) How does a person know if he is suffering from Malaria?
(or)
How can you find out if someone has Malaria?
c) What is a Microscope?
d) What is anaemia?
e) What are baby mosquitoes called?
f) Where are the larvae of mosquitoes commonly seen?
g) For what discovery was Ronal Ross awarded the Nobel Prize?
h) Name two diseases caused due to flies?

2 mark questions. (Long answer questions)
a) What are the diseases that spread by mosquitoes?
b) What measures have to be taken to protect ourselves from mosquitoes?
c) What should we eat to increase haemoglobin or iron in the blood?
(or)
How can you prevent anaemia?
d) In which season is Malaria more common? Why?
e) Why does the government advise people to put kerosene oil in the water coolers and on stagnant water during the rainy season?
f) What are algae? Where and when are they commonly seen?
g) What are the effects of anaemia on children?
h) How can you check the growth of mosquitoes?
i) Some jumbled sentences are given below showing how the flies spread diseases. Arrange them in sequence by writing 1, 2, 3, 4, etc. in the boxes provided.( )
They pick disease causing agents (microbes) from there.()
We consume such food.()
Flies sit on garbage and other waste products.()
Microbes enter our body and cause diseases.()
Then they sit on our food.()
(j) Study the reports given below carefully and answer the following questions.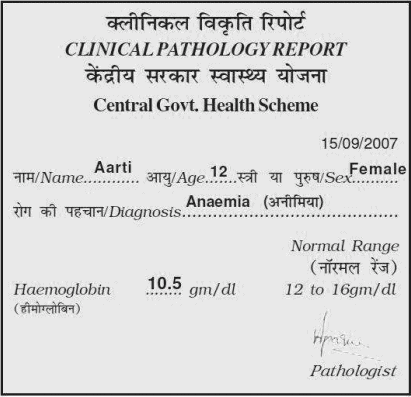 k) What is the normal range of a healthy girl's haemoglobin? ______________________________________________
l) What was the quantity of haemoglobin in the blood sample of Aarti? ______________________________________________
m) With what disease was she suffering from? ______________________________________________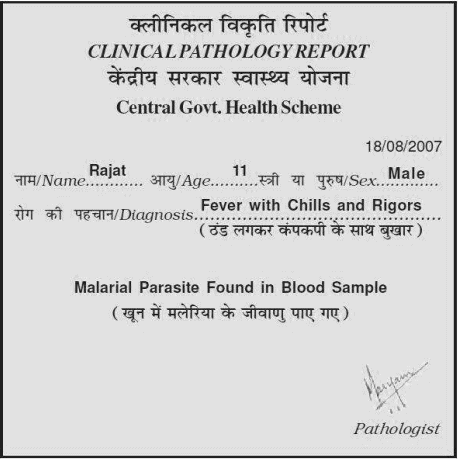 n) What symptoms do a person suffering from Malaria show? ______________________________________________
o) Which parasite was found in the blood sample of Rajat? ______________________________________________