Question 1: Fill in the blanks using correct word from the box:
Wind, space, light, air, plants, weight, feel
We can _____ air but not see it.
_____ all around us.
Air takes up _____.
Moving air is called _____.
We need air to _____ a fire.
Animals and _____ need air to live.
Air has _____ .
Question 2: Write T for true and 'F' for false statements:
Air is not present inside a room.
All animals need air to breathe.
Air helps ships to sail.
We do not need air to fly a kite.
To burn anything, we need air.
Plants and animals will die without air.
Question 3: Choose the correct answers:
Which of the following moves with the help of air?
(i) A Boy
(ii) A Dog
(iii) A Boat
(iv) A Bat
Which of the following does not breathe in air?
(i) Cat
(ii)

Rose plant
(iii) Toy aeroplane
(iv)

Parrot
Burning of paper needs:
(i) Water
(ii)

Air
(iii) Wood


(iv)

Sand
You can find air in a:
(i) football
(ii)

newspaper


(iii) tree
(iv)

glass
Moving air is called:
(i) storm


(ii)

heat
(iii) wind


(iv)

wave
Which of the following does not need air?
(i) Windmill


(ii)

Swimming tube
(iii) Sailboat


(iv)

Reading a book
Question 4: Compete this picture: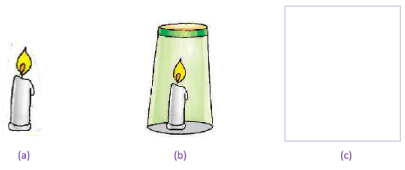 Question 5: Answer the following questions:
What is wind?
Name any two uses of air.
Why is a burning candle put out when you cover it with a glass jar?
Can you see air?
Why does a balloon become large in size when we blow air inside it?
How does fish breathe in water?
Question 6: Few pictures are given below. Tick the ones which need air to work:


Question 7: Complete the puzzle given below:
Down:
1. Air moves the wind mill
2. Air occupies
Across:
3. All living things need air to
4. Air has