Question 1: Tick (✓) the correct choice.
We

generally

do

not

find wild

animals

here.
(a) Forest
(b) Home
(c) Zoo
This animal eats both plants and other animals.
(a) Bear
(b) Vulture
(c) Elephant
This is a friendly animal.
(a) Jackal
(b) Leopard
(c) Dog
These animals help in keeping the forests clean.
(a) Vulture
(b) Hyena
(c) Both (a) and (b)
Question 2: Fill in the blanks.


____________ rest under the shades of trees.
A ____________ is a place where we can see wild animals.
A ____________ eats only plants.
Question 3: Write T for true statements and F for the false ones.
The lion is a pet animal.
All the animals living in the forests hunt other animals for their food.
Animals like the tigers and the elephants are killed for their body parts.
Question 4: Match the following.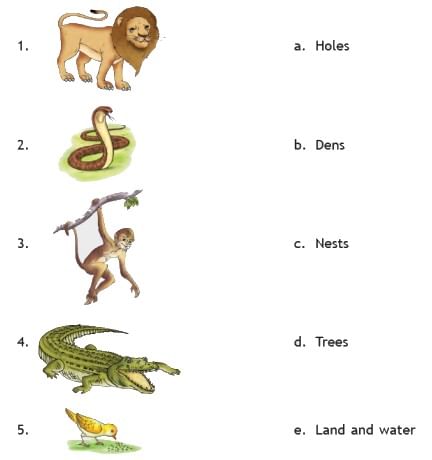 Question 5: Answer the following questions.
What do jackals and vultures eat?
Name any two animals which live on land and in water.