Question 1: Fill in the blanks using the words given in the box below:
Lean, zebra, safety, play, swimming
_____ habits save us from accidents.
Never _____ on the road.
Use _____ crossing to cross the road.
Never _____ out of a moving bus.
Never go for _____ alone.
Question 2: Write T for true and 'F' for false statements:
We should not obey traffic rules.
We should board a moving bus.
We should not go for swimming alone.
We should play on an open terrace.
We should use a footpath to walk.
Question 3: Tick (3) the box which shows safe action and (x) the box showing unsafe action: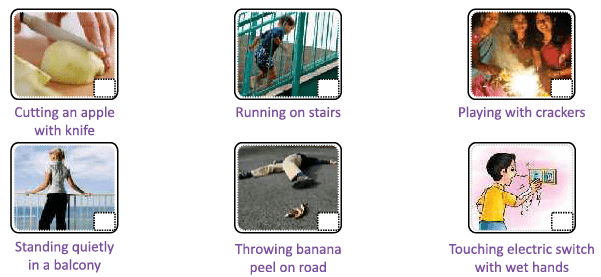 Question 4: Give two safety rules that should be followed:
At home
On the road
Question 5: Tell the colour of the traffic light that says:
Stop
Get ready

Go
Answer the following questions:
Question 6: Why should you not play on the road?
Question 7: Why should you not touch electric switches with wet hands?
Question 8: Why should you not play with fire?
Question 9: Why is it not safe to run on stairs?
Question 10: Where should you throw fruit and vegetable peels?