Question 1: Tick (✓) the correct choice.
These give shape to our body.
(a) Muscles
(b) Bones
(c) Heart
These are the places where the bones are joined together.
(a) Joints
(b) Muscles
(c) Skin
These are the soft parts of our body.
(a) Ribs
(b) Toes
(c) Muscles
Question 2: Fill in the blanks.


All the ____________ of our body together make up the skeleton.
Our body is made up of bones and ____________ .
We can bend our body at the ____________
Question 3: Write T for true statements and F for the false ones.
Our heart muscles work non-stop throughout our life.
Bones cannot move without the help of the muscles.
We have joints in our fingers, knees and elbows.
Question 4: Match the following.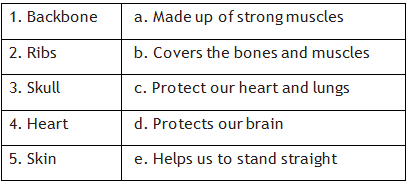 Question 5: Answer the following questions.
Name two places where muscles are found.
Name two muscles of our body which work throughout our life.
How many bones are there in our body?