Fill in the Blanks
Question 1:
We can find our way with the help of a ______.
If we face the rising sun, North will be on our ______.
We can find the directions with the help of the rising ______.
The sun always rises from the ______.
Match the Following
Question 2: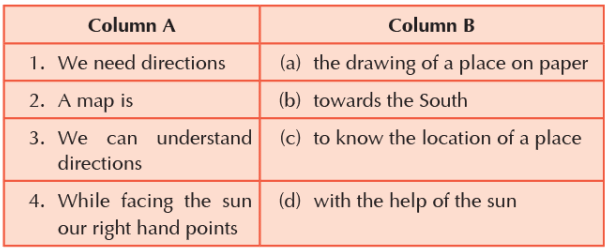 True and False
Question 3:
Sun sets in the West.
There are mainly three directions.
The places, that are easily identifiable, work as landmark for us.
Multiple choice Questions
Question 4: The geographical drawings to show the location of various places is known as
(a) map
(b) location
(c) dictionary
(d) atlas
Question 5: The sun rises from the
(a) west
(b) east
(c) south
(d) north