Question 1: Tick (✓) the correct choice.
We should avoid eating excess of this.
(a) Fried food
(b) Sweets
(c) Both of these
This food item gives us energy to walk, run or play.
(a) Rice
(b) Meat
(c) Papaya
The apple is a/an
(a) energy giving food
(b) body building food
(c) protective food
Question 2: Fill in the blanks.

Pulses and __________ make our bones and muscles strong.
We lose __________ from our body when we sweat.
Eating too many __________ can cause cavities in our teeth.
Question 3: Write T for true statements and F for the false ones.
All living things need food to survive.
Eating vegetables and fruits help us fight against diseases.

Chicken,

meat and fish are energy giving food.
Question 4: Match the following.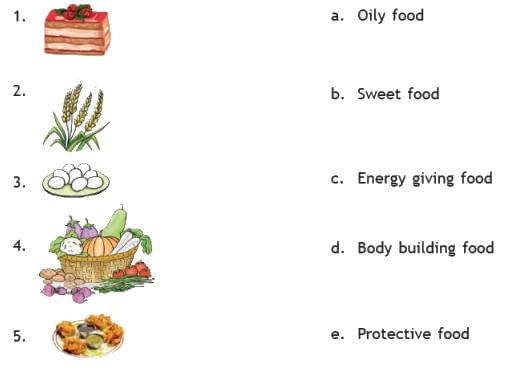 Question 5: Answer the following questions.
List the three food groups.
Why should we drink plenty of water, especially in the summer season?