Question 1: Tick (✓) the correct choice.
(i) This house is used by nomads and is made of fabrics like canvas or nylon.
(a) Igloo
(b) Apartment
(c) Tent
(ii) Stilt houses are common in
(a) hilly areas
(b) big cities
(c) areas of heavy rainfall
(iii) Houses in hilly areas
(a) have flat roofs
(b) have sloping roof
(c) are built on stilts
Question 2: Fill in the blanks.
We make cotton ___________ from cotton plants.
Yarn can be made into ___________ by weaving or knitting.
Fibres are spun into ___________
Question 3: Write T for true statements and F for the false ones.
Each room of a house has a special name.
We should keep our house clean and free from mosquitoes.
Kutcha houses are permanent houses.
Question 4: Match the following.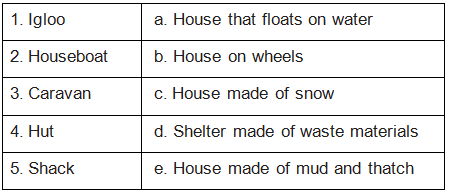 Question 5: Answer the following questions.
What

is

the

difference

between

a

caravan

and

a

flat?
Name any two materials used for making each of (a) kutcha house, and (b) pucca house.