Q.1. What do you understand by law?
Q.2. What is the appellate system?
Q.3. In what ways is the Supreme Court, the guardian of Fundamental Rights?
Q.4. India has an integrated judicial system. Explain?
Q.5. What is Public Interest Litigation in India?
Q.6. Write a brief note on the independence of the judiciary.
Q.7. What is the structure of the judicial system of India?
Q.8. What does judiciary mean?
Q.9. What is the Role of the Judiciary?
Q.10. Re-read excerpts from the judgment on the Olga Tellis vs Bombay Municipal Corporation case. Now write in your own words what the judges meant when they said that the Right to Livelihood was part of the Right to Life.
Q.11. Keeping the Sudha Goel case in mind, tick the sentences that are true and correct the ones that are false.
(i) The accused took the case to the High Court because they were unhappy with the decision of the Trial Court.
(ii) They went to the High Court after the Supreme Court had given its decision.
(iii) If they do not like the Supreme Court verdict, the accused can go back again to the Trial Court.
Q.12. List two reasons why you believe an independent judiciary is essential to democracy.
OR
What is the need of an independent judiciary in a democracy?
Q.13. In the following illustration, fill in each tier with the judgments given by the various courts in the Sudha Goel case. Check your responses with others in class.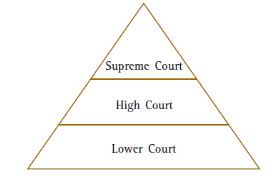 Q.14. How can we say that Indian Judiciary is independent?
Q.15. How is the work of the judiciary categorized?