Question 1: Tick (✓) the correct choice.
This plant crawls along the ground.
(a) Climber
(b) Creeper
(c) Herb
This plant grows in water.
(a) Cactus
(b) Bottle gourd
(c) Lotus
These plants live for a few months.
(a) Trees
(b) Shrubs
(c) Herbs
These are small plants with soft stems.
(a) Shrubs
(b) Climbers
(c) Herbs
Question 2: Fill in the blanks

___________give a bushy appearance.
The stem of a _________ is hard and thick, and is called the trunk.
___________ are smaller than shrubs.
Question 3: Write T for true statements and F for the false ones.
Plants cannot grow in hot places like the desert.
Shrubs generally live for a few years.
Trees are tall and strong.
Question 4: Match the following.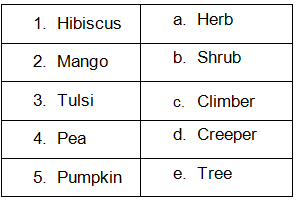 Question 5: Answer the following questions.
Which plants usually live longer—trees or shrubs?
Name the different types of plants.