Question 1: Fill in the blanks with these words:
Water is precious, so we must not _____ it.
We cannot _____ without water.
Drinking dirty water is bad for our _____ .
We should _____ water to make it germ free.
_____ is stored in tanks.
Ponds and lakes are filled by _____ water.
_____ bring rain on earth.
Question 2: Write T for true and 'F' for false statements:
Water in a river comes from mountains.
All living things need water.
Water is precious.
Water is needed only for drinking.
Plants and animals do not need water to live.
Rain water fills up wells, rivers and lakes.
To Choose the Correct Answers:
Question 3: At home, you can store drinking water in a:
(i) dustbin
(ii) flowerpot
(iii) bottle
(iv) small cup
Question 4: We use water for:
(i) dancing
(ii) drinking
(iii) throwing
(iv) wasting
Question 5: We can store water in:
(i) buckets
(ii) tubes
(iii) cups
(iv) spoons
Question 6: People in villages use water from:
(i) wells
(ii) drains
(iii) pots
(iv) glass
Question 7: Rain water fills:
(i) lakes
(ii) glasses
(iii) wells
(iv) tubes
Question 8: Given below are some pictures. If these activities need water then put a (3) below the picture, else puta (x).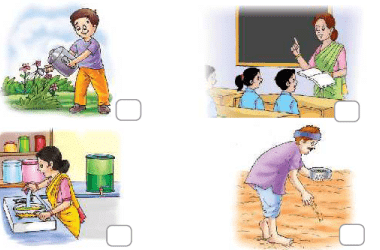 Question 9: Complete the following sentences by matching column A to column B :
| | |
| --- | --- |
| A | B |
| (a) Water is_________ | food |
| (b) We cannot live without_________ | well water |
| (c) Water is required for cooking_________ | precious |
| (d) Always drink________ | water |
| (e) In villages we use ________ for various purposes, | clean water |
Answer the following questions:
Question 10: Why do we need water?
Question 11: What do plants need water for?
Question 12: How can water be stored?
Question 13: Write three uses of water in our daily life.
Question 14: Why should we not waste water?