Question 1: Tick (✓) the correct choice.
(i) This stone has been used in the making of the Red Fort.
(a) Granite
(b) Sandstone
(c) Marble
Correct Answer is Option B.

Red Sandstone is used to build Red Fort.
(ii) These stones are round and smooth, and are found near a river
(a) Rocks
(b) Stones
(c) Pebbles
Correct Answer is Option C.

A pebble is a small stone, especially one rounded by the action of water.
(iii) This is the hardest substance found on the earth.
(a) Graphite
(b) Talc
(c) Diamond
Correct Answer is Option C.

It is this simple, tightly-bonded arrangement that makes diamond one of the hardest substances on Earth.
(iv) Mica and quartz are different types of
(a) minerals
(b) fuels
(c) gemstones
Correct Answer is Option A.

The best way to tell the difference between these two minerals is color.
Question 2: Fill in the blanks.
Red ruby is a Gemstone.
Talc is the softest mineral.
Marble can be made very smooth by polishing it.
EduRev Tips:

A ruby is a pink to blood-red colored gemstone,
Talc is the softest mineral and can be easily cut and crushed. Talc has perfect cleavage in one direction. This means that it breaks into thin sheets.
Marble is a type of very hard rock which feels cold when you touch it and which shines when it is cut and polished.
Question 3: Write T for true statements and F for the false ones.
All rocks are pieces of large stones. True
Marble is found only in white colour. False
Coal is softer than chalk. False
EduRev Tips:

All rocks are pieces of large stones. Small pieces of rock are called sediment, although sediment is found in a wide range of sizes.
Marble is available in more than just shades of white and gray: slabs can be found in hues of white, black, gray, yellow, green, pink, and gold.
Coal is a hard, brittle, and black lustrous coal, often referred to as hard coal.
Question 4: Match the following.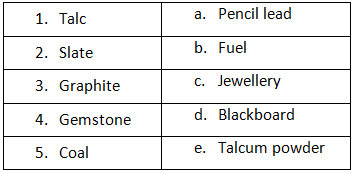 These minerals are used in making the things that are matched.

Question 5: Answer the following questions.
(a) Name a rock that is used as a fuel.
Coal, oil, and natural gas are examples of fossil fuels. Coal is a material usually found in sedimentary rock deposits where rock and dead plant and animal matter are piled up in layers.
(b) Give one example each of a hard rock and a soft rock.
Hard rock like marble has been used for making the Taj Mahal and soft rock like soapstone is used for making talcum powder.