Q1: Fill in the Blanks.
(i) Time before ______ is AM.
Ans: Time before afternoon is AM.
Time before 12 noon is represented with A.M and till 12 midnight it is represented as P.M.
(ii) The Earth receives light from the ______.
Ans: The Earth receives light from the Sun.
Most of the energy that reaches the Earth's surface comes from the Sun.
(iii) The part of the ______ that faces the Sun has day.
Ans: The part of the earth that faces the Sun has day.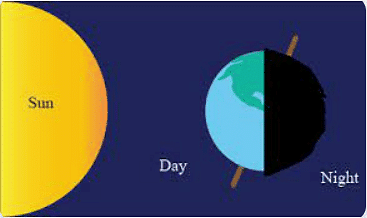 Due to the spherical shape of the earth, only half of it gets light from the sun at a time. The portion facing the sun experiences day while the other half away from the sun experiences night.
Q2: Multiple Choice Questions (MCQs).
(i) The period of time from sunrise to sunset in a given place, is called a
(a) day
(b) evening
(c) morning
(d) night
Ans: (a)
Day is the name given to the period between sunrise and sunset.
(ii) A year has
(a) thirteen months
(b) twelve months
(c) two months
(d) seven months
Ans: (b)
A year is composed of 12 months: January, February, March, April, May, June, July, August, September, October, November, and December.
(iii) Equipment that help us to know the time of the day are
(a) months and years
(b) days and nights
(c) clocks and watches
(d) none of these
Ans: (c)
We can know the time with the help of clocks and watches.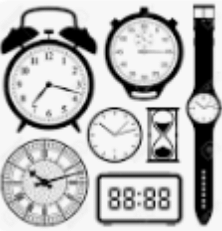 Q3: Match the Following.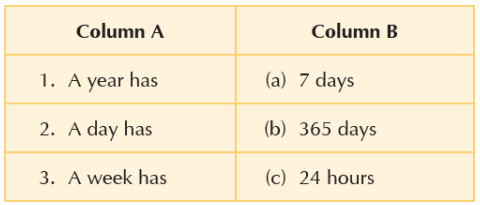 Ans:
Q4: True and False.
(i) A year has 240 days.
Ans: False
In a non-leap year, there are 365 days, in a leap year there are 366 days.
(ii) A clock has one to twelve numbers.
Ans: True
A clock or watch has one to twelve numbers. It helps us know the time of the day.
(iii) Every hour has 65 minutes.
Ans: False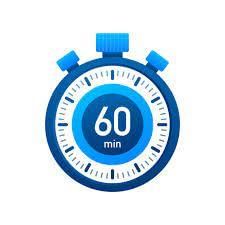 Every hour has 60 minutes.
Q5: Answer the following Questions.
(i) What is a leap year?
Ans: The year which has 366 days is called a leap year. That extra one day is added to the shortest month of the year, i.e. February. Thus when a year has 29th February in its calendar, it is termed as a leap year. This year occurs every four years.
(ii) What is revolution?
Ans: The movement of the earth around the sun in a fixed path or orbit is known as revolution.
(iii) What is rotation?
Ans: A rotation is a circular movement of an object around a centre of rotation. If three-dimensional objects like earth, moon and other planets always rotate around an imaginary line, it is called a rotation axis.