Question 1: Fill in the blanks
The Western Ghats lie to the ______________ of the Western Coastal Plain.
An island is surrounded by sea on ____________ sides.
Eastern Coastal Plain is bound by the ______________ and the Eastern Ghats.
A piece of land surrounded by sea on three sides is called a _____________
Question 2: Name the following
The Island with an active volcano.
The sea port in India nearest to Sri Lanka.
The important sea port of the Kerala State.
The place which is the meeting point of the two coastal strips.
The State that has lagoons.
Question 3: Answer the following questions in brief
Which occupation is popular among people living by the sea-side?
What is a Lagoon?
Which of the two group of Islands are farther from the main land?
Question 4: Match the following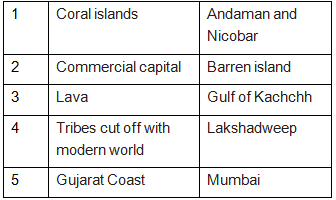 Question 5: From the map of the Coastal Plains
Name the important ports in the Konkan Coast and the Malabar Coast. ___________, ___________, ___________, ___________,
Locate the Konkan Coast and the Malabar Coast.
Locate the Gulf of Kachchh and the Gulf of Khambat.
Locate the Coromandel Coast and the Northern Circars Coast.
Name the important ports in the Coromandel Coast and the Northern Circars Coast. ___________, ___________, ___________, ___________,