Question 1: Tick (✓) the correct choice.
We get paper from this tree.
(a) Peepal
(b) Bamboo
(c) Neem
Animals depend on plants for their
(a) food
(b) shelter
(c) both (a) and (b)
This plant can cure stomach ache.
(a) Mint
(b) Tulsi
(c) Neem
This is used to cure tooth ache.
(a) Mint
(b) Clove
(c) Turmeric
We get this by crushing the seeds of mustard.
(a) Fibre
(b) Oil
(c) Perfume
Question 2: Fill in the blanks.

___________ is used for making soaps and shampoos.
Pulses and cereals are called ___________
We make ___________ from cocoa.
Question 3: Write T for true statements and F for the false ones.
Groundnut oil is used for cooking food.
Many animals depend on the plants for their food.
Plucking flowers and leaves is a good practice.
Question 4: Match the following.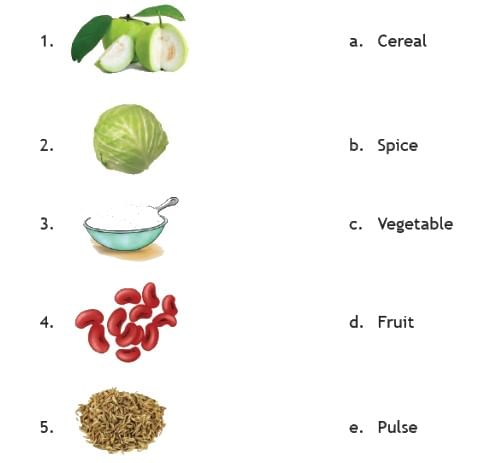 Question 5: Answer the following questions.
What gases do the plants take in and give out?
Name

any

two

flowers

that are

u

sed to make perfumes.
Name any three plants whose leaves are used to make medicines.