Very short answer questions
I. Choose the correct answer to fill in the blanks.
fallen, ash, bamboo, tin, adivasis, contractors, developers, Suryamani, Cheraw, tins, Jharkhand, Torang, 25, rice, three-fourth, parrot, jungle
a) The cut weeds are turned and their __________ is mixed with the soil to make ready for sowing.
b) __________ are forest dwellers.
c) __________ cut down forests.
d) Forest __________ have a right on the forest.
e) Baskets are woven from __________ and leaf plates are made from __________ leaves.
f) __________ is called the daughter of the jungle.
g) Suryamani lives in __________ state.
h) 'Mirchi' is Suryamani's pet __________.
i) Suryamani opened a centre named __________ to promote Kuduk language and adivasi culture and traditions.
j) 'Torang' means __________ in Kuduk language.
k) According to 'Right to Forest act' people who have been living in the forests for at least __________ years have a right over the forest land and what is grown on it.
l) In Mizoram, a __________ is used as a standard unit to measure paddy and other grains.
m) In Mizoram, farm land is measured in __________.
n) Mizo people do their special __________ dance in celebrations.
o) The main crop of Mizoram is __________.
p) About _____________ people in Mizoram are linked to the forests.

II. Tick (3) the correct answer.
a) To which community does Suryamani belong?
i) Kuduk ( )
ii) Munda ( )
iii) Santhal ( )
iv) Gond ( )

b) The traditional dance of Mizo people.
i) Kuchipudi ( )
ii) Kathak ( )
iii) Cheraw ( )
iv) Odissi ( )

III. 1 mark questions. (Short answer questions)
a) Who are adivasis?
b) What is 'Torang?'
c) What is meant by one tin of land?
d) Identify the person in the picture who is known as 'daughter of the jungle' and write her name in the blank.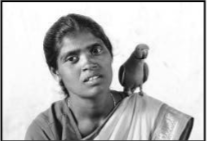 Ans: _______________
e) Name any two things that we get from forests.

IV. 2 Mark Questions. (Long answer questions)
a) Why is learning from forests considered as important as learning from books?
b) Why are forests are called collective banks?
c) Why are forests disappearing nowadays?
d) What is the importance of education in relation to save forests?
e) What is 'Jhoom farming?'
f) Write about "Right to Forest Act 2007?"
g) Write a few lines about "Cheraw Dance?"
h) In Mizoram carrying rice crop home takes many weeks-----Give the reason.
i) Look at the below India map and answer the following questions.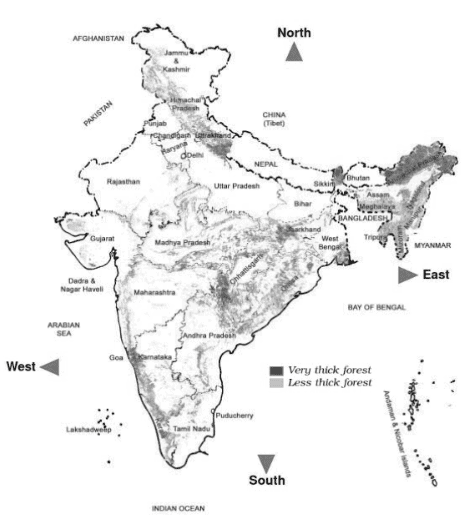 i. Name any two states that have "thick forests."
ii. Name any two states that have "thin forests."
iii. Name a state in South India that has thick forests.
iv. Name any one state that doesn't have any forest.