You must practise the NCERT Class 2 Science worksheets, question banks, workbooks, multiple-choice questions (MCQs) and exercises with solutions to help you in the revision of important concepts in Class 2 Science and score good marks in Class 2 Science. These Class 2 Science worksheets, class assignments, and practise tests are created using the Class 2 CBSE syllabus and topics from the Class 2 NCERT Textbook. In these worksheets of Class 2 Science, all the important topics are covered for your Class 2 Science test papers that may appear in your school exams.
EduRev provide printable worksheets for Class 2 Science in PDF downloadable format, used to spread education among CBSE Class 2 students and can be used to spread education in a fun way. You can download a collection of CBSE NCERT Worksheets for Class 2 Science from the links provided below. These worksheets for Class 2 Science are based on the latest CBSE Class 2 NCERT Books and Syllabus and cover all important Class 2 Science questions and answers. CBSE Worksheets for Class 2 Science will assist you properly in preparing for your upcoming examinations.
Chapter-wise Class 2 Science Worksheets
Chapter 1: Bones, Muscles and Postures

Chapter 2: Mind Your Safety

Chapter 3: Water

Chapter 4: Eat Healthy Food

Chapter 5: Animals in the Wild

Chapter 6: Plants Around Us

Chapter 7: Uses of Plants

Chapter 8: Domestic Animals

Chapter 9: Air Around Us

Chapter 10: Rocks and Minerals

Chapter 11: Housing and Clothing

Chapter 12: Light and Shadow

Please note that 10%-20% of the above-mentioned Class 2 Science Worksheets with detailed solutions are available for free while others are locked and can be accessed by subscribing to the EduRev Infinity package for Class 2. Also, if you're planning to download the Class 2 Science Worksheets with detailed Solutions in PDF format, you will need to subscribe to EduRev Infinity Package for Class 2. Once you subscribe to EduRev Infinity package for Class 2, you get access to the Worksheets for all the subjects of Class 2 with their detailed solutions.
You can find the chapter wise Class 2 Worksheets with detailed solutions for other subjects below:
Worksheet for Class 2
What are the advantages of the EduRev Infinity package for Class 2?
EduRev Infinity Package for Class 2 provides students with excellent study materials that will help them to prepare for school & competitive exams, offering them courses as per the following: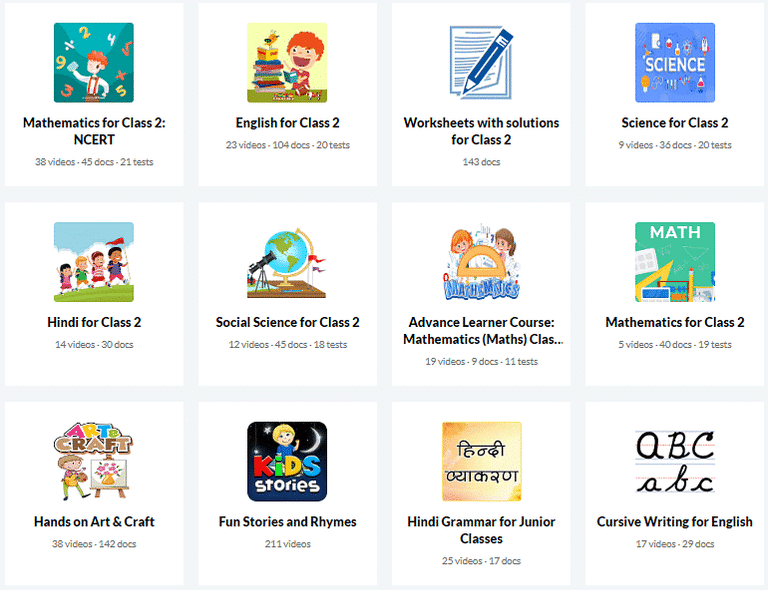 Some of the Courses included in the EduRev Infinity Package for Class 2
1. Subject-wise Courses for concept building: Covering all the major subjects Science, Maths, SST, English, Hindi and others.

2. Olympiad Courses helping them prepare for competitive exams: Study material & MCQ tests for practice to make them exam ready. The olympiad courses are offered for the following subjects: English, Cyber, Science, Mathematics and others.


3. Supplementary courses to enhance their skills:
These courses are offered to help students develop extra-curricular skills and overall personality development, ranging from Cursive Writing to Abacus.

All these courses offer interactive video lectures, notes, MCQ tests and different types of questions for practice. These courses have been prepared by experts having 15+ years of experience in helping students prepare in a great way.
To summarise, EduRev Infinity Package offers 250+ tests, 300+ videos, & 500+ notes.