Question 1: Tick (✓) the correct choice.
(i) This stone has been used in the making of the Red Fort.
(a) Granite
(b) Sandstone
(c) Marble
(ii) These stones are round and smooth, and are found near a river
(a) Rocks
(b) Stones
(c) Pebbles
(iii) This is the hardest substance found on the earth.
(a) Graphite
(b) Talc
(c) Diamond
(iv) Mica and quartz are different types of
(a) minerals
(b) fuels
(c) gemstones
Question 2: Fill in the blanks.

Red ruby is a ____________ .
____________ is the softest mineral.
____________ can be made very smooth by polishing it.
Question 3: Write T for true statements and F for the false ones.
All rocks are pieces of large stones.
Marble is found only in white colour.
Coal is softer than chalk.
Question 4: Match the following.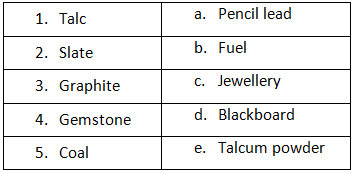 Question 5: Answer the following questions.
Name a rock that is used as a fuel.
Give one example each of a hard rock and a soft rock.