Indian Film Industry
India is the largest producer of films in the world and second oldest film industry in the world which originated around about 103 years ago. It was in early 1913 that an Indian film received a public screening. The film was Raja Harishchandra. Its director, Dadasaheb Phalke is now remembered through a lifetime achievement award bestowed by the film industry in his name. It was Phalke who introduced India to world cinema at a time when working in films was taboo. After the success of 'Raja Harishchandra', several filmmakers in Bombay and Madras began making silent films. The silent era came to an end when Ardeshir Irani produced his first talkie, 'Alam Ara' in 1931.
Cinema
Indian producer, director and screenwriter Dhundiraj Phalke, also known as Dadasahab Phalke is known as the Father of Indian Cinema. Dada Saheb Phalke award is given by Government of India for lifetime contribution to cinema.

Famous Cartoon Character form Films
Snoopy - Peanuts
Dee Dee - Dexter's Laboratory
Mojo Jojo - Power Puff Girls
Bart - The Simpsons
Bagheera - The Jungle Book
Simba - Lion King
Stuart Bob - Despiscable
Kevin - Minions
Ariel - Little Mermaid
Genie - Aladdin
Other Famous Artists and Their Art
Raphael - The School of Athens
Edward Munch - The Scream
Rembrandt - The Night Watch
Picasso - Guernica
Rabindranath - Veiled Woman Tagore
Rabindranath - Bharat Mata Tagore
Amrita Sher Gil - Village Scene
Satish Gujral - Brunt Wood, The Shroud
Jatin Das - Women of Clay
Raja Ravi Varma - Portrait of a Lady
Music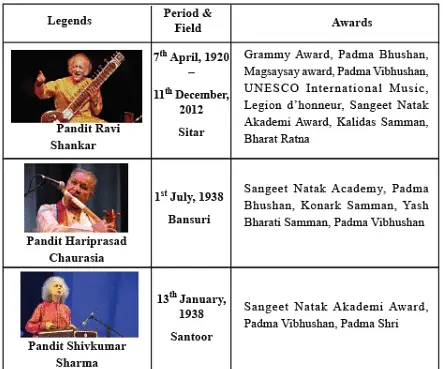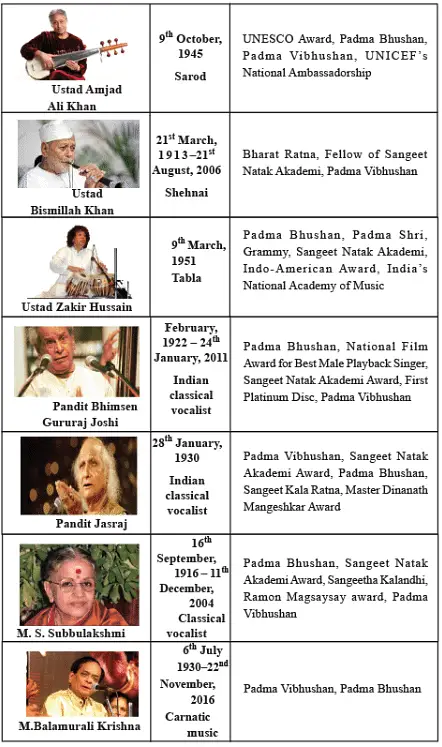 Folk music is easily understood and practised. It is sung in local languages. here are some indian folk and religious musical styles popular in our country.
Rabindra Sangeet - This style was introduced by Rabindranath Tagore and is sung widely in Bengal.
Ghazal - Originally a persian form of local music, now popular in India, iran, Turkey.
Qawwali - Sufi devotional music sung by one or two lead singers and many chorus singers.
Maand - Folk music of Rajasthan sung in royal courts of legends and heroes.
Chaiti - Sung in north India in the month of Chaiti (month in Hindu calendar) which falls in spring.
Shabad - Devotional songs of the Sikhs written by the gurus and bhakti saints.